notes
A Guide to Domestic Violence and Disabilities
Abuse or neglect of a disabled person can add extra barriers to finding help, but advocacy groups can help by thinking ahead about accommodations needed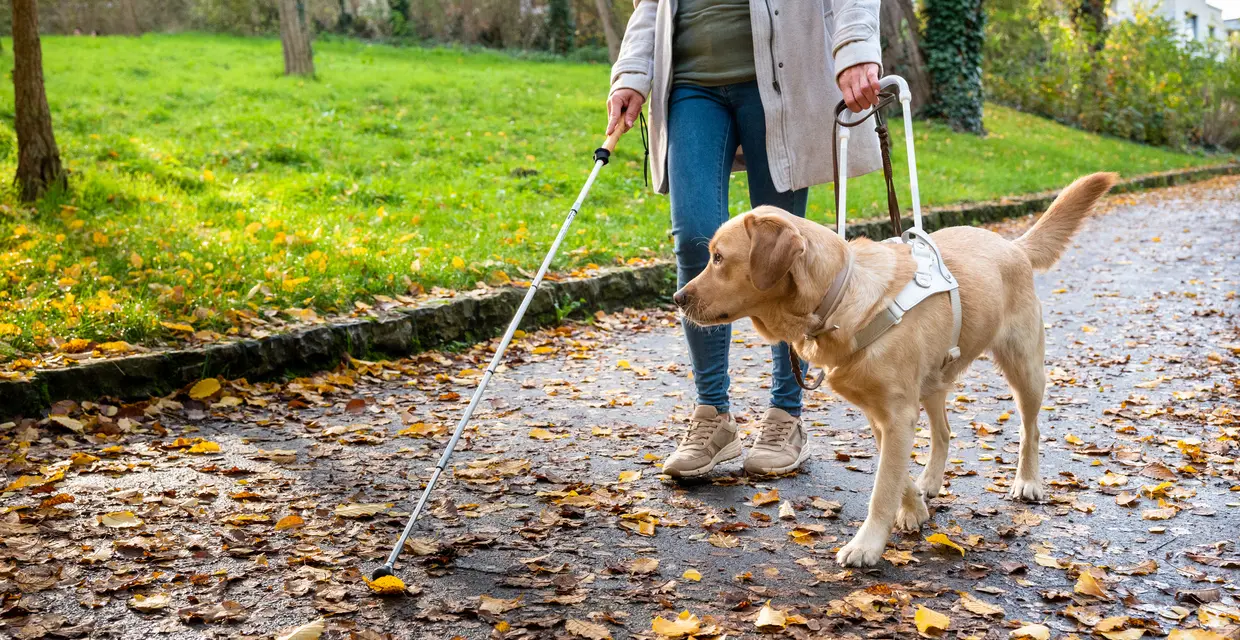 In the U.S., 1 in 4 adults have a disability of some kind, the most common being a disability that affects mobility. One can also experience cognitive, hearing or vision disabilities. Unfortunately, adults with disabilities are at a higher risk of violence than non-disabled adults. Some estimates show they're twice as likely to be victims of violent crime and three times as likely to be sexually assaulted.

Identifying as Disabled
First off, it's important that advocates and support persons alike know that disabled individuals don't always have outward disabilities, such as using mobility aids or having a service animal at their side. Cynthia Amodeo is the CEO of Barrier Free Living, a New York domestic violence-based community program that specifically supports survivors with disabilities.
"We see all sorts of disabilities," she says. "There are those born with disabilities, and then sometimes, disabilities are the result of the trauma they've experienced [from an abuser]: mental health disabilities, people with vision loss, hearing loss, brain injuries. Even self-identifying as disabled can be difficult for some individuals." She says that some survivors will come to her saying they have a "condition" instead. A heart condition, a memory condition, a panic condition. These could all be considered disabilities for which survivors may need special accommodations.
Types of Domestic Violence
Individuals with disabilities can experience all forms of domestic violence, which may include:
Financial Abuse of a Disabled Person
Disabled persons are vulnerable to financial fraud by exploitative individuals, which can include their partner or other support persons or family members. This can also include scams disabled individuals may fall victim to over the phone, through email or in person. What might this look like?
An abuser could convince a disabled partner to grant them financial power of attorney in order to control their money.
The disabled survivor may be coerced to extract cash from an ATM unwillingly.
An abuser or other caregiver could steal valuables from the survivor without them knowing.
A scam might look like someone demanding financial information over the phone, or a romantic interest who needs financial assistance.
Abusers know that individuals with disabilities are more vulnerable, potentially more trusting, and sometimes less likely to be believed. If the survivor has a cognitive disability, there is an even greater chance the perpetrator may not be caught, according to the Special Needs Alliance.
Why It's Difficult for Survivors with Disabilities to Escape Abusers
Abusers target disabled individuals because this population is more vulnerable and often less capable of escaping or defending themselves. As a result, once an abuser and victim are entwined in a relationship, it can be even harder than normal for a survivor to recognize this abuse and escape it.
Amodeo says that some service providers, once they hear a survivor is disabled, "have an innate fear that comes from not knowing what to do or how to help." The first thing to do, she says, is to overcome that barrier of fear, which can be done by asking survivors, "What do you need?"
Barriers disabled survivors can face when leaving an abuser can include:
Reliance on other people, including the abuser, for daily care.
Lack of education around domestic violence.
Lower self-esteem, being only seen as their disability, oftentimes as a power and control method used by the abuser. This can also include gaslighting in which the abuser makes them believe what's happening isn't actually abuse.
Fear of disclosing abuse because their primary caretaker might be arrested or separated from them.
Financial dependence on the abuser which involves a fear of having nowhere else to go and no means to support themselves or continue medical care for themselves if they separate from the abuser.
Difficulty in reporting abuse due to inability to communicate, leave the home or access the internet.
Inaccessible services where they live, i.e., lack of shelters that can accommodate wheelchairs, vision-impaired survivors or service animals. In New York, in particular, "you often have to walk up several flights of stairs to get up to a service provider," explains Amodeo.
What Makes a Program Accessible?
There are some basic things programs can do to make sure they're accessible. Start by asking yourself these questions:
Do you have large print or high-contrast materials?
Do you have signage that asks, "Do you need accommodations?"
Are your doors and hallways clear of obstructions?
Is the lighting adjustable?
Less easy to adjust after the fact, but just as important….
Do you have handicapped parking spots outside your building?
Do you have an accessible bathroom option?
Is your entrance accessible to people with mobility issues, including wheelchairs?
Are intercom buzzers or doorbells no more than four feet from the ground?
Is braille an option for outdoor signage or instructions?
Is there a working elevator if you have more than one story?
You can access a complete list of ADA standards for compliant design online. Amodeo encourages advocacy groups to change their way of thinking about accessibility.
"It's a culture shift of accepting people for who they are in whatever way they're presenting themselves. It's about being open to listening to folks and meeting them halfway," she says. "If we start thinking of it as a culture instead of a checkbox, we will start making strides in our book."
Overcoming the Stigma of Abuse
Katherine Yoder is the executive director of Adult Advocacy Centers a national nonprofit based out of Ohio that addresses the inequities that exist within the criminal justice system for disabled individuals. They often work with law enforcement agencies to help survivors both escape and get justice in cases of domestic violence.
"A lot of times what we've found in the disabled community is just stigma and stereotypes that exist particularly if a person doesn't speak verbally. There's this assumption that they're not going to be a credible witness or provide any kind of evidence."
Yoder talks about a case from a local sheriff's department in which a sexual assault victim was non-verbal. One thing Yoder's nonprofit does is conduct forensic interviews, or interviews in which information is elicited in a non-leading manner and recorded in order to be a piece of evidence in the case.
The sheriff's department handed the forensic interview over to Yoder's group.
"It took about three hours, but at the end, the survivor who had already been categorized as nonverbal was able to give us a lot of details about the case and were able to identify the correct perpetrator. In this particular case, it was a mixture of some very basic vocabulary plus visual aids," she explains. In certain cases, this means coming up with a tactile storyboard to explain things that require consent.
"The whole thing about accessibility is the accommodations are never-ending. It really is about thinking up with things that haven't been created before," says Yoder."
She remembers another case in which a detective gave a survivor their business card, but the survivor was blind and couldn't read it. When the detective followed up and asked the survivor why they hadn't reached back out, the survivor informed them, "I can't read your business card and the only way I could was to go to my neighbor and read it, and I don't want them to know."
In this case, an app like Be My Eyes could have been suggested. This free app allows vision-impaired individuals to video call any number of volunteers around the country to help them read or identify something they're having trouble seeing.
"The technology is always expanding," acknowledges Yoder. "There are ways to leverage that and communicate more effectively. The issue is knowing about it."
How to Report Abuser of a Disabled Person
If the individual you're concerned about is in immediate danger, call 911. But if you only suspect abuse and haven't witnessed it firsthand, it may not get a police response. And remember, sometimes a police presence can place individuals with certain disabilities in additional danger. If they react impulsively or are unable to communicate to police regarding what happened, or have acted in self-defense in addition to these factors, they could be at higher risk for duel arrest or simply not being believed by officers.
It may be best to first reach out to a social work service, such as Adult Protective Services. This service organization exists in every state to protect vulnerable adults over the age of 18.
Once a report is made, your local APS office will determine if the report meets the state's criteria to open an investigation (i.e. the suspected abuse takes place in the office's jurisdiction, the victim qualifies as a vulnerable adult and there is sufficient information to locate them). If an investigation is opened, it will be assigned to a case agent who will then contact the potential victim in person. Most states specify how quickly an agent must conduct an in-person visit, with some states requiring it take place within 24 hours and others between one and five days.
Contact the APS office in your state here.
If filing a report is not what you're looking to do, you may want to consider reaching out to one of the organizations in the following section where a trained advocate can give you advice, support or resources for that individual's needs.
You may also want to read, "5 Ways to Intervene When You Suspect Domestic Violence."
Donate and change a life
Your support gives hope and help to victims of domestic violence every day.
Helplines for Disabled Individuals
Consider reaching out to one of these organizations to find help escaping abuse.
DomesticShelters.org's Find Help page. Find a shelter near you that offers services specific to your needs by typing in your ZIP code.
National Domestic Violence Hotline: 800-799-SAFE or 800-787-3224 (TTY)
RAINN (Rape, Abuse and Incest National Network): 800-656-HOPE or visit rainn.org for online chatting.
Barrier-Free Living. Secret Garden Counseling and Support hotline, 212-533-4358 or visit bflnyc.org for a live chat. For more than 40 years, BFL has supported individuals with disabilities to live abuse-free.
Americans with Disabilities Act (ADA) Information Line: 800-514-0301 or 833-610-1264 (TTY). Funded by the Department of Justice to provide information about the ADA, callers can ask how the ADA may apply to their situation.
Disability Information and Access Line: Call or text 888-677-1199 or visit acl.gov/DIAL to chat online or for an ASL chat link
Eldercare Locator: 800-677-1116. Funded by the U.S. Department of Health and Human Services to connect callers to services near them supporting older adults and their families.
Abused Deaf Women's Advocacy Services: 855-812-1001 (Voice/VP) or email hotline@adwas.org. Advocates with ADWAS are available 24/7.
Alzheimer's Association Helpline: 800-272-3900 or 711 for a TRS operator. You can also visit alz.org to chat with a member of the Helpline staff.
Office of Minority Health Resource Center: 800-444-6472. The OMH offers minority health literature, research and referrals.
Disabled American Vets: 877-426-2838 or DAV.org. Provides assistance to veterans and their families regarding finding benefits, transitioning to civilian life and offering support to underserved populations such as the elderly and disabled.
MyVA.com: 877-222-VETS for healthcare options and 988 for crisis situations. Set up by the Veterans Administration to help with all needs of U.S. veterans.
Amputee Coalition's Mental Health and Wellness helpline: 888-267-5669, Ext. 1 or visit their website for more resources.
Looking for someone to speak with? Enter your location to find phone numbers for domestic violence experts in your area.


Have a question about domestic violence? Type your question below to find answers.