notes
Netflix's You is a Roadmap to Dating Violence
Come for the thrills, stay for the education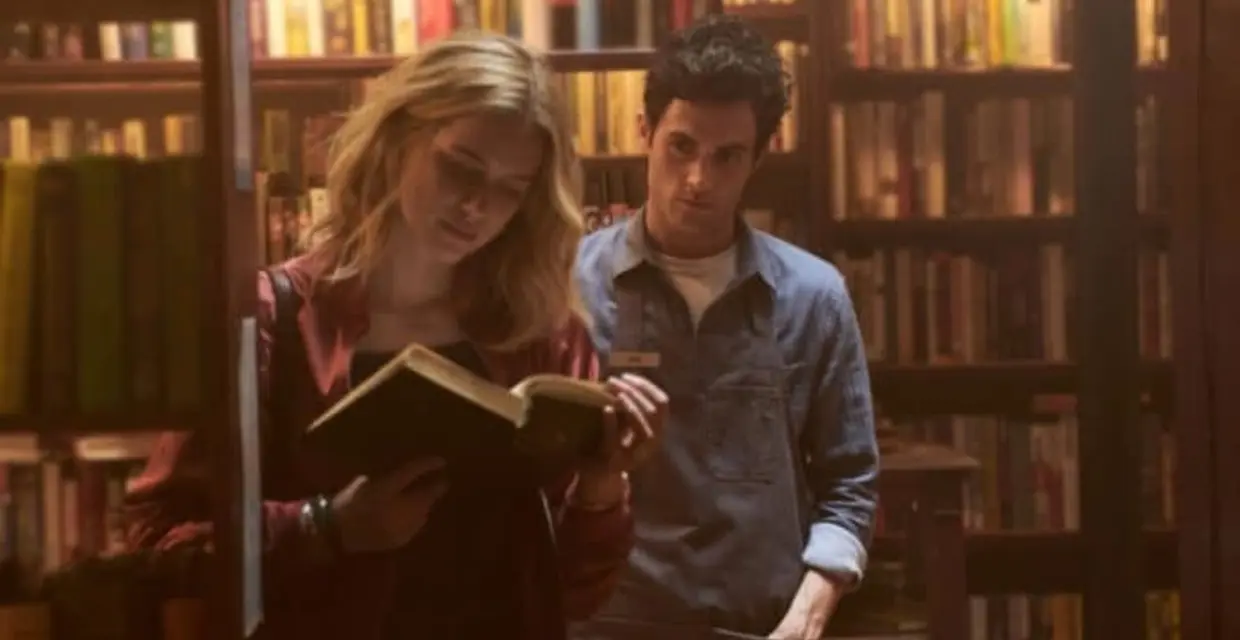 If you haven't yet binge-watched the first season of the Netflix series You, strap in. It's a riveting psychological thriller with twists and turns you don't see coming—which, in a lot of ways, is exactly how one might describe intimate partner violence.
You follows main character Joe, played by Penn Badgley, who is a seemingly sweet and nerdy-in-an-alluring way book store manager as he stalks the object of obsessive affection, grad student Becks, played by Elizabeth Lail. Joe takes on his antagonist role in such a way that you like him at first, as you should—abusers are often charming and likeable—but he quickly shows his dark side, stalking Becks' every move, monitoring her social media and text messages, and inserting himself in her life only to begin isolating her from everyone else.
The show inadvertently highlights a slew of different warning signs of dating violence—defined as a controlling and abusive behavior within the context of a romantic relationship between two unmarried individuals. It's incredibly important to recognize this because between the ages of 16 and 24 is when females experience the highest likelihood of intimate partner violence. Statistics also show that 43 percent of women in college have experienced dating abuse—the most common type of which is controlling behavior, followed by physical and sexual abuse.
But more importantly, or frightening, is this stat: 70 percent of those college students did not realize at the time that they were with an abusive partner.
Could that be blamed, in part, on a lack of know-how when it comes to the warning signs of dating abuse? Not to put it all on parents, but studies show that dating abuse ranks last on a list of topics most commonly discussed with their teens with school and grades, and money taking the top spots instead.
So, to help you out—a dating abuse primer, or rather, the red flags and abusive tactics Joe so disturbingly demonstrates in Season 1 of You.
Stalking. The most overt example of an abuser's need for power and control is Joe's relentless stalking of Becks. From the first time he meets her, he Googles her name and finds her [unhidden] social media accounts, through which he is able to determine many of her personal details, including her home address through geolocation on her photos (learn how to turn that off here). Cut to later that same day when Joe is already standing across the street from Becks' apartment, staring at her through the window.
If this is happening to you: Lock down your social media accounts using privacy settings. If you suspect or know you're being stalked, stop engaging with the stalker immediately—that's what they want most—and take steps to protect yourself. Read "If You're Being Stalked" to learn more.
Narcissistic Tendencies. Joe's internal monologue is voiced for the viewer to follow along with, and quickly you'll learn that Joe sees nothing wrong with his creepy stalker behavior. "You need someone to save you," he thinks. He believes he's protecting her by keeping an eye on her every move.
Digital Abuse. Becks thinks she loses her phone, but Joe steals it, tapping into her saved information on the Cloud (a remote server), which he can access even after she gets a new phone. He reads her text messages and emails and is able to use that personal information to both keep tabs on her whereabouts and also as a way to manipulate her. Read more about how technology and dating violence are linked, here.
Jealousy and Isolation. For fear of giving too much away, Joe makes sure to separate Becks from any other men she might be interested in and from her girlfriends, one by one, under the pretense of protecting her and doing what's best for her. Extreme jealousy is a red flag, as is isolating a survivor, which prevents her from having a support system to talk her out of what they may see as a dangerous situation, while also limiting her access to help when things start going awry. Read more in, "From Romance to Isolation."
Donate and change a life
Your support gives hope and help to victims of domestic violence every day.
Moves the Relationship Fast. Joe admits, if only in his head, that he fell in love at first sight with Becks, justifying to himself why they need to be together. To Becks, on one of their first dates, he points out another couple at a bar and says, "That's us in 30 years." After just a short while, Becks is practically living with Joe, and he's making sure she's "taken care of," in his words. In combination with other warning signs, advancing the relationship quickly is another tactic abusers use to ensure a survivor is dependent on them. See other red flags, here.
Abuse Doesn't Always Look Like a Black Eye
It should also be noted that the show highlights one of the most unassumingly dangerous types of dating violence as a whole—nonphysical abuse. We often think of domestic violence in the form of hitting, slapping, strangulation or shoving. But nonphysical abuse, that which comes in the forms mentioned above, is part of the reason why some survivors don't see it at first, get deeply entangled with an abuser, and find it all that more difficult to escape, especially when the abuser goes from shouting to striking.
It doesn't help that many survivors will initially talk themselves out of warning signs. As Becks tells herself at one point, "Sometimes, my mind goes to the darkest places. That could never be you," when she starts to suspect something sinister may have happened to Joe's ex-girlfriend. Read "3 Ways to Listen to Your Gut" for more on following your intuition.
Warning for Abuse Survivors
This show could be triggering for survivors who have lived through or are currently living through something similar. Make sure to practice self-care before and when watching it. This could include reaching out to a trusted friend or trained domestic violence advocate to talk through your emotions the show brings up, digesting the show in small pieces (aka, not watching episodes back to back) and stopping watching if it brings up too many negative memories.
Discussion Questions
SPARC — Stalking Prevention and Awareness Resource Center — created a list of discussion questions here around the first season of You, which could be used if you're watching it with your child, other survivors, a group of advocates, etc. For season two, see this list. (Season 3 debuted Oct. 15, 2021.)
Should I Watch This with My Teen?
Parents may want to consider using this show as a learning tool to watch with their teenager, making it the jumping off point to hold a conversation about the warning signs of dating violence. Just be aware that CommonsenseMedia.com deems the show OK for audiences 16 and up (there is sex, but no nudity, some violence and harsh language). So, use your own judgment. If this is too much for your impressionable high-schooler, you might also consider reading together one of the young adult novels that touch on dating violence in "Using Fiction to Teach Facts."
Looking for someone to speak with? Enter your location to find phone numbers for domestic violence experts in your area.


Have a question about domestic violence? Type your question below to find answers.