notes
Using Fiction to Teach Facts
Using young adult novels to start a conversation with your teen about domestic violence
By DomesticShelters.org
Jun 28, 2017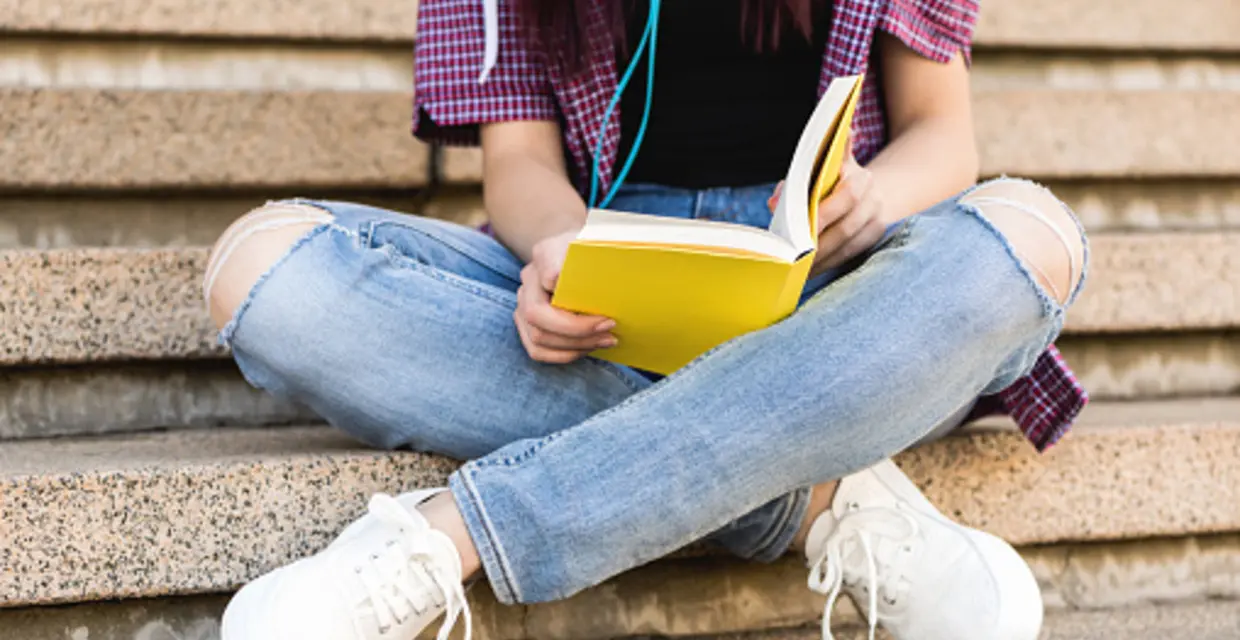 Previous generations had Little Women to learn about feminism and To Kill a Mockingbird to teach acceptance of other races. Anne Frank: The Diary of a Young Girl introduced young readers to both the Holocaust and what one's first love might feel like, while Go Ask Alice was a scandalous unveiling of drug addiction.
Fiction (and, in Frank's case, memoirs) have long been used as tools to teach young adults about very grown up issues in a way that draws them in and holds their attention. And some educators believe a bevy of new young adult novels may be the perfect tool to get your teen talking about a very serious, and very real, threat: domestic violence. Specifically, dating violence. After all, a 2009 survey showed that dating violence ranked last on the list of topics parents talk to their teens about.
Below, a few tips on how to use novels to start the dialogue.
Read It With Them
It starts with picking out a book, and there are plenty to choose from. Die For You by Amy Fellner Dominy, Bitter End by Jennifer Brown, Dreamland by Sarah Dessen and The Girl Who Fell by S.M. Parker are a few options to start with. Pick up two copies and give one to your teen. Tell him or her that you'll read it along with them, and then you can discuss it, maybe at their favorite restaurant, just the two of you. (Bribes don't hurt.)
"I'm a big believer in families reading books together, then talking about what they read as a family," says educator and domestic violence support group leader Barbara Harvey. She's also the executive director of Parents, Teachers and Advocates, Inc.
Donate and change a life
Your support gives hope and help to victims of domestic violence every day.
Don't Wait Too Long
Anyone with teens knows that trying to inquire about your high schooler's dating woes can result in an immediate dead end, so starting the conversation about dating violence as early as possible may benefit you both. Plus, the age group most at risk for intimate partner violence is 18- to 24-year-olds, followed second by 11- to 17-year-olds.
"Domestic violence is such a scary subject for both parents and children. Using a book the family is reading together allows for the family to take the experiences of the characters and talk about what they are experiencing in the book," says Harvey. By discussing fictional characters' experiences instead of your teen's own life, it allows the conversation to flow from an emotionally safe place, she explains.
Pacify Fears
Talking about domestic violence, or dating violence, can be even more difficult for teens who have already lived through it. But again, fictional characters' experiences may help in two ways. One, it can show your teen that abuse is not an anomaly. They're not alone. It can, does and has happened to other people, says Harvey.
And secondly, "If the characters end up in a positive place at the end of the story, it can provide hope to all concerned that there is a place of health and safety they can find after such trauma."
Lead the Conversation
"Children learn 85 percent of what they know through observation," says Harvey. In other words, if an adult can demonstrate how to talk about big scary feelings, a teen will know it's okay to talk about his or hers. Especially if your teen has experienced violence already.
"Secrecy and shame are two things kids learn in a domestic violence situation. Removing those barriers gives kids a chance to begin to feel freer in discussing what they have seen, felt or experienced," says Harvey."
She recommends giving kids the emotional words to use to talk about how they're feeling, or may have felt in a scary situation where abuse was present. This is a list of emotional words that could help parents think outside the box when describing how they feel.
She suggests a conversation might sound like the following:
"Jennifer, I realize you may be reluctant to talk about teen dating violence. However, this is a reality you need to be prepared for. I want you to have healthy and positive relationships. I need you to be able to recognize the signs of a relationship becoming toxic now, so you can avoid getting into a situation you may regret later."
Don't Fall Into the But-It'll-Never-Happen-to-Her Trap
You may think your teen is too smart to date someone abusive. Or, your son is too kind to ever be controlling. These stereotypes can prevent a parent from even broaching the topic. Harvey says this is a mistake.
"Teens are in the process of learning about the adult world and all of its wonderful attributes and horrible truths. It is a parent's job to equip them to handle both areas. Reading these kind of books and discussing the contents gives parents the tools to help children understand what a toxic relationship is and hopefully help them to avoid such relationships."
Looking for someone to speak with? Enter your location to find phone numbers for domestic violence experts in your area.


Have a question about domestic violence? Type your question below to find answers.