notes
How to Start a Sexversation
A rape survivor and her best friend create a game to start conversations around sexual empowerment and consent
By DomesticShelters.org
Apr 18, 2018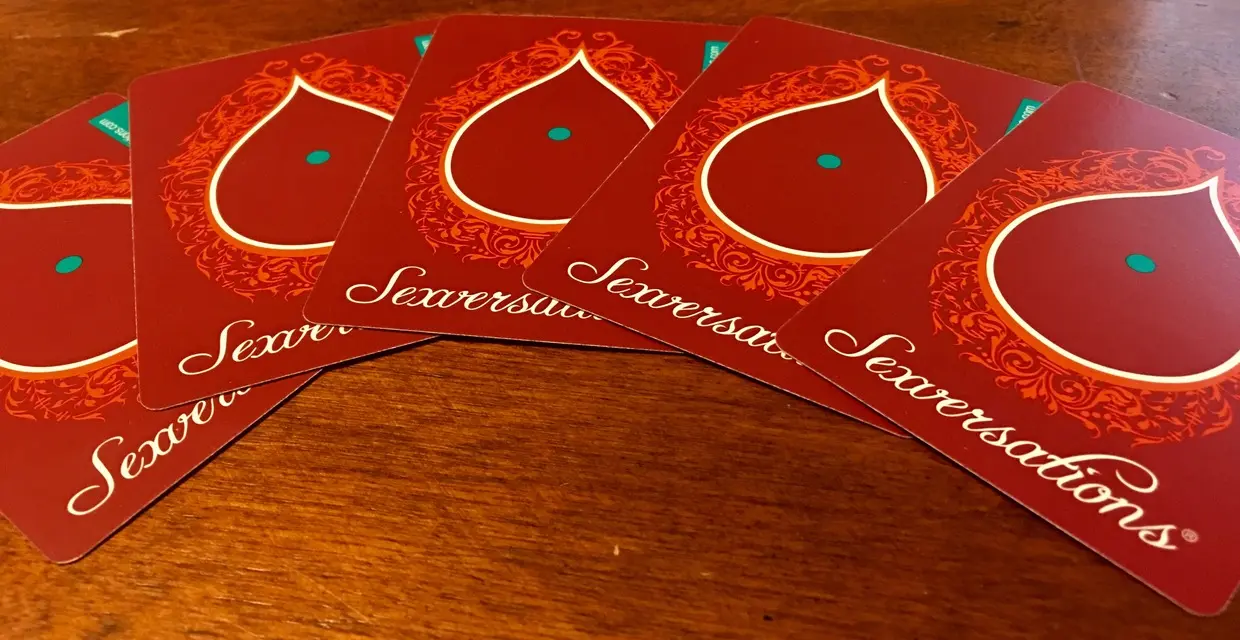 After her best friend Kelly was raped in college, Becca Tieder said both women had "no idea what resources were in our community," and the ones they found on campus, in the late '90s, were "inadequate." From trauma and confusion came advocacy and hope in the form of One Student, a nonprofit Tieder began with her friend Kelly Addington, with the hopes they could engage students to create social change that could help end sexual violence.
Since then, the duo's "very small, grassroots organization," per Tieder, has spoken to close to 500 universities, the military and has advised the White House on sexual assault policy.
"We want to support survivors of sexual violence, but we also want to prevent it," says Tieder.
DomesticShelters.org recently talked to them about a game they created called Sexversations®, and how they're hoping it will be used to start some difficult, but important, conversations.
DomesticShelters: You've been working on college campuses now for many years, talking sexual assault and dating violence. But you said you started to realize your starting point was too late. What did you mean by that?
Tieder: These are college-age individuals coming to our programs and we're explaining … what a healthy sexual relationship looks like. We realized there was a lack of education for a lot of people. It's a fall-out of abstinence-only education. Unless their parents are talking to them, they really just don't know anything.
We ask them to tell us about when they first learned about sexuality, and they'll say the only education they got was a 5th grade video, which was really just a peep into puberty. And we'll ask—when did you first learn about consent? For a large percent … consent had never been covered.
When they have a clear understanding of [a healthy sexual relationship], consent becomes clear.
DS: So you created Sexversations. What is that?
Tieder: It's a deck of cards that gets you talking openly and honestly about sex. The questions cover beliefs, issues and attitudes surrounding sex and we hope it can lead people to discover sexual empowerment for themselves. An example question would be, "If you cheat on your partner, do you have to tell them?" Or, "Is it possible for a rape survivor to have a healthy sexual relationship?" The cards are conversation starters that will hopefully spur an engaging dialogue within groups.
Donate and change a life
Your support gives hope and help to victims of domestic violence every day.
DS: Who can use the game?
Tieder: The largest purchaser has been university professionals that use Sexversations to train peer educators. We've also had teachers, the military, pregnancy prevention educators, Planned Parenthood, college residence halls and parents buy them—even some campus newspapers publish a "Sexversation of the Week."
DS: We ask this question to a lot of experts and the answer is usually "as early as possible"—but when do you think kids should start learning about sex? And should sexual violence be tied into that as well?
Tieder: I think there are ways you can teach comprehensive sex-ed from the time your child is born. I have two sons—ages 9 and 6—and even when my oldest was born, I would say things like, 'I'm going to change your diaper now.' He may not understand what I'm saying, but I trained myself to always ask permission to touch his body.
We use 'permission' outside of the sexual context all the time. We say [to our kids], 'You didn't have their permission,' when they take something from someone else. I have a kid who likes to kiss people all the time. I tell him, 'You can't do that without permission.'
Permission and consent are the same thing—'consent' is just a word we're not as comfortable with.
My older child has some knowledge of sex from a biological standpoint but we just release this in snippets. There should never just be a sex talk. [Sex] should be normalized in a household, so people know what a healthy relationship looks like, what they deserve. Then, as questions come to you whether, from your partner or child, it doesn't scare you.
A lot of relationship violence and sexual violence is committed before college but we can't get to them, so we go through parents. If parents have these comprehensive conversations over time, kids will come to know what's healthy and unhealthy. Abusive partners are so manipulative—they leave the partners or victims to feel as though they're deserving of these behaviors or that they're normal.
DS: You also talk about the importance of teaching young people "intervention behavior." What is that?
Tieder: Intervention behavior is creating a support system for someone being victimized by an abuser. It's valuable to teach your kids that when they see someone who's not being kind, to stand up for other people as long as you're keeping yourself safe. So when they see their friend get shoved into a locker, they know they can say to their friend, 'I saw what happened and I support you and can I help you in any way?' If you give them the language, they feel empowered.
Tieder and Addington are transforming their online store to purchase Sexversations, but for now, you can buy the decks for $15 by emailing them at info@kellyandbecca.com.
Looking for someone to speak with? Enter your location to find phone numbers for domestic violence experts in your area.


Have a question about domestic violence? Type your question below to find answers.