notes
The Science of Hope
You're more likely to reach your goals with high hope, says Casey Gwinn of the Alliance for HOPE International. How survivors of domestic violence can apply this to their lives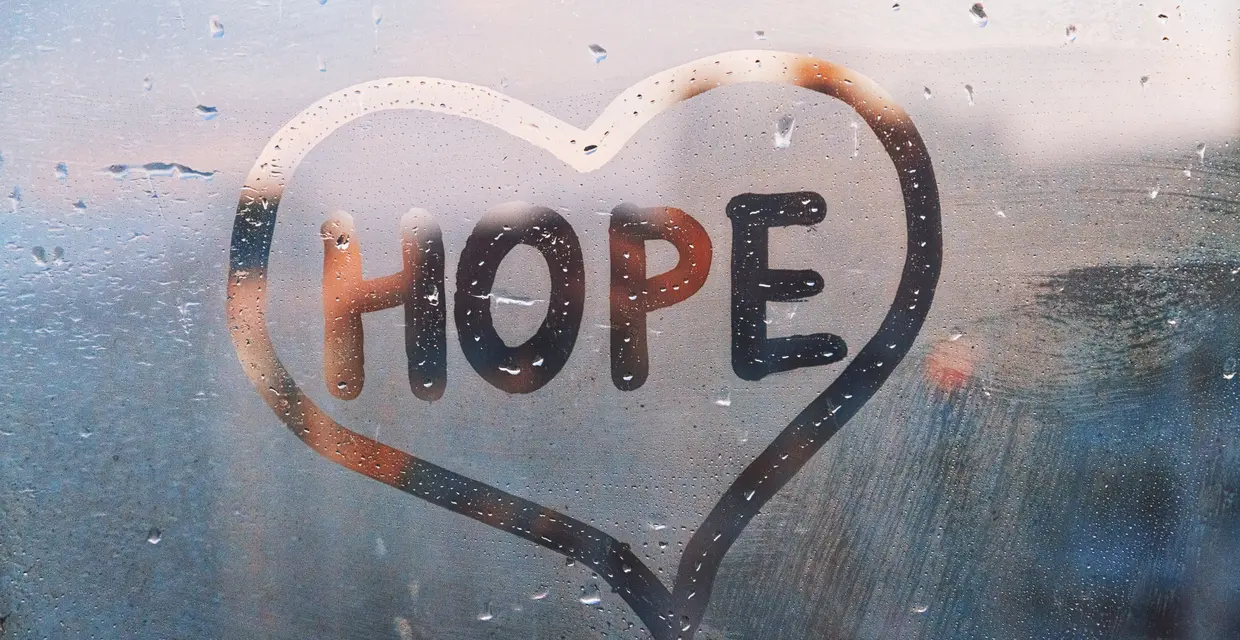 Can you measure how hopeful someone is? Researchers say yes. It is possible to quantify how much hope a person has in their life. And, not surprisingly, the more hope a person has, the greater likelihood they'll have success in reaching their goals. So, what is your hope score? And how does a hope score translate for those escaping an abusive partner?

Hope and a Wish Are Different
Hope is simply the idea that we have the ability to shape our lives. We can set goals and find a way to get there. As Casey Gwinn, J.D., puts it, "A goal without a plan is just a wish thrown into the universe."
Gwinn is the co-author of the best-selling book, Hope Rising: How the Science of Hope Can Change Your Life, along with Chan Hellman, PhD. Gwinn, a former prosecutor, is also the president of Alliance for HOPE International, so named after meeting Hellman and realizing the power of having hope as survivors of domestic violence.
But Gwinn admits he was skeptical at the beginning. Hellman said he wanted to measure the hope scores of kids at the Alliance's yearly Camp Hope (since renamed as well to reflect Gwinn's change of heart). After 30 days at camp, Hellman found kids' hope scores went up by three points. But after camp ended, they dropped by two and a half points on average.
"My first reaction was his scale is flawed," remembers Gwinn. "We did increase hope."
But as Hellman explained, while Camp did increase hope in the kids' lives, it didn't sustain it.
"We changed our entire approach after that," says Gwinn.
Many credit the first studies of hope to the late psychologist C.R. "Rick" Synder, PhD, a professor out of the University of Kansas. He published six books on his theories surrounding hope and, in the early '90s, developed something called the Hope Scale to predict a person's level of well-being after trauma. A child-specific scale, aimed at kids ages 8 to 16, was also created to help predict a child's outcomes in school.
Find Your Hope Score
The Adult Hope Scale asks participants to read the following statements and rate themselves on a scale from one to eight.
___ I can think of many ways to get out of a jam.
___ I energetically pursue my goals.
___ There are lots of ways around any problem.
___ I can think of many ways to get the things in life that are most important to me.
___ Even when others get discouraged, I know I can find a way to solve the problem.
___ My past experiences have prepared me well for my future.
___ I've been pretty successful in life.
___ I meet the goals that I set for myself.
Scores over 40 are considered slightly hopeful. Over 56 means you likely have a higher level of hope in your life. If you score below 40, your hope is low, but it shouldn't discourage you, says Gwinn. Luckily, hope is something that can be learned, cultivated and restored.
How Trauma Survivors Can Find Hope
Snyder believed there were three concepts that made up hopeful thinking:
Goals
Approaching life in a goal-oriented way.
Pathways
Finding different ways to achieve your goals.
Agency
Believing that you can instigate change and achieve these goals.
After setting a goal, such as "I want to find and purchase my own house for myself and my children to live in," it may seem like the pathway is blocked. But how do you afford that? But how do you escape an abusive partner? The pathway may seem blocked, but hope tells us there is always a way around. It may be easier to break down these goals into the steps it will take to get there. Agency is the unending belief that you can conquer each one of those steps. It may mean refocusing on the goal and not the problem. Practice self-care, meditation and gratitude journaling, and avoid negative messages whenever possible.
Donate and change a life
Your support gives hope and help to victims of domestic violence every day.
Why Is Hope Important?
Poet Emily Dickinson told us that hope is the thing with feathers that perches in the soul and sings the tune without the words and never stops at all. Hope is what perseveres long after trauma ends. It can be the driving force for survivors to continue on, set goals and achieve them.
As a domestic violence survivor, one way you can start to think hopefully is to think about what you do have control over. Do you have control over whether or not an abuser will control, intimidate or harm you anymore? Unfortunately, no. So, that can't be your goal. But your goal could be to move out. The pathway could be contacting a domestic violence advocate to create a safety plan. It could be getting an order of protection so that the abuser stays away from you. Agency constitutes the thoughts you have around this. Instead of saying, "Things will never change," you may start repeating, "I'm ready to have a better life. I can do this."
Abusers Can Rob Victims of Hope
Goal setting is a big part of having hope, but this can be difficult for survivors of trauma, especially domestic violence. An abuser's trademark is often to control every aspect of a survivor's life, which can include gaslighting or brainwashing them into thinking life will never change. They may convince a survivor no one will ever love them or help them except the abuser. The survivor may lose all hope that the future could look different.
"When you get robbed of the ability to control your own life, you also get robbed of your motivation to set your own goals," says Gwinn.
The Training Institute on Strangulation Prevention, part of Alliance for HOPE International, prepares professionals on identifying and investigating strangulation cases. Strangulation has long been an indicator that domestic violence homicide is imminent. Gwinn says he's regularly seen survivors of strangulation say there's no way they can escape such a dangerous partner.
"She [the victim] has literally been robbed of the ability to stop the violence. When she says, 'I'm scared to death of him and I'm staying with him,' she's not saying she wants the violence to continue. She sees no pathway. She's focusing on his choices, not hers, but she has no control over his rage," explains Gwinn.
Instead, focus on what you do have control over. A small goal. Maybe that's just disclosing to a friend. Maybe that's picking a date to leave by. Whatever it is, hope is fueled by looking ahead to what you can do to change things.
How Camp HOPE America Began to Sustain Hope Longer in Trauma Survivor Kids
After hearing that kids at Camp HOPE America didn't have sustained hope 30 days after camp ended, Gwinn says they made a series of changes.
"Two years in, we started having holiday parties. We sustained some increases in hope but after the holidays, kids' hope scores would go back down again. And we realized it was too big a gap until next summer. So then we created monthly activities. Every month there's a gathering. We do STEAM [science, technology, engineering, art and math] activities. Then we realized not all the kids were interested in STEAM. Some wanted to go on hikes. We had them set goals around something they were motivated by or interested in."
Soon, hope scores went up and stayed up, says Gwinn. And they saw additional positives, too.
"Correspondingly, there was an increase in letter grades in school, a reduction in truancy and discipline problems were going down."
Hope Becomes Personal
Soon after, Gwinn decided to write a book about his findings on hope and how it had changed his life. In the midst of writing the book, his adult daughter Karianne was diagnosed with a rare and aggressive form of lymphoma. It was the ultimate test of having hope.
"I was so angry at God. I was so frustrated that I had no control over anything. My first instinct was not to apply the science of hope," he says.
While Gwinn says he realized he couldn't control whether his daughter would survive, he could set goals for things he did have control over. He could research a better insurance plan. He could rent a house near where she would receive treatment. In turn, his daughter began to research a radical holistic nutrition plan that would eventually end up saving her life.
"She could have lived in the dark shadow of anxiety," Gwinn writes in Hope Rising. "She could have obsessed over the bad cards she was dealt. But she made a conscious, courageous choice to set goals whenever she had any control….she turned her pain into power."

Looking for someone to speak with? Enter your location to find phone numbers for domestic violence experts in your area.


Have a question about domestic violence? Type your question below to find answers.