notes
Survivors Might Not Make It to the Polls
Abusers may prevent survivors from voting this November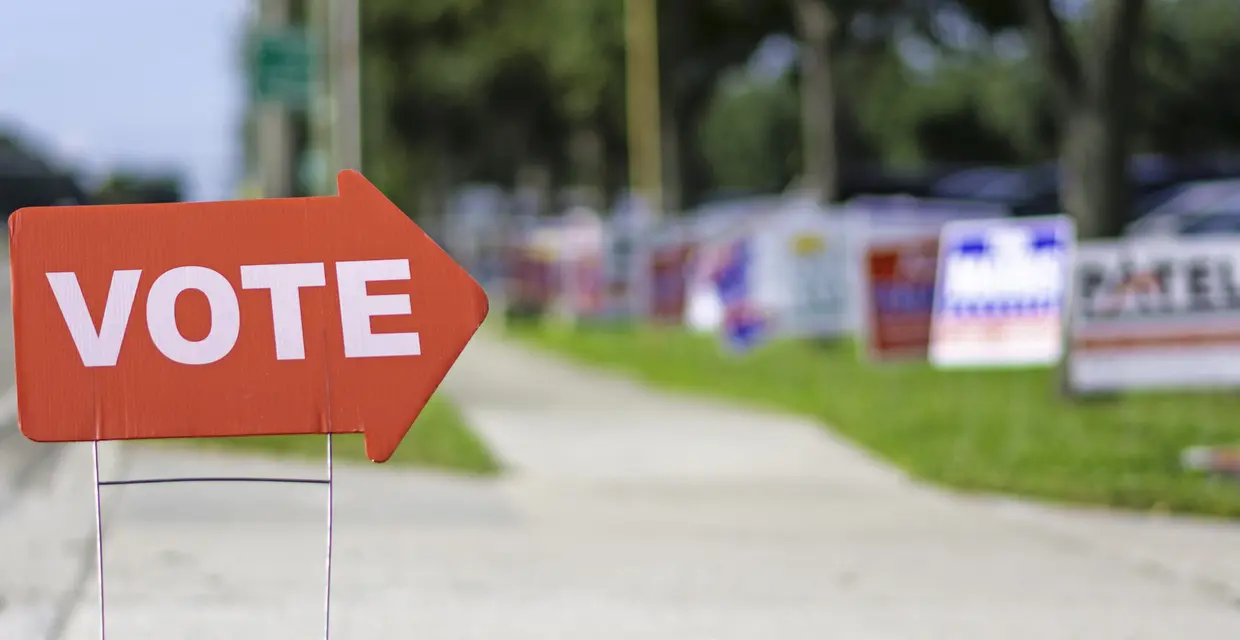 An abuser can stand in the way of a lot of things—freedom, for one. Feeling safe in one's own home. A support system of friends and family—abusers hate those. And come November, they can also stand in the way of survivors exercising their right to get to the polls.
Donate and change a life
Your support gives hope and help to victims of domestic violence every day.
Why would an abuser concern themselves with voting when there are so many other more sinister tactics of power and control they can take? Author Danielle Root writes on AmericanProgress.org, "The act of voting is itself a demonstration of power and something an abuser may seek to stifle or influence through violence or intimidation. This is particularly true in intimate partner relationships that adhere to strict patriarchal standards, where a wife or female partner's desire to vote for different candidates or policies than her male partner may be seen as a rebellion against patriarchal norms."
How dare a survivor think for him or herself and actually believe they're allowed to have a say in who's elected, supposes an abuser.
Silencing Up to 12 Million Voices
According to a survey on DomesticShelters.org, 24 percent of respondents said they were prohibited from voting while the majority of commenters said, if they were allowed to vote, they were forced to vote in line with an abuser's preferences, or the abuser filled out their ballots for them.
"He tried to tell me who to vote for, as in, 'We're married so we have to vote as a unit—I'll tell you who we are going to vote for,'" wrote one survivor.
While preventing a survivor from voting might not sound like the most serious threat society should be concerned with regarding domestic violence, tell that to the 12 million men and women who experience intimate partner violence every year. Add to that the fact that we are continuously told the way to stop domestic violence is to vote for laws that enact change. This could include legislation that protects the Violence Against Women Act, or laws to tighten gun regulations, increase funding for emergency shelters or provide more education in schools on topics like consent, boundaries and healthy relationships.
In order to do that, citizens—including those 12 million survivors—need to vote.
Survivors Afraid to Release Personal Information
To register to vote, survivors can visit any number of web sites like USA.gov,Vote.org or RocktheVote.org, or in person at their local election office, Department of Motor Vehicles or public library, which should either offer paper forms or an online option to register.
To do so, survivors will need to provide some personal information, which varies by state. This could include their address, social security number (or the last four digits), date of birth and driver's license or identification card number.
For survivors who have left an abuser and are protecting their location in order to avoid stalking or harassment, even the mere thought of this information making any type of public voting list can scare them away from voting.
However, many states have passed confidential voter laws, offering protections to "qualified voters"—typically those voters who can prove they face a life-threatening condition should their information be released—to keep their name, address, email and phone number off of any roster or list and allow them to vote by mail for any election. The ballot may also be sent to a place other than their place of residence.
When registering to vote, survivors may want to ask about this option in their state.
Isolation Plus Intimidation Makes Voting Difficult
One of the signature tactics of domestic abuser is their desire to isolate survivors. This helps keep survivors under the abusers' control. Abusers may prevent them from holding a job, going to school, seeing friends and family—even leaving the house without permission.
Survivors may not be aware of election dates, much less be registered to vote or even able to get to the polls. Due to moving to an isolated area, the nearest polling place might be too far away to get to without transportation. A survivor's access to the Internet or television might be restricted by an abuser, preventing the survivor from hearing about candidates.
Or, on the flip side, an abuser may allow a survivor to vote, but only in the way the abuser decides. He or she may tell the survivor exactly who they will be voting for because, of course, the abuser knows best. A survivor may be too afraid to argue a different viewpoint.
Combating this type of coercive control and psychological abuse is difficult, sometimes because it's accompanied by gaslighting—a tactic where the abuser convinces the survivor what's happening is not really abuse and that she or he is crazy for thinking so.
Survivors should consider reaching out to a trained domestic violence advocate for help. An advocate can help them come up with a safety plan—either to get out of the house safely to vote, or to get out of the house for good.
Looking for someone to speak with? Enter your location to find phone numbers for domestic violence experts in your area.


Have a question about domestic violence? Type your question below to find answers.