notes
Girls Fight Back
Self-defense is about much more than physical moves, says one group
By DomesticShelters.org
Aug 10, 2016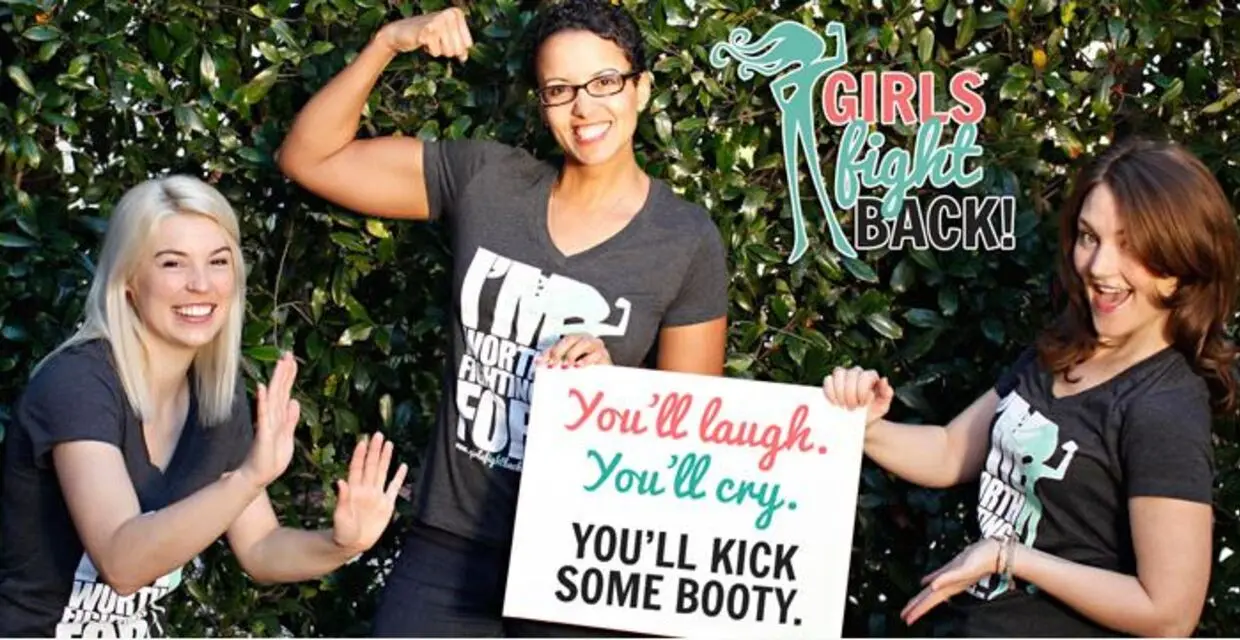 In 2001, 21-year-old college student Shannon McNamara was brutally raped and killed during a violent home invasion by a serial rapist. Her murderer now sits on death row.
In part, his conviction was possible because McNamara fought back during the attack. DNA evidence from the struggle collected from the young woman helped to prosecute her murderer. The senseless tragedy spurred McNamara's sorority sister at Eastern Illinois University, Erin Weed, to decide other young women needed to feel empowered to fight back the same way her friend did, and Girls Fight Back was born.
"Erin wanted to give these tools to herself and to other women, to be able to live our lives from a place of empowerment and strength," says Girls Fight Back President Gina Kirkland. "To live in a place of fear all the time is not a healthy way to live. We are 100 percent capable of taking care of ourselves."
While basic self-defense training is part of what the three-women team teaches when they present their program at some 80 high schools, colleges and corporations around the country annually, Kirkland says the hands-on demos only the last 20 minutes of their 75-minute presentation. "Self-defense might seem like the most 'glamorized' thing we do, but the greatest way to defend yourself is well before anything becomes physical."
To that effect, the women teach intuition skills, choosing awareness, how to set verbal boundaries, how to carry oneself in an empowered way, and also what rights a woman has, specifically in a relationship. "It's scary that a lot of women don't know [their rights]. They 100 percent have the right to autonomy in regards to their bodies."
The Biggest Threat
"Most victims know their assailant," says Kirkland. "So many women are afraid of a stranger jumping out of the bushes and attacking them, but we know that is not likely to happen. The real threats are the people you know. You're more likely to be abused by someone you're close to—a boyfriend or husband, or member of your family." Kirkland says setting boundaries early on in relationships can help women from "falling down a slippery slope of teaching someone over time that you didn't demand respect."
A victim of stalking herself, she knows this important lesson all too well. "I had an ex that wouldn't go away. I did the wrong thing for a long period of time, ignoring him and then responding." Even responding with a "Leave me alone!" is enough to compel a stalker to keep trying, says Kirkland, whose ex harassed her for two years. "Stalkers are looking for any response. If you ignore someone's phone calls or texts 20 times, but reply on the 21 st time, they'll learn it takes 21 times to get a response."
Her Favorite Advice
Kirkland says the most important thing she can teach women is that "No" is a complete sentence. "Often, the way we give a 'no,' it becomes the beginning of a negotiation. Say it one time, say it clearly and then don't say anything else."
And, if that doesn't register, Kirkland believes physical self-defense can save your life. "If I had my way, all girls would get self-defense lessons beginning in the 6 th grade." Instead, she says, society often creates unfair gender stereotypes that girls are 'princesses' and need a knight in shining armor to save them. "This goes against your natural inclination to protect yourself. There is no species on this planet where females aren't able to protect themselves."
Girls Fight Back offers a free SASSY Self-Defense Guide that offers tips on protecting oneself during an attack. Instead of brute strength, the guide preaches strategy in order to fight back. It outlines three basic rules:
Breathe. "Yelling 'NO' with every strike while using self-defense techniques will keep the air flowing and remind you to breathe – as well as throwin' down some great verbal defense."
Respond. "Harness your fear and it will make you stronger and faster. Fear is your friend. Rock it."
Escape. "If someone attacks you, the safest thing to do is execute techniques necessary to open up an opportunity to get the hell away from this person. Then call 911. "
Men's Role
Sometimes, women can feel like they're responsible for stopping and preventing assaults, but Kirkland is well aware that in order to change rape culture, education is needed for both genders. "Yes, we need more education for boys and men on what 'no' means. One of the most important things men can learn is how to act around their peers, to stand up to others and say, 'That's not a funny joke,' or 'Why are you saying that about her?'"
A mom herself, Kirkland proudly calls her 17-year-old son a "strong feminist" and says she's inspired by the changes she sees in his high school compared to her own growing up. "The students at his school are encouraged to have a vibe of supporting each other. They stand up for each other. It's becoming more acceptable to be open and to be accepting of people's gender differences."
To contact Girls Fight Back about coming to your school or organization, visit their Contact Page.
Do You Know a Domestic Violence Hero?
DomesticShelters.org is looking for individuals doing heroic things, big or small, within their communities to help survivors of domestic violence. If you know someone, let us know about them by emailing Amanda@DomesticShelters.org and they may be featured in an upcoming story. #DomesticViolenceHeroes
Looking for someone to speak with? Enter your location to find phone numbers for domestic violence experts in your area.


Have a question about domestic violence? Type your question below to find answers.