notes
Girl Up Is the Book We All Needed in Our Youth
A conversation with author Laura Bates, author of the second selection in the DomesticShelters.org Book Club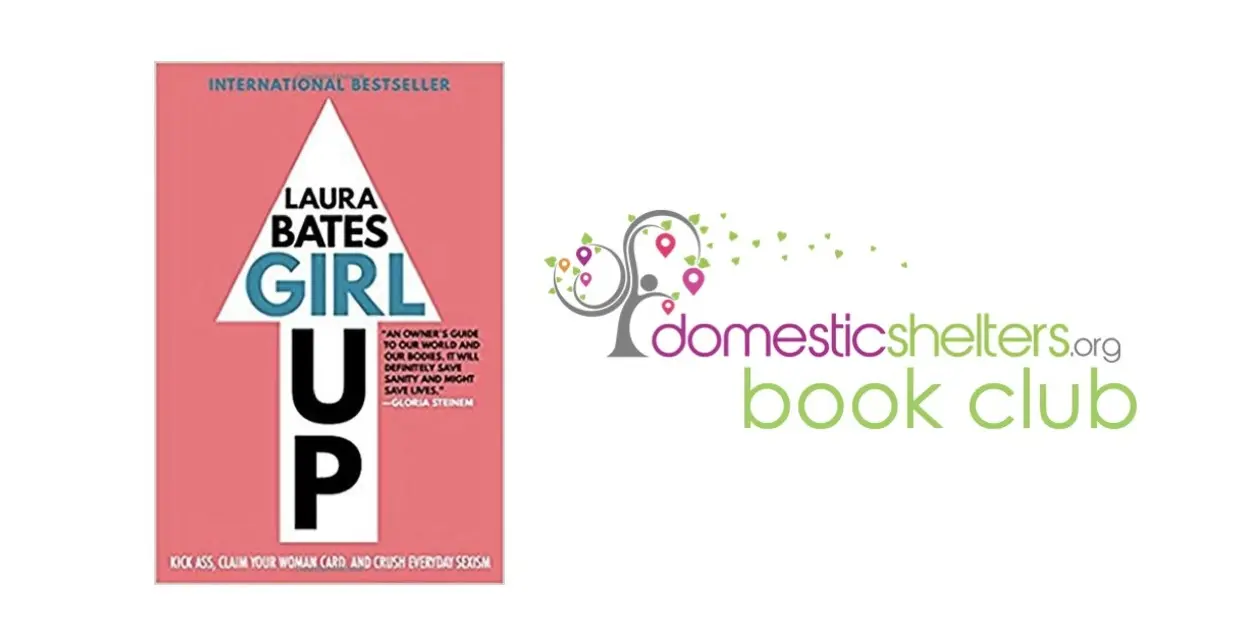 We're on to our second book in the DomesticShelters.org Book Club! Oprah has yet to file a cease and desist letter, so we believe we're in the clear.
International bestseller Girl Up by Laura Bates is the blunt, relatable, funny, serious and very real guide to bodies, boundaries, sex and sexism that we all should have read in our adolescent years. Luckily, it's just in time for this next generation.
Chapters cover topics like body positivity, staying safe online with social media, the unrealistic expectations of porn, why we should stop slut-shaming other women and, of course, a color-by-numbers vulva diagram. And don't let the name fool you—this book is not just for one gender. Both boys and girls—men and women for that matter—will find helpful tidbits throughout, such as the section, "Ways to Deal with Uncomfortable Moments When You Feel Unpopular or Awkward."
Donate and change a life
Your support gives hope and help to victims of domestic violence every day.
Plus, experts agree that in order to curb violence against women, education around consent and boundaries for both sexes needs to start young. When the pressures of dating, sex and—god forbid, naked selfies—are top of mind, opening up a dialogue with young people about such topics can curb the rampant rape culture that contributes to dating violence.
Read, Ask Questions
We invite you to read Girl Up over the next month, then submit any questions or comments you have about it to Amanda@DomesticShelters.org by Monday, Jan. 7. We'll pose your questions to the author and follow-up again with Bates' responses.
Now, get reading!
DomesticShelters.org: Your book opens with photos of tap-dancing vaginas wearing top hats, which is amazing. It's clear from the get-go that your book is vastly different from the far more clinical "all about my body" books most of us grew up with. Why did you want to take this approach?
Bates: We're so used to teaching girls their bodies are something dirty and dangerous, that shouldn't be talked about. I wanted to give them accessible, detailed information about their bodies, but also infuse a sense of fun, irreverence and pride in that conversation.
DS: Was this information you wished you had as a young woman? (Because that's what I kept thinking!) How do you think better educating young people about their bodies could change their future outlooks about themselves?
Bates: To answer your first question, yes! SO many people have told me they wished they had this book growing up and I really wanted to give today's young women a perspective and information trove that has been denied to so many of us historically. I think this kind of information can be transformative in terms of giving young women confidence, power, and the ability to form healthy and respectful relationships, as well as recognizing when they are being treated in a way that is not acceptable, which so many of us are otherwise socialized into just accepting.
DS: Who do you think this book is for? While it initially comes off as being written for young women, as I was reading it, I thought it was such a great compilation of information that any age or gender would find eye-opening.
Bates: I really hope the book is read by a wide audience. It is primarily aimed at young women, but I think there is a lot in it that could be useful for people of all ages and genders, not only because so many of us grew up without this information, but also because I think for adults and parents in particular it can be really useful to have a window into the reality of young women's lives.
DS: What topics did you decide to cover that you think were left out of previous books written for young people? And do you think, in 20 years, it will be necessary to update this book again with even more new information?
Bates: I'm sure it will be necessary to update the book again with new topics in 20 years (though I also dream of a time when it won't be necessary at all because we'll have dealt with the problems at their heart!) Technology in particular is changing so fast that new and detailed information is needed constantly to help young people navigate the realities of their daily lives. In particular, I thought that issues around sexting, online abuse and unwanted 'd*ck pics' were important to include as I hadn't seen these issues much addressed in similar books elsewhere.
DS: Some people might be caught off guard by the language and graphic detail you chose to use in parts this book. Do you feel like speaking bluntly is important to destigmatize taboos around sex and body parts in order to provide a proper education around them?
Bates: I absolutely think it's vital to take away that taboo from talk about vulvas, vaginas, masturbation, etc., in order to enable a wider, more comfortable conversation to be had around them. But I also wanted the book to be fun, and funny to read—not to be preachy or prudish but to capture some of the sense of the young women I work with, who in spite of facing these issues are incredibly funny, wise, witty and brave!
DS: All of these topics, but especially ones like calling out sexist humor and teaching about consent and boundaries, are intricately tied to preventing dating violence. How important do you think it is for there to be more education around these topics in order to help girls avoid abusive partners and help boys avoid becoming one? (And also vice versa in some cases, of course.)
Bates: I think that increasing education around these topics and others, like online abuse, coercion, sexual consent and healthy relationships, is enormously important if we are to tackle the problem of dating and relationship violence. Too often we act as if this is an inevitable problem and we react to it instead of trying to prevent it from happening in the first place. But if every young person was properly educated about their rights and their responsibilities, it could have a very positive impact on beginning to tackle the wider problem.
Missed our first Book Club selection? No time like the present to catch up! It was the survivor memoir Crazy Love by Leslie Morgan Steiner—you read our interview with the author here.
Looking for someone to speak with? Enter your location to find phone numbers for domestic violence experts in your area.


Have a question about domestic violence? Type your question below to find answers.