notes
Ask Amanda: Uneasy About Going to Shelter
It's often the last resort for survivors, and that's OK
By DomesticShelters.org
Jan 20, 2020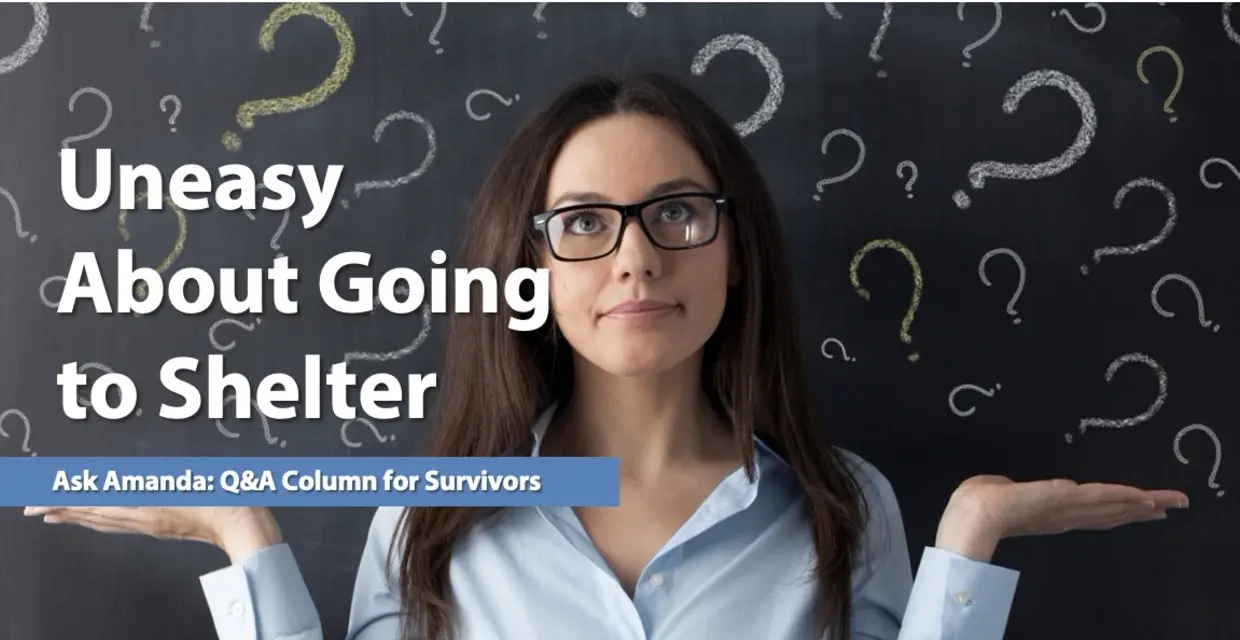 Q: My daughter is in a horrible domestic abusive relationship. She tried to leave the other night with the children. Her husband took her phone and sat in the car until she gave up and went back into the house. She has an uneasy feeling about going to a shelter. How can I help her understand it's a good place to go and she will have the support that she needs that I can't give her? Is there someone she can call that may be able to reassure her about going to a shelter? - Anonymous

Anon,
I'm sorry that you and your daughter and your grandchildren have to endure this, and thank you for being there for her and helping her to get out. I think it's understandable that your daughter is wary about going to a shelter. Imagine if you had to move your family to an unknown location and share facilities with complete strangers and their children where everyone is processing trauma and you try to keep things as normal as possible for your kids. This is rarely a scenario anyone enters into unless they fear for their life.
On that note, keep in mind this important caveat to leaving an abuser: only a survivor knows when it's safest to leave. It may seem as simple as walking out the door, but as your letter demonstrates, abusers will go to any length to prevent this from happening. Leaving is notoriously the most dangerous time for a survivor and the process should be done carefully, especially if the abuser has threatened her life before.
The first thing you should encourage your daughter to do is call a domestic violence hotline (she can find one near her using our search page here). Typically staffed 24/7, a trained advocate will help her to understand the abusive tactics her husband may be using to control or intimidate her, can help her identify her risk level using a danger assessment tool and can walk her through the shelter process—how to qualify, what it looks like to go to shelter and any other services available to her.
Encourage her to call a helpline when her husband is not around from a phone he doesn't have access to, such as a public phone, her work phone, the phone at her doctor's office or one at a friend or family member's house. Same goes for accessing this site—use a library computer or a friend or family member's phone or computer. Abusers are cunning—he may have spyware installed on her phone that she's not aware of.
Speaking with an advocate should put her mind at ease and help empower her to make the choices she feels most comfortable with. "Thinking About Going to a Shelter?" may also help answer some of her questions about what to expect if she decides to go and "Questions to Ask a Shelter" can be useful in helping her decide if that particular shelter is going to be the best fit for her and her children.
Donate and change a life
Your support gives hope and help to victims of domestic violence every day.
If shelter isn't the best option for her, there may be other solutions. An advocate can help her safety plan, identify somewhere to go where the abuser can't find her or help her with transportation to a place far enough away that the abuser can't track her (see "Flying the Survivor Skies").
If you talk to her more about shelter, it may help to remind her that relocating to a safe place for a temporary period may be exactly what will help her to understand what kind of gaslighting or brainwashing the abuser has been doing. It's often not until survivors get some time and distance that clarity about the abuse they've endured. It may help her to read—from a safe computer—these stories of how other survivors managed to escape abuse and the lives they're leading today.
Of course, shelter isn't a panacea. It won't necessarily make his abuse stop and it doesn't always mean the survivor won't return to the abusive partner—many do, for reasons varying from good ol' love to lack of financial independence. Make sure you're mentally prepared for that, and decide how much you can endure by continuing to support her. It's OK to acknowledge a feeling of burnout or compassion fatigue.
Also, it's important to point out also that your daughter is not in an abusive relationship; rather, she's enduring a relationship with an abusive partner. Let's go ahead and put all the blame on the abuser and none on the victim. It's crucial that victims/survivors understand that in no way, shape or form is abuse their fault. They may have signed on to a relationship, but they did not sign on to be abused.
We'll be hoping for the best for your daughter, Anon.
Have a question for Ask Amanda? Message us on Facebook, Twitter or email AskAmanda@DomesticShelters.org.
Ask Amanda is meant to offer helpful resources and information about domestic violence. If in crisis, please reach out to your nearest domestic violence shelter for the guidance of a trained advocate.
Looking for someone to speak with? Enter your location to find phone numbers for domestic violence experts in your area.


Have a question about domestic violence? Type your question below to find answers.