notes
Flying the Survivor Skies
Angel Flight West helps relocate victims of abuse, free of charge
By DomesticShelters.org
Nov 18, 2016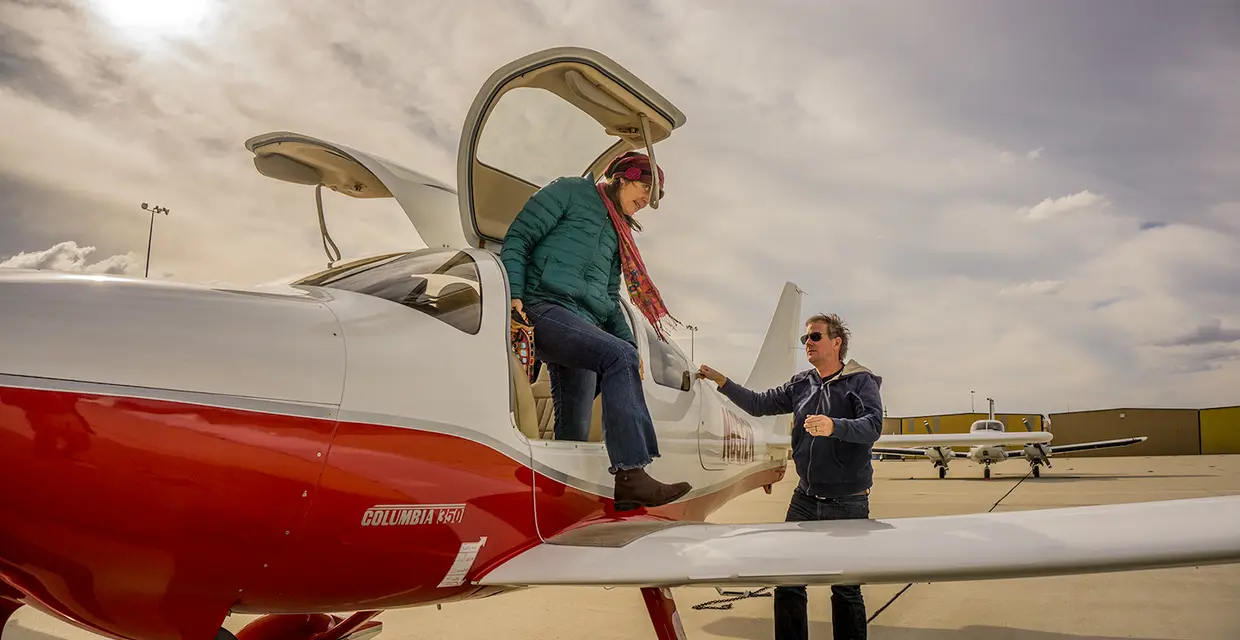 Escaping from an abuser sometimes means moving into a shelter a few miles away.
Other times, it means finding refuge nearly 1,200 miles from home, as was the case for one survivor mom and her three young kids.
The family was being sheltered in northern California, but needed to get to another shelter in Tucson, Ariz., closer to family. Enter Angel Flight West, an all-volunteer network of pilots who fly survivors of domestic violence, as well as individuals in need of medical care, throughout the southwestern U.S., free of charge. (Angel Flight West works in conjunction with similar organizations to fly missions in other parts of the country. For help, visit the Air Care Alliance.)
One of the groups' volunteer private pilots flew his small plane to Northern California, nearly 1,000 miles from Tucson, and flew them back. "It was a shelter-to-shelter transfer, but when they arrived, there was no longer room at the shelter," remembers Angel Flight West Executive Director Josh Olson. "But the pilot stayed with them until they could find safe dwelling with another family member." The family later sent the pilot a photo and a thank you. "They said they would have never been able to do this without him," said Olson.
Since its start in 1983, the Santa Monica-based Angel Flight West has flown some 70,000 flights. They currently have roughly 1,400 volunteer private pilots and average almost 4,000 flights every year. While most flights are for patients in need of nonemergent medical treatments somewhere far from home, Olson estimates about 5 percent of the flight recipients are domestic violence survivors who desperately need to relocate, usually to another shelter or a friend or family member's home.
"A lot of the feedback we get from survivors is this sense of gratitude and humility that someone was willing to go out of their way to get them out of a life-threatening situation," says Olson. The volunteer pilots donate the entire cost of the flights—fuel, airplane maintenance, and their time—out of their own pockets. The nonprofit also partners with Alaska Airlines, providing free commercial flights to places on the airline's route.
The pilots get almost as much out of their volunteering as the recipients do out of the flights, says Olson. "Flying is a hobby and a passion for these pilots. But knowing they literally saved someone's life at the same time—they're walking on air at that point."
Olson was working at an ad agency in Dallas when his boss handed him Angel Flight West as a pro bono account for the company. "I've grown up around planes—my father and grandfather were in the Air Force. I'd wanted to be a pilot for a while," says Olson, who's currently working on his private pilot's license. He helped to rebrand the nonprofit before moving to California to start a freelancing career, but wanted to continue helping. So he began volunteering with the organization, vetting calls from prospective participants.
One call in particular struck a personal chord. He spoke to a father who needed a flight for his premature baby to get medical care. At the time, Olson was enduring a similar experience—his wife had just prematurely given birth to their two-pound daughter, who was being treated in the NICU.
"By the end of the call, I was in tears, he was in tears. I knew this is what I wanted to do for my career." Olson has now been the organization's executive director for two years.
Take Flight
Survivors in need can request a flight through Angel Flight West's website or by calling 888-4AN-ANGEL, though requests do need to be vetted through a domestic violence advocacy group or shelter in order to ensure their validity and to keep pilots safe. (Again, for areas outside the southwest, visit the Air Care Alliance.)
Private flights are usually limited to 1,000 miles or less, though exceptions have been made, says Olson, and commercial flights are limited to where Alaska Airline travels. Participants should ideally be flexible on their dates and pilots need at least a week's notice to fly. The capacity for most flights is two people or 400 pounds, including luggage—more than that and the type of airplanes that can accommodate become fewer, explains Olson. "Most of these planes are like riding inside a small sports car. There are space and weight limitations." On that note, small pets are allowed, but they need to be crated.
Angel Flight West is also always open to more volunteer pilots. "We welcome all pilots in terms of type of pilot and type of aircraft," says Olson. They also need "Earth Angels," volunteers who can drive people from an airport to a shelter or safe place.
But the biggest challenge they have, says Olson, is getting the word out. "People think it's too good to be true. But it's completely free."
Do You Know a Domestic Violence Hero?
DomesticShelters.org is looking for individuals or companies doing uniquely heroic things within their communities to help survivors of domestic violence. If you know someone, let us know about them by emailing Amanda@DomesticShelters.org and they may be featured in an upcoming story.
Looking for someone to speak with? Enter your location to find phone numbers for domestic violence experts in your area.


Have a question about domestic violence? Type your question below to find answers.