notes
Kathryn Keats Puts Her Survivor Story on Stage
She was held hostage for 56 days before hiding from her partner for the next two decades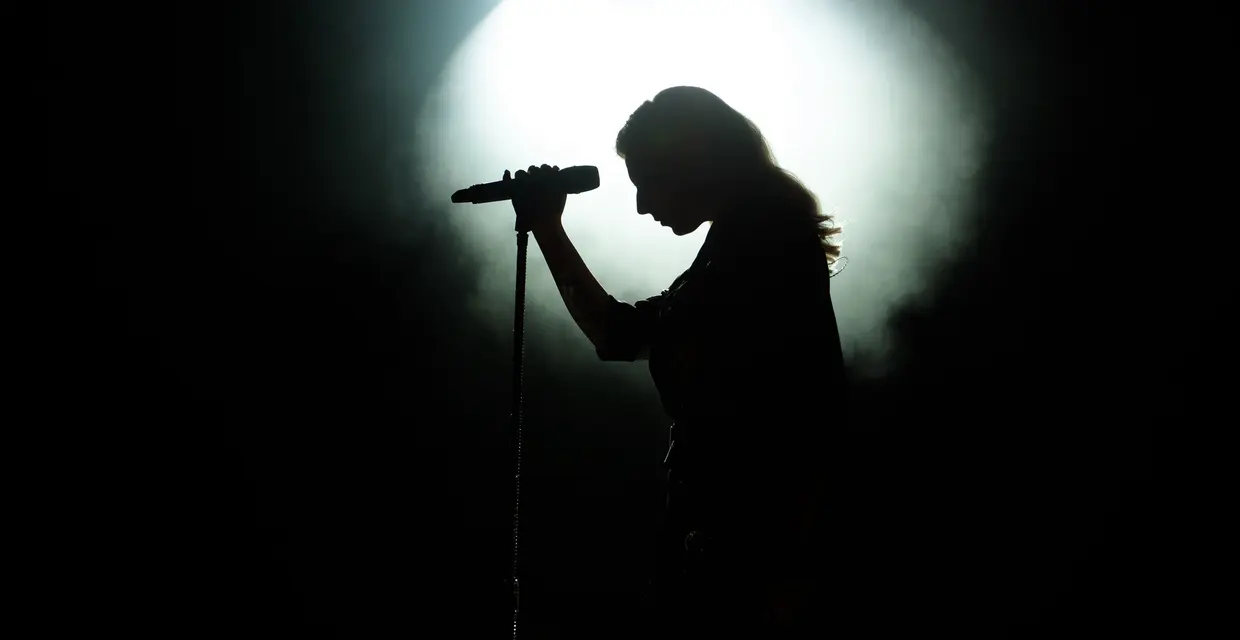 It's called The Hummingbird and it's playwright and actor Kathryn Keats' one-woman musical experience. It's also her survivor story.
"I wrote the show to be of service and I hope it is. Healing, for me, is about being of service. This is the key."
The Hummingbird follows her relationship and the path that led to 54 days of being held captive, her survival and the trial that changed her life. And it's her story to tell.
"I don't want to discuss this. I don't want to be part of this story. Almost every journalist got it wrong," is how Keats starts the show. Her former partner was a respected music director in show business. Keats was in awe of him when they met in 1978. She was only 18 years old.
"He wasn't neurotypical. He was a genius. I watched him chart 160 instrumental parts without even playing them. When he handed it over to an orchestra everything was perfect."
Keats had just moved from her Indiana hometown to New York City. She wanted to be acknowledged by people who were as gifted as her partner. He made her feel special. Three years into their relationship, Keats says his personality began to split into several identities. Sadly, he experienced abuse as a child, she says, but was not an abusive individual until he began to hear the hammering voices. He believed the CIA had implanted a device in his brain and that she was at the center of a conspiracy to destroy him. The voices were telling him to dismember her and to hang her from the trees. The voices were relentless.
"The change in his personality was insidious," she says, "As he changed, he fit the character structure of a domestic violence perpetrator. He isolated me and became very controlling. I was afraid. I did what he told me to do," Keats says.
On stage, Keats's emotions are raw as she combines her experiences of that time in slam poetry and song. She describes the show as "a glimpse into the authentically terrifying, and confusing experience many survivors go through when they're in love with someone who ultimately betrays them."
Keats says she believed she could save him. "But I didn't know how to save myself. I didn't know how to get out. It wasn't my responsibility to save him. This was my mistaken sense of responsibility. But I only knew what I knew. I can forgive myself."
After the couple moved to California, her partner's illness and abuse would culminate into Keats being held against her will for 54 days. She describes her captivity as a case of Stockholm Syndrome. She says that she felt she couldn't leave without losing her life.
Once her sister intervened, her partner was hospitalized. Once released, he was flown some 3,000 miles back to his family. But soon, he came back for her, dressed incognito, threatening to kill her. With help from Victim Witness Assistance, she was granted her new name and, in her words, went "very deep into hiding" for two decades, to remain safe from the graphic threats her former partner had made.
She missed out on a lot, she says. She lost most of all, time with friends and time she wished she could have spent making music.
In 2005, she found out her former partner had died of natural causes. In 2012, she decided it was time to write her story and she began in residency at Berkeley Repertory Theater's The Ground Floor. She then started working under the guidance of renowned director David Ford at the Marsh Theatre as well as her music partner Kevin Gerzevitz in San Francisco to create The Hummingbird as a solo show. In it, Keats plays 15 different characters. It was through creating the show that she found some healing.
"Ultimately, I began getting well when I started taking responsibility for my own life. After I got out of this relationship … my self-esteem was nonexistent. It took work to get well. And keeping things very simple. One day at a time. Don't get me wrong – I still have moments," she says. "Once I realized I had a particular kind of responsibility in my own story then I could move forward. I had to take responsibility for being a victim. That is my story. Not everyone's."
She calls The Hummingbird an act of service. It's about people who fall through the cracks.
"We don't have to keep falling," she says. "It's a miracle I am alive. I'm grateful. This feeling of having lived took me years to be able to begin to understand. Writing the show has helped. Creating helps. If you can create, do it."
Donate and change a life
Your support gives hope and help to victims of domestic violence every day.
The Hummingbird opened last October in San Francisco. She'll next perform it in June as part of a benefit concert for the Center of Domestic Peace in Mill Valley, Calif.
Looking for someone to speak with? Enter your location to find phone numbers for domestic violence experts in your area.


Have a question about domestic violence? Type your question below to find answers.