notes
Tina Turner, Star and Survivor, Dies at 83
The singer who boldly spoke out on domestic violence in the '80s passed away in May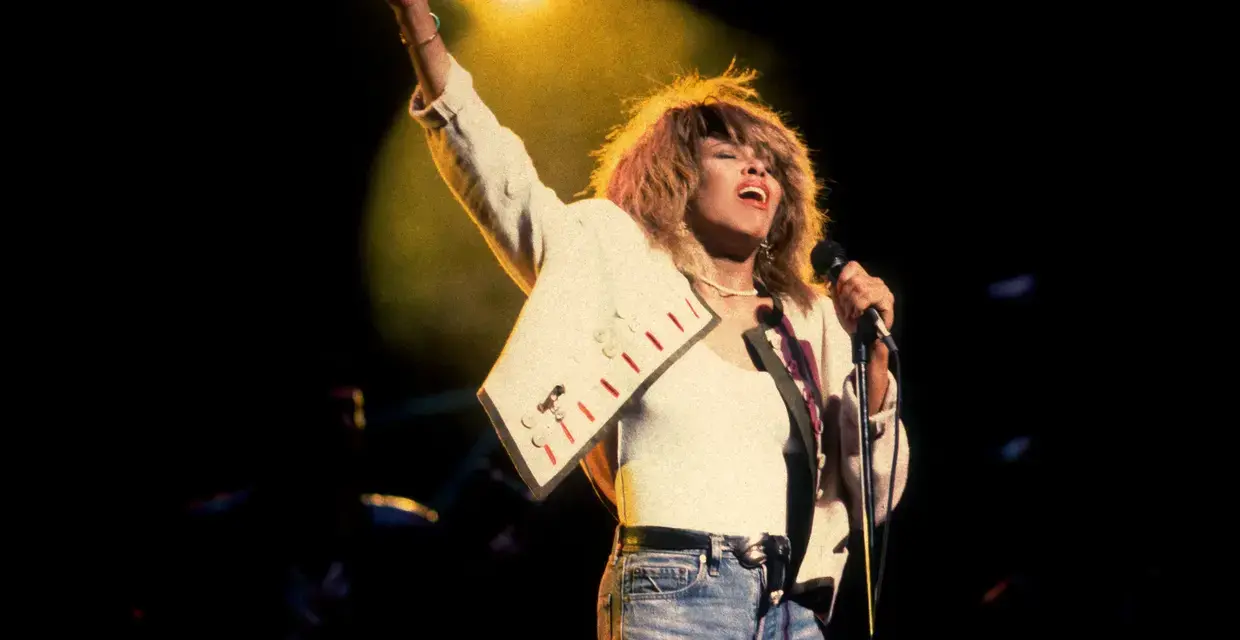 Tina Turner, the queen of rock and roll, passed away on May 24 at the age of 83. The legacy she leaves behind far surpasses her musical talent. She was not only an icon but a survivor, enduring years of abuse at the hands of her husband and musical partner, Ike Turner, before bravely speaking out publicly on it.

"I think she is a superhero. She provided me with the tenacity to survive," says Misty Frye, associate director of the New Orleans Family Justice Center. "She taught me that I can rebuild. Because look at her—she did it and did it in the most difficult of times. She went down to nothing. From being a superstar making headlines to having nothing but her name. But she still made her comeback."
Tina Turner's Early Life
Tina was born Anna Mae Bullock on Nov. 26, 1939, in Nutbush, Tennessee to Floyd and Zelma Bullock. When Tina was only 11, her mom left her abusive husband, Tina's father. But in return, she would sacrifice her relationship with her three daughters, leaving them behind.
In the 2021 HBO documentary, Tina, the singer says of that time, "I waited for her to come for us and she never did."
Two years later, Tina's dad remarried. Tina, along with her sisters Ruby and Evelyn, were sent to live with their grandmother in Brownsville, Tennessee. During the next several years, Tina suffered more loss—her sister Evelyn was killed in a car crash when she was 19. Then, her grandmother passed. Now teenagers, Tina and her sister Ruby would reunite with their mother in St. Louis.
It was 1957 when Tina met Ike Turner at a nightclub. She was only 17, he was 25 and played guitar with a band called the Kings of Rhythm. Tina was entranced. She asked if she could sing with the men, though it was unheard of at the time to have a female lead singer in an all-male band. Tina, who grew up singing Black gospel music in her church, persisted.
Eventually, she was given a chance at the mic. Not surprisingly, her powerful voice stunned the crowd. She quickly became a featured singer with the band, and it wasn't long before the band's manager took notice. He insisted that Ike make her the star of the show.
Not wanting her fame to eclipse his, Ike changed Anna Mae Bullock's name to Tina Turner, giving a young Tina his last name even though the two weren't a couple. He also trademarked Tina's name so that if she ever left the band, he could replace her with another Tina Turner.
Tina, still a high school student, was dating the band's saxophonist Raymond Hill when she found she was pregnant. The two broke up before Tina could give birth to their son, Craig, in 1958.
It was said that Ike pursued Tina soon after more so to advance his fame than anything else. The two became a couple in secret—Ike still dating someone else at the time. Tina recalls that Ike's controlling behavior and quick temper were apparent from the start, and his physical abuse started soon after—the first incident was him striking her in the head with a wooden shoe stretcher during an argument.
Ike and Tina—The Ideal Celebrity Couple
Tina was 21 when she gave birth to her second son, her first with Ike, whom they named Ronnie. According to Tina, Ike was abusive during and after pregnancy, sexually assaulting her while she was pregnant. In one incident, he whipped her with wire coat hangers. But as Ike's abuse escalated, so did the duo's fame. After Ike would subject Tina to horrendous acts of abuse, he would force her to get on stage and perform as if nothing had happened.
In the documentary, Tina say she felt sorry for Ike.
"I felt very loyal to him. I knew if I left, there was no one to sing."
During this time, Ike and Tina created ironically named famous hits like "A Fool in Love," "It's Gonna Work Out Fine" and "I Idolize You," even though no one knew the full extent of what was going on behind the scenes. In addition to the abuse, Tina soon became a mom of four, caring for two sons Ike had had with a previous girlfriend. Ike and Tina married in Tijuana and hit the road soon after, touring for eight months at a time.
All the while, according to the documentary, Tina was still strictly controlled by Ike. He had her on an allowance so she couldn't have financial independence, a common tactic of abusers to continue the cycle of control and dependence.
In 1966, Ike and Tina were noticed by music producer Phil Spector whom, in 2003 would become infamous for murdering actress Lana Clarkson. (He was sentenced to 19 years and died in prison in 2021). It would also be discovered that Spector had pulled guns on women at least four separate times after they rebuffed his advances.
Yet despite a shared affinity for intimidating and controlling women, Spector and Ike reportedly didn't get along. Spector was only interested in producing Tina as a solo act and would go on to help her create one of her biggest hits, "River Deep—Mountain High."
Spector was demanding in the studio. As Tina tells it in the documentary, Spector required perfection, forcing Tina to sing the song for hours on end without a break until he deemed it perfect.
The star remembers, "I must have sung that 500,000 times. I was drenched with sweat. I had to take my shirt off and stand there in my bra to sing."
From here, Tina and Ike opened for the Rolling Stones UK Tour, then later, the Rolling Stones US Tour. Celebrities like Elvis, Janis Joplin, Cher and Elton John were in attendance at their shows. In 1971, they recorded a cover of Creedence Clearwater Revival's "Proud Mary," which would inevitably be their biggest hit, earning earn them a Grammy.
Their Children Witnessed Ike's Abuse
Tina's son Ronnie talks on the documentary about a particular night when his parents came home and Ike's violence ensued. Tina and Ike retreated to their bedroom, at which point, all Ronnie could hear was his mom screaming. Unbeknownst to him at the time, Ike had thrown scalding hot coffee on his wife. Ronnie, who was in his late 50s when he was interviewed for the documentary, broke down in tears when he recalled this.
"I hated that man for the rest of my life," he said.
Childhood domestic violence has lifelong effects. CDV is something children develop even if the abuser's violence is never directly inflicted on them. Just being in that environment, hearing it, seeing it, being afraid of the abuser, is something that can affect children for a lifetime. Early intervention in the form of a safer environment, counseling and supportive adults around them are instrumental for children with CDV.
CDV can lead to an increased risk in adulthood of not only mental health conditions like depression and anxiety, but also increase the risk of relationship violence, poor academic performance, drug and alcohol abuse, committing violent crime and suicide.
Unfortunately, Ronnie died in 2022 of complications from colon cancer. Tina's youngest son, Craig, died of suicide four years prior in 2018.
With Abuse Comes Shame
Like many survivors, Tina blamed herself for Ike's abuse. She blamed herself for staying with him.
"I lived a shameful life, and I found a way to live with it by just being ashamed," Tina says in the film. At one point, she tried to take her own life. She took an entire bottle of sleeping pills, she revealed in her 2018 memoir, My Love Story. It was right before she was about to head to a theater to perform, but she passed out before she could get there. Ike took her to the hospital where they pumped her stomach. She says on the documentary that, once awake, she would watch the heart monitor near her bedside jump around furiously when her husband would enter the room.
"I was insanely afraid of that man," she says.
Executive director of the New Orleans Family Justice Center Trashanda Grayes calls Tina a phenomenal woman. And like other survivors, her reasons for not disclosing the abuse were likely complicated.
"I always say domestic violence does not discriminate. A lot of times, people are embarrassed and they don't want others to know abuse is going on. To the outside world, you would think she was doing really well."
Tina's Brave Escape
It was 1976 when Tina decided it was time to go. The couple had been married 16 years. Tina was 37 years old at the time. As she tells it, the breaking point came during a car ride when she and Ike were headed to a hotel in Dallas from the airport. Tina was eating chocolate candy. Ike handed her a chocolate and it was melting, to which Tina responded something along the lines of ugh. That's all it took for Ike to backhand her, and hard. Tina says she started fighting back. By the time they got to the hotel, she was bloody, her face was swollen but she says, "I knew I was gone. I was flying. I knew that was it."
After they got into their hotel room, her bloodied and battered face seemingly going unnoticed by hotel staff, Tina waited until Ike was asleep. She grabbed a bag and was gone.
In her book, Tina wrote that she looked at a sleeping Ike just before she fled and thought, "You just beat me for the last time, you sucker." She put on sunglasses to disguise her black eyes and fled, running across several lanes of traffic on a highway, nearly getting hit by a truck.
She arrived at a Ramada Inn with 36 cents in her pocket, and begged the clerk for a room, which she was given. The next day, a friend bought her a plane ticket to Los Angeles. It was the 4th of July.
All She Wanted Was Her Name
Tina filed for divorce soon after and didn't demand a cent of what the couple had earned as performers. All she wanted, she said, was her name. She wanted to reinvent herself as Tina without Ike. Yet following the couple's divorce, the question on every reporter's lips was, inevitably, "Where's Ike?"
Left without money and somehow responsible for the debts she and Ike owed venues they were scheduled to perform at but had canceled, Tina began taking any and all gigs she could get. At one point, she was cleaning houses. No recording label would sign her without Ike.
That's when Tina decided to tell her story. In 1981, Carl Arrington interviewed Tina for People Magazine. Despite the article's title—"Tina Turner: On the Prowl Without Ike," the piece centered on what Tina had survived.
"My ex-husband was a physically violent man. I went through basic torture," Tina told Arrington. "I was living a life of death. I didn't exist. But I survived it. And when I walked out, I walked, and I didn't look back."
Frye, for one, knows the power of that moment in a time when women were expected to obey their husbands.
"It had to be scary [to speak out]. In the '80s, people weren't speaking out about abuse. What goes on in your house stays in your house. You're not supposed to talk about that."
After the piece came out, people began to see Tina as her own artist. She released her first solo album "Private Dancer" in 1984, recorded in only two weeks, and it went five-times Platinum, sold 20 million copies and won her 3 Grammy awards. By 1985, she was unarguably the biggest pop star in the world.
In 1993, her autobiography, I, Tina was turned into a movie, What's Love Got to Do with It starring Angela Bassett. The world saw her survival story on the big screen, though Tina herself spoke out that it wasn't a completely accurate depiction. More so, she said, she didn't want to be known as a victim.
"Okay so if I was a victim, fine," she said in a 1993 Vanity Fair article. "Maybe I was a victim for a short while. But give me credit for thinking the whole time I was there. See, I do have pride."

Donate and change a life
Your support gives hope and help to victims of domestic violence every day.
Tina's Second Chance at Love
In 1986, Tina met and fell in love with music executive Erwin Bach. In 2016, Tina was diagnosed with intestinal cancer. She also suffered from high blood pressure which led to kidney failure, after which Bach gave Tina one of his kidneys. The two dated for 27 years before marrying in 2013 in Switzerland, which is where she lived with him until her death this year.
Ike died in 2007 at the age of 76 in his home. The suspected cause of death was a cocaine overdose combined with other factors, like heart disease and advanced stage emphysema.
Undoubtedly, Tina's legacy will live on in her music and her bravery. In 2013, she told Oprah Winfrey, "I'm not excited to die, but I don't regret it when it's time for me. I've done what I came here to do. Now is pleasure. I've got great friends, I have a great man in my life, now I have a great husband, and I'm happy."

Image: Paul Natkin/Getty Images
Looking for someone to speak with? Enter your location to find phone numbers for domestic violence experts in your area.


Have a question about domestic violence? Type your question below to find answers.