notes
Rape Survivors Ignored, Perpetrators Free to Abuse, Assault
Hundreds of thousands of rape kits are sitting on shelves, untested, in the U.S.
By DomesticShelters.org
Jan 06, 2017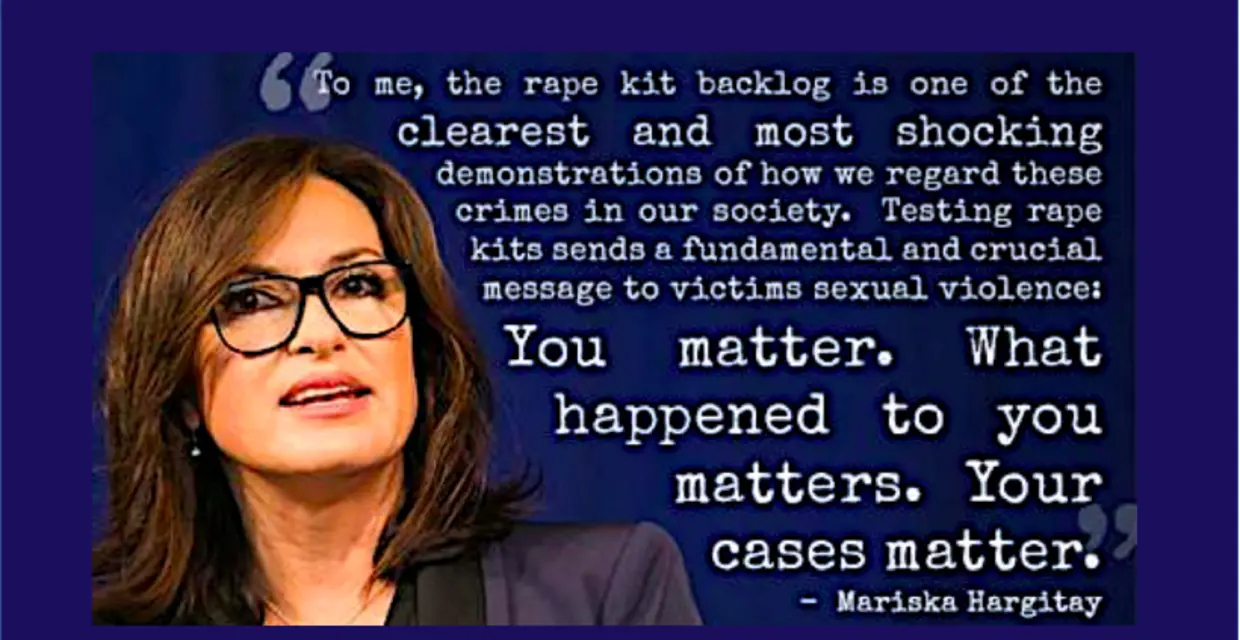 It was traumatic enough that in 1996, at just 17 years old, Helena was raped repeatedly by a stranger who approached her at a self-service car wash, pressing a knife to her throat before forcing her to drive to an abandoned truck yard. What followed was 13 years of being ignored by the Los Angeles Sheriff's department. Her rape kit—collected the same day that her rapist assaulted her, held her hostage, then freed her after threatening to kill her family if she went to police—sat on a shelf somewhere gathering dust for over a decade. Her calls about the status of the investigation went unreturned and Helena lived in fear that her rapist was walking free.
In 2009 she took action—enlisting the help of a rape victim advocate, she finally got answers. Her rape kit was processed and both she and the police discovered that her rapist was serving a 25-year sentence in Ohio for sexual battery of another woman. After raping Helena, he went to Indiana and raped his wife at knifepoint. Following his arrest, his genetic information was entered into CODIS, the FBI's Combined DNA Index System, but since Helena's rape kit had never been processed he was eventually released. He went on to abduct and rape another woman in Ohio, the crime he was now serving a sentence for. It would take several more years to finally link him to Helena's assault.
"The sentence he was serving was for a nearly identical assault that could have been prevented if my rape kit had been processed," said Helena, who shared her horrific story with EndtheBacklog.org, an initiative from the Joyful Heart Foundation, a nonprofit founded by Law & Order: SVU star Mariska Hargitay.
Test Within 30 Days, Demands Nonprofit
End the Backlog wants to make sure stories like Helena's are a thing of the past—their goal is to get every rape kit off the shelf and into the crime lab for testing in a timely manner, which is ideally within 30 days of collecting it, says Ilse Knecht, director of policy and advocacy for the organization. Right now, they consider any test still on the shelf after 10 days to be backlogged. The exact number is unknown, but End the Backlog estimates there are hundreds of thousands of untested rape kits in the U.S. "We're hoping, in about three years, to end the backlog," says Knecht. "We're working toward legislation in every state to that effect."
Knecht says some states have a 60- to 90-day average to test rape kits, while other states, like Illinois, are up to two years on average.
In some states, survivors have the right to know the status of their rape kit, but most states have no law on the books that says survivors are privy to this information, says Knecht, calling this fact "absurd." While survivors can call their local police department and put the pressure on, like Helena did, End the Backlog is working on legislation that would provide full transparency for survivors who undergo a rape kit.
Some good news: Last year, the U.S. Justice Department, along with the Manhattan District Attorney, pledged $79 million in funding for 40 jurisdictions around the country to test some 70,000 unprocessed rape kits. This year, the federal government pledged $38 million more to further help end the backlog.
Knecht says End the Backlog is helping to provide technical assistance to the jurisdictions that receive the grants, helping them to understand why they should be using the DNA database.
Ending the Backlog Could Help Prevent Domestic Violence
Among the obvious reasons to end the backlog, such as providing justice to victims, as well as finding and convicting rapists who would otherwise be walking free, is that there is a hefty overlap of those arrested for sexual assault and those who commit domestic violence, such as in Helena's case.
In one county in Ohio, Knecht says End the Backlog found 30 percent of the one-time sexual assault offenders arrested had domestic violence arrests in their past. "By not testing these kits, the offenders stay on the street, revictimizing people."
The reason these kits are gathering dust boils down to a lack of resources. The workload has increased over the last few years in many states, says Knecht, because police departments are deciding to test every kit.
That means that in the past, even if a rape kit was collected on a victim, it didn't necessarily make it any further than the evidence room. This stemmed from a lack of understanding of how the DNA database worked, while other cases, say Knecht, went uninvestigated because of a prejudice on the part of law enforcement.
"We've seen, in police reports, bias and misunderstanding about how trauma affects survivors. These survivors may be crying or may be laughing, they may or may not know their rapist—police departments may not test the rape kit as a result."
Rape kits are collected even when the rapist is known by the victim, and testing these kits can lead to connecting correlating crimes. Serial acquaintance rapists assault people they know, Knecht explains. "This is someone who is meeting people at bars, grooming people—he's the kind of perpetrator purposefully meeting people."
Should DV Survivors Request a Rape Kit?
An estimated three-quarters of rape survivors never report their rape to the police, says Knecht, and a vast majority of these survivors know their rapist, such as in cases of domestic violence. Undergoing a rape kit is a "personal, intimate choice," says Knecht. "Nobody knows their situation. Nobody knows their ability to handle going through everything you have to go through at the hospital and everything that stands before them afterward. So it's very challenging to say that every survivor should get a [rape kit], but they should all have access to it."
If a survivor chooses to have a rape kit collected, it should be done at a hospital as soon after the assault as possible, before the survivor showers or changes clothing. However, even if several days have gone by, the rapist's DNA may still be found via a rape kit. More information about the forensics of a sexual assault can be found here.
It's important to note that not every hospital will have someone on staff trained to collect a rape kit. To ensure your local hospital does, you can call the National Sexual Assault Hotline at 800-656-HOPE (4673) and ask for the closest location to you that performs sexual assault forensic exams.
Survivors are able to request a rape kit without reporting their assault to police or filing a police report. Depending on the victim's state, he or she then has 30 to 90 days to decide whether or not to have that kit processed and to file charges.
"They can do [the kit] and then go home and think about it," says Knecht. If the survivor decides to report the assault to police, law enforcement will conduct an interview and proceed from there. Some survivors worry their personal information will be leaked in connection with the assault. While Knecht says court and medical records are "protected information" and the survivor shouldn't worry about this becoming public, she does acknowledge "there are holes in that system, and it's a consideration survivors should think about. Local advocates can help them know what their states are like, in terms of laws and protection."
Want to see the scope of backlog that exists in your state? End the Backlog has created this interactive map that lists an estimated number of untested kits and what, if any, reforms are being made where you live.
Looking for someone to speak with? Enter your location to find phone numbers for domestic violence experts in your area.


Have a question about domestic violence? Type your question below to find answers.