notes
2017 Holiday Gift Guide
These gifts benefit survivors and organizations that want to end gender-based violence
By DomesticShelters.org
Nov 13, 2017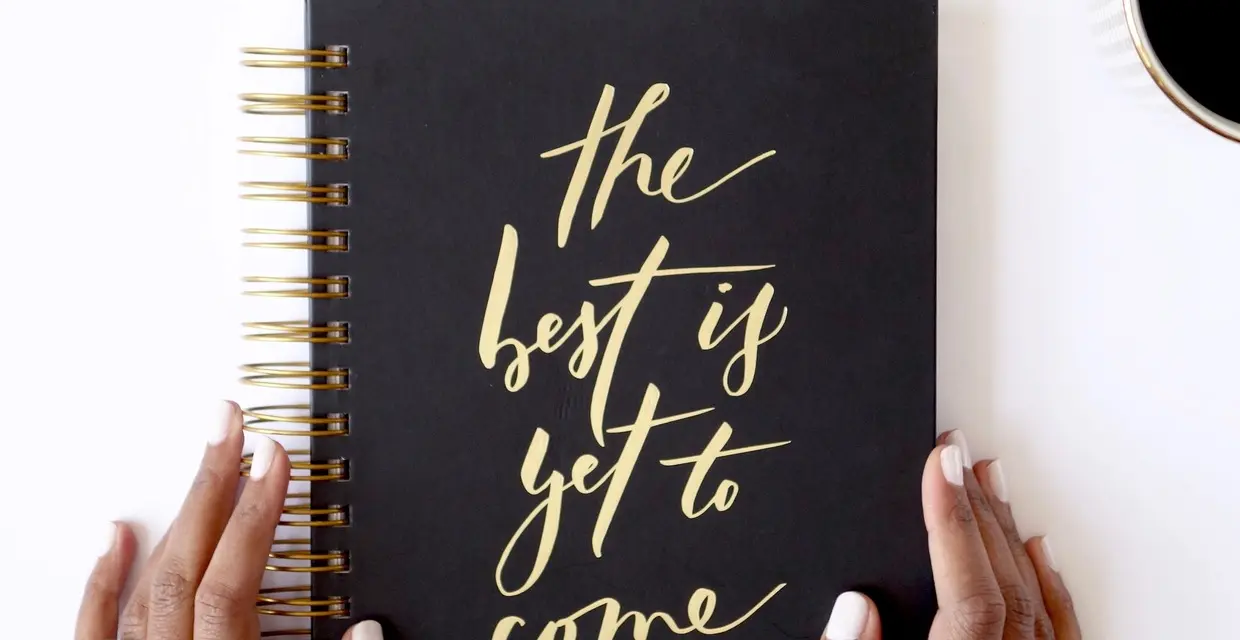 Ready to get your holiday shopping started (or completed)? We've found some gift ideas that are not only fun, unique, pretty, creative and smell good, but which also give back to help survivors of violence.
The bonus of this do-gooding gift guide is you get to skip the stores, the crowds and those automatic check-out lanes that continually tell you to remove the unknown item from the bag when you have no idea what that means.
As an extra bonus, some of the companies below have even offered our readers exclusive discount codes (DomesticShelters does not profit in any way from you making a purchase from any of these organizations—we just wanted to help you out with your shopping).
thread talk
Products: Comfort items like candles, mugs and blankets. The company was founded by a survivor of domestic violence who says she wanted to "literally and figuratively wrap survivors in comfort and peace."
Price Range: $15-89
Who They Help: Survivors of domestic violence—a portion of the company's proceeds is donated back to the network of 2,600 domestic violence shelters nationwide.
Add To Your Cart: Serenity Blanket, $89.97. This super comfy grey throw will help a domestic violence shelter fund one of their needs on their wish list.
Bonus: thread talk donates a portion of every item purchased to DomesticShelters.org to help fund wish list items (see below) for shelters. A double donation will be made for purchases made on Giving Tuesday.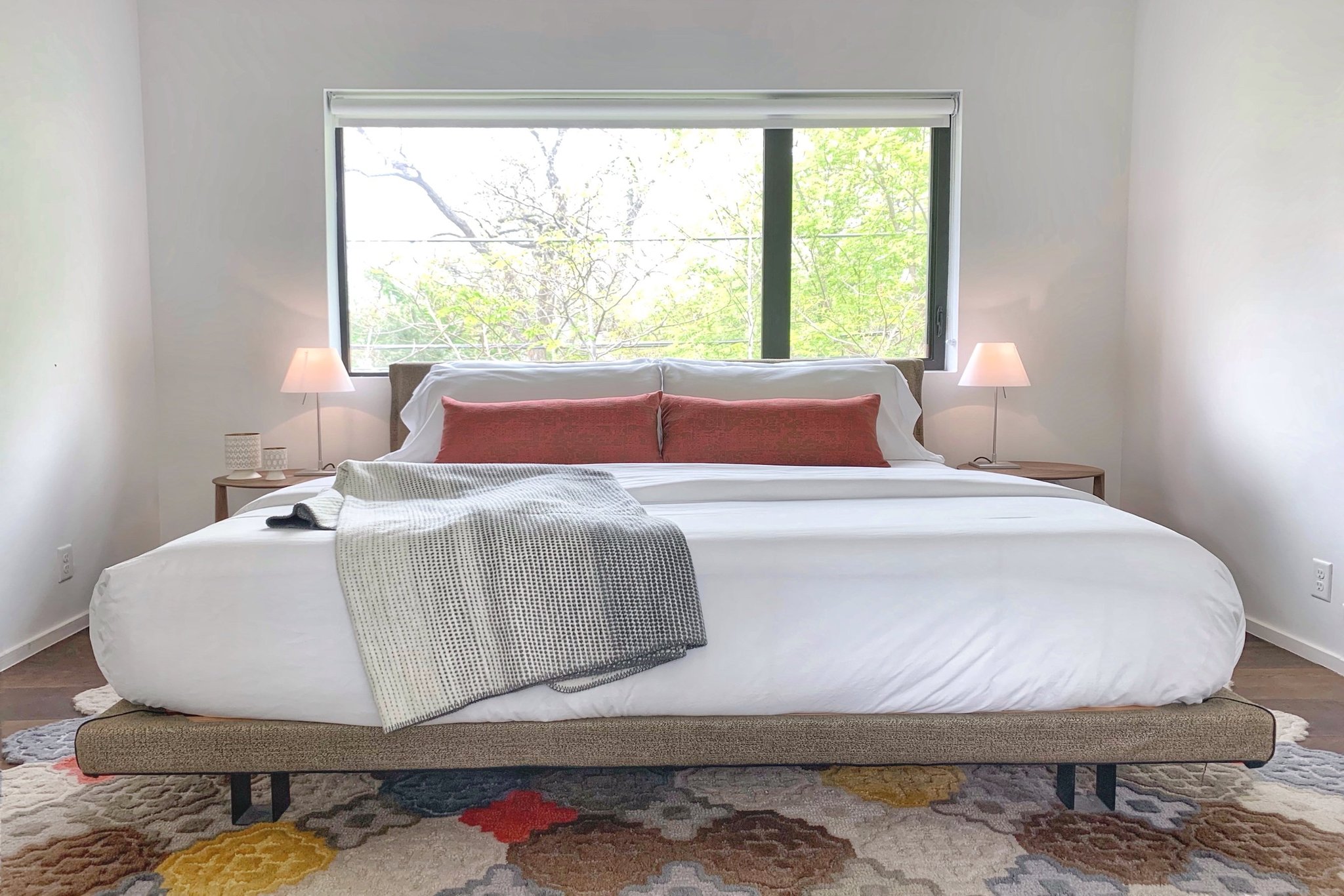 Little Loving Hands
Products: Crafting kits that kids and their parents can make together at home. The finished craft is then sent directly to a deserving charity somewhere in the world to be given as a gift to one of the participants. Crafters can sign up for a monthly subscription or buy just one at a time.
Price Range: Monthly subscriptions can be as low as $20 a box with free shipping. One-off boxes are $28 each plus $3.99 shipping.
Who They Help: Foster children, animal shelters, children in hospitals, children in orphanages overseas, women and children in domestic violence shelters. A recent craft was creating a birthday kit for a child recovering from domestic violence through the nonprofit Present Now. Participants created a birthday hat, card and cupcake bookmark.
Add To Your Cart: November's box, in which you'll craft for A Million Thanks, helping to support our U.S. troops, and December's box, where'll make something for BuildOn, a charity supporting the end of worldwide poverty through education.
Bonus:
Use the code
DSGIVEBACK
to get a free box when you sign up for a 12-month subscription.
Extra Bonus: Little Loving Hands is always looking for recipients—founder Lily Yeh says they hope to highlight multiple charities each month as their subscriber base grows (they just started in 2015). Nonprofits can inquire about becoming a recipient by emailing hello@littlelovinghands.com. The company can also create a kit specifically for a nonprofit to share with their supporter base.
Women's Bean Project
Products: Gourmet food items including spice blends, dry soup mixes and baking mixes, custom-seasoned popcorn, coffee and teas, candy, jewelry—even dog treats.
Price Range: $3.95–$65
Who They Help: Women from all walks of life, including survivors of domestic abuse and sex trafficking, homelessness and drug addiction, who face multiple and complex barriers to employment. The WBP employs an average of 75 women with such barriers annually and "graduates" 100 percent of them into entry-level, career-building jobs.
Add To Your Cart: Three-Soup Gift Bundle, $23. What better way to warm someone's house and heart this holiday than with homemade soup? They'll get Toni's 10 Bean Soup Mix, Firehouse #10 Chili Mix and Marian's Black Bean Soup. Yum.
Bonus: 20% off sitewide using coupon code DomesticShelters2017. Orders of $50 or more ship free.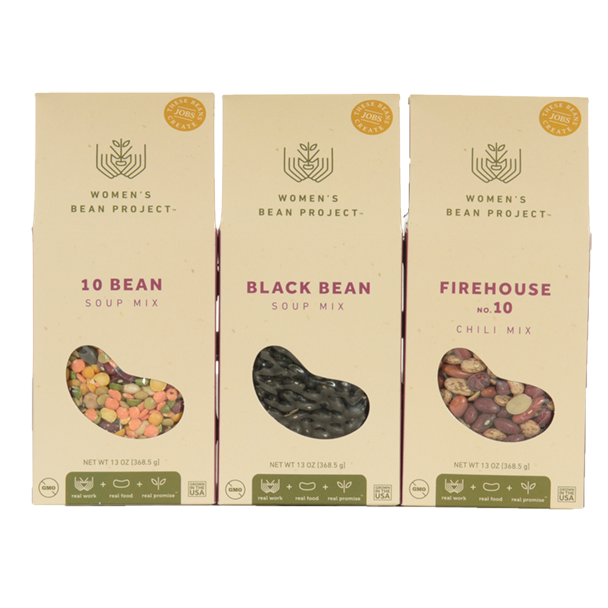 Moving Mountains
Products: Jewelry, accessories and wall art that incorporate messages of inspiration and hope.
Price Range: $7–$40
Who They Help: Women and girls—for each piece sold, the Canadian company donates $5 to a rotating list of organizations that support women, including survivors of abuse and sex trafficking. Previous donations have benefited such nonprofits as the Canadian Women's Foundation and Voice Found.
Add To Your Cart: The "What Lies Within" pendant necklace, $40. Remind someone special that they have the strength inside themselves to overcome anything.
Bonus: Free standard shipping anywhere in the U.S. and Canada and 10% off your first order if you sign up for their mailing list.
Horatio Printing
Products: Day planners, prints, sketchbooks, notepads, Washi tape
Price Range: $10-$135
Who They Help: Survivors of sex trafficking. Ten percent of each sale goes toward A21, a nonprofit dedicated to eradicating human trafficking, focusing on 11 countries around the world. The company is also currently working with a local women's shelter in New York City to provide employment opportunities for participants.
Add To Your Cart: The 2018 Classic Planner in matte black with "The Best Is Yet to Come" in gold foil on the cover. Includes dream planning exercises as well as weekly scriptures.
Bonus: 10% off sitewide with the code DomesticShelters.
Accompany
Products: Home goods, clothing, jewelry, accessories, bags and kids gifts
Price Range: $5-$435
Who They Help: Women artisans around the world who deserve a fair and living wage, including refugees and survivors of sex trafficking and other abuses. Accompany works with at-risk and marginalized communities around the world in an effort to help individuals become self-sufficient. The company says they want to "help shape a world where all women are empowered to truly thrive."
Add To Your Cart: Tinware Mug Candle, $32. It comes in pink, hunter green or sea green and mimics a vintage metal mug. It Burns for 60 hours and is scented with seagrass, French citrus blossom or sandalwood. Made in the U.S. by Prosperity Candle, a group of Burmese refugee women. The artisans are paid between $15 and $18 per hour, nearly double the local minimum wage.
Donate and change a life
Your support gives hope and help to victims of domestic violence every day.
ROAR For Good
Products: The Athena—a small wearable safety device that connects via bluetooth to the (free) ROAR for Good app on your phone. Athena is designed to connect you with your loved ones when you need them most. At the touch of a button, Athena releases a 95+ decibel alarm and shares your location with your trusted network of friends and family through mobile SMS alerts. Or, activate a silent "ROAR" that your attacker cannot hear to alert your contacts that you're in danger.
Price: $129
Who They Help: Besides helping anyone who may be in a threatening situation, a portion from each Athena sold goes toward empathy educational programs. These programs teach about healthy relationships, consent, respect and reducing violence (through such organizations as One Love). The Philadelphia-based B-corporation is also working with Comcast and Campus Philly to provide five local colleges free Athenas in an ongoing effort to reduce sexual assault and violent crime among college-age adults.
Add To Your Cart: The wearable Athena in antique black, rose gold or timeless silver, $129. A two-pack (give one to a friend!) is $245.
Bonus: Get $30 off one Athena device with code ROARforSafety through Dec. 31.
Create-a-Space
Products: Just one—a portable partition that separates your personal space in an airline seat from your neighbor's.
Price: $39.99
Who They Help: People who don't like their space invaded by a stranger, like survivors of abuse or assault who feel uncomfortable in close quarters with others.
Add To Your Cart: The Create-a-Space seat divider (sold on Amazon).
Dear Santa [and Santa's Helpers] …
Project Women in Springfield, Ohio desires detergent while The Mt. Graham Safe House in Safford, Ariz., is hoping for a new high chair. Hopeful Horizons in Beaufort, S.C., is asking for applesauce and Safe Space, Inc. in Butte, Mont., is longing for a laundry basket.
With the Wish List program, DomesticShelters.org has made it easy to send urgently needed items directly to deserving shelters throughout the U.S. Simply go to the Wish List page, type in a city or state, and find a shelter that's in need. Items will be shipped directly to the organization listed and shipping is free for purchases over $50. Santa thanks you for your assistance.
Looking for someone to speak with? Enter your location to find phone numbers for domestic violence experts in your area.


Have a question about domestic violence? Type your question below to find answers.