notes
A Guide to Domestic Violence for U.S. Immigrants
Detailed protections and resources for U.S. immigrant domestic violence survivors
Esta guía se ofrece en español a continuación.
Survivors of domestic abuse who are also immigrants to the United States often face challenges that can make it even harder for them to escape the violence in their lives.
Abusers may coerce and control survivors by:
Threatening to report undocumented immigrants to authorities so they will be deported
Refusing to sponsor or file documentation for survivor's citizenship
Destroying or hiding important legal documents and identification
Stopping survivors from learning English
Isolating them from joining a new community
Threatening to remove custody of children.
Abusers in immigrant circles often avoid physical abuse because the marks and wounds become evidence of the abuse, and they strengthen the case of the survivor with U.S. Citizenship and Immigration Services. Survivors usually want to stay in the U.S. and abusers may take advantage of that desire.
Afraid of deportation, many survivors stay silent, enduring the violence no matter how severe it becomes. They often think they have nowhere to turn.
But there are steps immigrants can take to create a safety plan and work on getting out. This guide outlines some of the things you can do if you're an immigrant facing domestic violence.
Domestic Violence Safety Planning for Immigrants
A safety plan helps you have a strategy in place for safely escaping a dangerous or frightening encounter with an abuser, even if it's just for a short time. A safety plan can also help prepare you to leave an abuser for good. It doesn't mean you have to leave your home. A safety plan can help you figure out where and how to be safe until you can work out your long-term plans.
A trained domestic violence advocate near you can make it much easier to create a safety plan. Advocates can help you find resources, programs, financial assistance and support. You can also get help with a safety plan through the National Domestic Violence Hotline at 800-799-7233 or find options for text messaging and online chat on their website.
A successful safety plan covers four important areas:
Assess the risks to you and any children or pets.
Create strategies to reduce these risks.
List steps you can take to be safe in dangerous situations that might come up.
Cover things you can do for your emotional safety and health.
Remember that a safety plan is not a replacement for calling 911 if you're in danger. If you're in danger, you should always call 911. You can call 911 and request an interpreter if you don't speak English.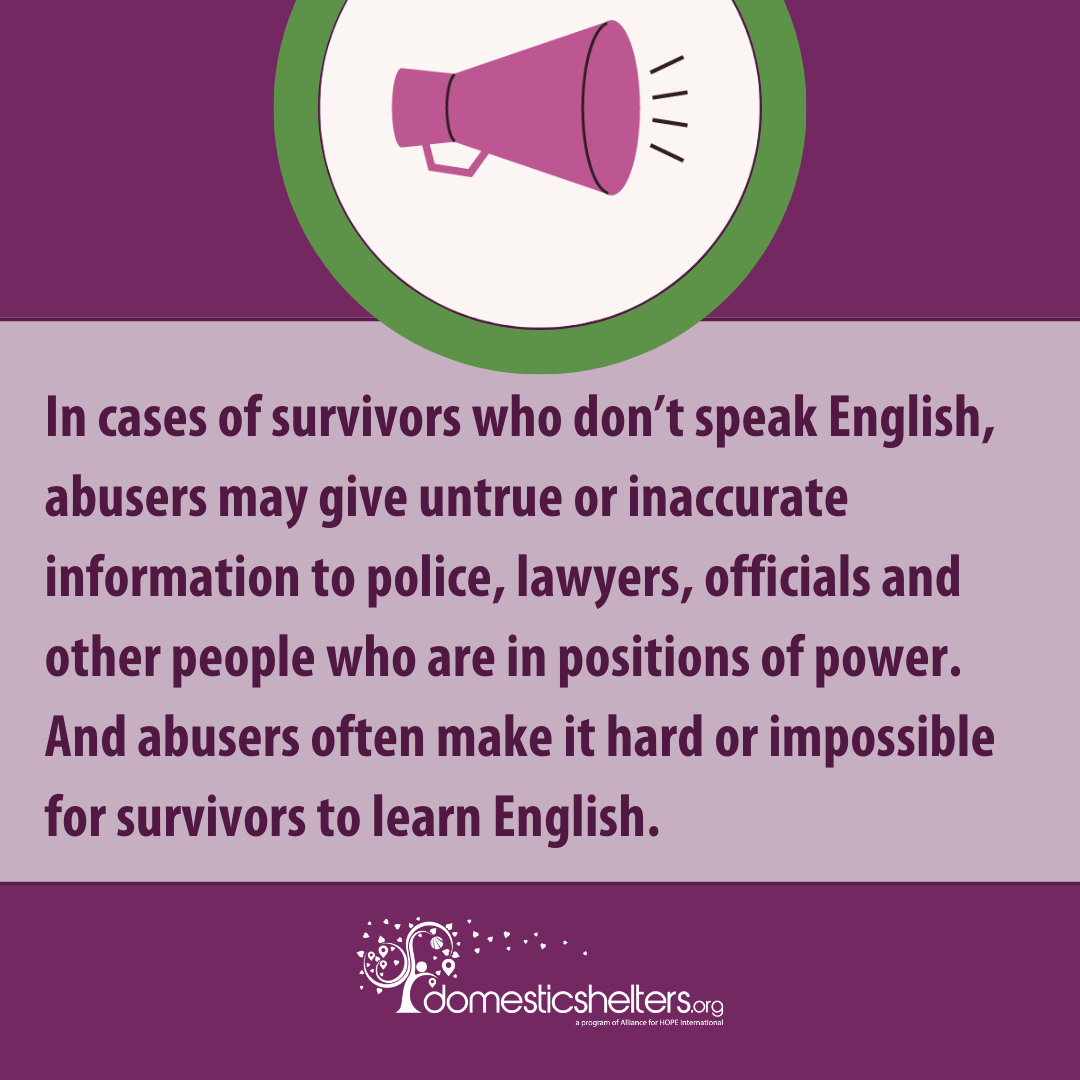 Immigrants who don't have documentation or legal IDs can get help from domestic violence shelters. Shelters don't require identification.

Everyone's safety plan is different. If you're an undocumented immigrant, you may want to take some extra steps and think about some other things to include.
Keep your important documents safe. Abusers may destroy or hide important documents like passports, resident cards, driver's licenses, health insurance cards or other proof of your relationship with the abuser that you may need to get legal immigration status. To keep your documents secure, put them together in a safe place that you can access easily or ask a trusted friend or family member to keep them safe for you. It's also a good idea to take photos of these documents. That way, if you're not able to get them, you have the important information that's on them, and you have evidence that they exist.


Record the abuse. When abuse is psychological or verbal, it can be hard for survivors to prove it in court. It's a good idea to keep a diary of the abuse. You can also get psychological treatment from a psychologist or counselor. They can show that their findings are consistent with abuse. Affidavits from spiritual counselors and pastors may also be useful.
If there's physical violence, keep copies of police reports, restraining orders, copies of medical records related to abuse and any other evidence of the abuse. You should also keep records of any threats or other abusive-type behavior that occurs via email, text or social media, such as Facebook.
Learn about your options in your own language. Abusers may give untrue or inaccurate information to police, lawyers, officials and other people who are in positions of power. And abusers often make it hard or impossible for survivors to learn English. The National Domestic Violence Hotline (800-799-SAFE) provides information, education and referrals in more than 200 languages.
Understand your rights. Even if you're an undocumented immigrant, you have legal rights in the U.S. That means U.S. courts are open to all domestic abuse survivors, including undocumented immigrants. However, it's not always in your best interest to go to court, especially alone. According to the Tahirih Justice Center, the immigration system is complicated, especially in gender-based asylum cases, and only 16 percent of cases are successful without a lawyer. A trained domestic violence advocate can help you find an immigration attorney or legal aid office that can help with your court case. Before you go to court, you should speak with an immigration lawyer to make sure this is your best next step. Also, the American Bar Association warns of notario fraud, aka, immigration scams in other countries.
How Immigrant Domestic Abuse Survivors Can Stay in the U.S.
Many undocumented immigrant survivors don't know they have protection under the law.
Immigrant survivors of domestic abuse, violence and sex trafficking have several options available in the U.S.
U Visa. The U visa program encourages undocumented survivors of domestic violence to report abuse. If they meet the criteria, they are allowed to stay in the United States. The U visa is valid for four years, and it's awarded to victims of a serious crime, including domestic violence, rape, abduction, sexual abuse, incest, human trafficking, slave trade and other related crimes.
To be eligible, victims must have information about the criminal activity and help in the investigation or prosecution of the crime. Victims who normally would not be admissible to the U.S. (due to breaking immigration laws, having committed crimes or experiencing certain health problems) can apply for a waiver.
The process can be complicated. You need to fill out certain forms and proceed in a specific order. So, you may want to get help from an advocate or lawyer.
If you qualify for a U visa, your family members may also be able to apply. You can apply for a temporary visa after three years, if you meet certain requirements.
The U.S. only grants 10,000 U visas per year, and they often reach that limit in the first few months of the year. After that, you can join a waitlist. You're allowed to apply for work authorization while you're on the waitlist.
Violence Against Women Act (VAWA). VAWA can provide permanent residency for victims of abuse committed by a U.S. citizen or lawful permanent resident. (Despite the act's name, it is not only available to women.)
VAWA protects people from persecution or deportation if they are being abused by a U.S. permanent resident or citizen who they are or were married to, or who is their parent or child.
VAWA also gives people the protections of shelters and restraining orders (orders of protection), regardless of their immigration status.
To get the protections of VAWA, it's a good idea to document the abuse. You will also need to be willing to help the authorities with the investigation into the abuse. You must live with (or have lived with) the abusive partner and be of good moral character.
VAWA cases are considered administrative, not criminal, so the abuser isn't questioned. While evidence of restraining orders or police reports can help your case, they aren't necessary for your case to succeed.
If you meet the requirements, you can apply for permanent residency (a green card) without involving the abusive partner. Permanent residency means you can work in the U.S. and access public benefits.
To learn more about VAWA, these fliers from the Immigrant Legal Resource Center explain the basics in English, Spanish, Chinese, Russian and Vietnamese.
Asylum. Asylum gives you immigrant status if you've been persecuted in your home country based on religion, race, nationality, political opinion or social group. Most people who qualify for asylum aren't domestic violence survivors, but it's possible to qualify in some instances.
T Visa. People who have been subject to a "Forced Commercial Sex Act" or "Forced Labor" may be eligible for four years of non-immigrant status under a T visa. If you get a T visa, you may be able to apply for permanent residency.
Special Immigrant Juvenile Status. Children who can't reunite with a parent due to abandonment, abuse or neglect may be eligible for permanent residency.
Where to Turn for Help
You can escape an abusive partner and have a life free from physical and emotional violence, even if you're new to the country, don't speak English or are an undocumented immigrant. Help is available to you, and you have legal rights in the U.S.
Here are some places you can turn:
Finally, make sure you are also taking care of yourself during the difficult process of considering separation or escape. A support group of other women going through similar circumstances may help you not feel alone in your journey. Find online support groups specifically for immigrants at ImmigrantsRising.org.

________________________________


Una guía sobre violencia doméstica para inmigrantes estadounidenses
Protecciones y recursos detallados para inmigrantes estadounidenses sobrevivientes de violencia doméstica
Sobrevivientes de abuso doméstico que también son inmigrantes en Estados Unidos a menudo se enfrentan a retos que pueden dificultar aún más que escapen de la violencia en sus vidas.
Los abusadores pueden chantajear y controlar a las sobrevivientes mediante:
Amenazas de deportación por medio de denuncia con las autoridades.
Destruyendo u ocultando documentos legales e identificativos importantes.
Impidiendo que las sobrevivientes aprendan Inglés
Aislamiento para que no se unan a una nueva comunidad
Amenazas de quitar la custodia de los hijos.
Los abusadores en los círculos de inmigrantes a menudo evitan el abuso físico porque las marcas y heridas se convierten en evidencia del abuso y fortalecen el caso del sobreviviente ante los Servicios de Inmigración y Ciudadanía de Estados Unidos. Las sobrevivientes generalmente quieren quedarse en Estados Unidos y los abusadores pueden aprovechar ese deseo.
Por miedo a la deportación, muchas sobrevivientes permanecen en silencio, soportando la violencia por grave que sea. A menudo piensan que no tienen a quién recurrir.
Pero hay pasos que los inmigrantes pueden dar para crear un plan de seguridad y dar pasos para alejarse del abusador.. Esta guía resume algunas de las cosas que puedes hacer si eres inmigrante y te enfrentas a la violencia doméstica.
Plan de seguridad contra la violencia doméstica para inmigrantes
Un plan de seguridad le ayuda a disponer de una estrategia para escapar de forma segura de una situación peligrosa o aterradora con un abusador, aunque sea por poco tiempo. Un plan de seguridad también puede ayudarle a prepararse para abandonar definitivamente a su agresor. No significa que tenga que abandonar su hogar. Un plan de seguridad puede ayudarle a decidir dónde y cómo estar a salvo hasta que pueda elaborar sus planes de largo plazo.
Un defensor de la violencia doméstica cerca de usted puede ayudarle con la creación de un plan de seguridad. Los defensores pueden ayudarle a encontrar recursos, programas, ayuda económica y apoyo. También puede obtener ayuda con un plan de seguridad a través de la Línea Nacional de Violencia Doméstica al número 1- 800-799-7233 o puede encontrar opciones de mensajería de texto y chat en línea en su página de internet.
Un plan de seguridad eficaz abarca cuatro áreas importantes:
Evaluación de los riesgos para usted, sus hijos, y/o sus mascotas.
Creación de estrategias para reducir sus riesgos.
Enumeración de los pasos a seguir para estar segura en situaciones peligrosas que puedan surgir.
Cubrir las opciones para conseguir seguridad personal y salud emocional.
Recuerde que un plan de seguridad no sustituye a llamar al 911 si está en peligro. Si se encuentra en peligro llame al 911. Si no habla Inglés, puede llamar al 911 y solicitar un intérprete. Los inmigrantes sin documentación o identificación legal pueden obtener ayuda en refugios contra la violencia doméstica. Los refugios no exigen identificación.
El plan de seguridad de cada persona es diferente. Si es inmigrante indocumentada, es posible que desee tomar algunas medidas adicionales y pensar en otras cosas que incluir.
Mantenga sus documentos importantes en un lugar seguro. Los abusadores pueden destruir u ocultar documentos importantes como pasaportes, tarjetas de residencia, licencias de conducir, tarjetas de seguro médico u otras pruebas de su relación con el abusador que pueda necesitar para obtener un estatus migratorio legal.

Para mantener sus documentos seguros, guárdalos en un lugar que pueda acceder fácilmente o pídale a una amistad o familiar de confianza que los mantenga a salvo para usted. También es una buena idea tomar fotografías de estos documentos. De esa manera, si no puede obtenerlos, tendrá la información importante que contienen y evidencia de que existen.

Registre el abuso. Cuando el abuso es psicológico o verbal, puede ser difícil comprobarlo ante los tribunales. Es buena idea llevar un diario del abuso. También puede recibir tratamiento psicológico de un psicólogo o consejero, los cuales pueden demostrar que sus hallazgos son consistentes con el abuso. También pueden resultar útiles las declaraciones juradas de consejeros espirituales y pastores.
Si hay violencia física, guarde copias de los informes policiales, órdenes de restricción y otras pruebas del abuso. También debe mantener registros de cualquier amenaza u otro comportamiento de tipo abusivo que ocurra a través de correo electrónico, mensajes de texto o redes sociales, como Facebook.
Conozca sus opciones en su propio idioma. Los abusadores pueden dar información falsa o inexacta a la policía, abogados, funcionarios y otras personas que ocupan posiciones de poder. Y los abusadores a menudo hacen que sea difícil o imposible que los sobrevivientes aprendan Inglés. La Línea Directa Nacional contra la Violencia Doméstica (800-799-SAFE) brinda información, educación y referencias en más de 200 idiomas.
Entienda sus derechos. Incluso si es usted un inmigrante indocumentada, tiene derechos legales en Estados Unidos. Eso significa que los tribunales estadounidenses están abiertos a todos los sobrevivientes de abuso doméstico, incluyendo a los inmigrantes indocumentados.
Sin embargo, no siempre es mejor para usted acudir a los tribunales, especialmente si está sola. Según el Centro de Justicia Tahirih, el sistema de inmigración es complicado, especialmente en los casos de asilo por motivos de género, y sólo el 16% de los casos tienen éxito sin un abogado.
Un defensor capacitado en violencia doméstica puede ayudarle a encontrar un abogado de inmigración que la ayude en su caso judicial. Antes de acudir a la corte, debe hablar con un abogado de inmigración para asegurarse de que este sea el mejor paso a seguir.
Cómo los inmigrantes sobrevivientes de abuso doméstico pueden permanecer en los Estados Unidos
Muchos inmigrantes indocumentados sobrevivientes no saben que tienen protección legal.
Los inmigrantes sobrevivientes de abuso doméstico, violencia y tráfico sexual tienen varias opciones disponibles en los Estados Unidos.

Visa U. El programa de visa U alienta a los sobrevivientes indocumentados de violencia doméstica a denunciar el abuso. Si cumplen con los criterios, se les permite permanecer en los Estados Unidos. La visa U es válida por cuatro años y se otorga a víctimas de un delito grave, que incluye violencia doméstica, violación, secuestro, abuso sexual, incesto, trata de personas, trata de esclavos y otros delitos relacionados.
Para ser elegible, las víctimas deben tener información sobre la actividad criminal y ayuda en la investigación o enjuiciamiento del delito. Las víctimas que normalmente no serían admisibles en los Estados Unidos (por violar las leyes de inmigración, haber cometido delitos o experimentar ciertos problemas de salud) pueden solicitar una exención.
El proceso puede ser complicado. Debe completar ciertos formularios y proceder en un orden específico. Por lo tanto, es posible que desee obtener ayuda de un defensor o abogado.
Si califica para una visa U, es posible que sus familiares también puedan solicitarla. Puede solicitar una visa temporal después de tres años, si cumple con ciertos requisitos.
Estados Unidos sólo otorga 10,000 visas U por año y, a menudo, alcanzan ese límite en los primeros meses del año. Después de eso, puede unirte a una lista de espera. Puede solicitar una autorización de trabajo mientras esté en la lista de espera.
Ley de violencia contra la mujer. La ley sobre violencia contra la mujer puede proporcionar residencia permanente a las víctimas de abuso por parte de un ciudadano estadounidense o un residente permanente legal. (A pesar del nombre de la ley, no solo está disponible para mujeres).
La ley contra la violencia contra las mujeres protege a las personas de la persecución o deportación si están siendo abusadas por un residente permanente o ciudadano de los Estados Unidos con quien están o estuvieron casados, o que es su padre o hijo.
La ley contra la violencia contra las mujeres también brinda a las personas la protección de refugio y órdenes de restricción (órdenes de protección), independientemente de su estatus migratorio.
Para que se aplique la ley de protección contra la violencia contra las mujeres, es una buena idea documentar el abuso. También deberá estar dispuesto a ayudar a las autoridades con la investigación del abuso. Debe vivir con (o haber vivido con) la pareja abusiva y tener buen carácter moral.
Los casos de violencia contra las mujeres se consideran administrativos, no penales, por lo que no se interroga al abusador. Si bien las pruebas de órdenes de restricción o informes policiales pueden ayudar en su caso, no son necesarias para que su caso tenga éxito.
Si cumple con los requisitos, puede solicitar la residencia permanente (una mica) sin involucrar a la pareja abusiva. La residencia permanente significa que puede trabajar en los Estados Unidos y puede acceder a beneficios públicos.
Para obtener más información sobre la ley de violencia contra las mujeres, estos folletos del Centro de Recursos Legales para Inmigrantes explican los conceptos básicos en Inglés, Español, Chino, Ruso y Vietnamita.
Asilo. El asilo le otorga estatus de inmigrante si ha sido perseguida en su país de origen por motivos de religión, raza, nacionalidad, opinión política o grupo social. La mayoría de las personas que califican para asilo no son sobrevivientes de violencia doméstica, pero es posible calificar en algunos casos.
Visa T. Las personas que han estado sujetas a una "ley de sexo comercial forzado" o "trabajo forzado" pueden ser elegibles para cuatro años de estatus de no inmigrante bajo una visa T. Si obtiene una visa T, es posible que pueda solicitar la residencia permanente.
Estado Especial de Inmigrante Juvenil. Los menores que no pueden reunirse con sus padres debido a abandono, abuso o negligencia pueden ser elegibles para la residencia permanente.
Dónde acudir en busca de ayuda
Puede escapar de una pareja abusiva y tener una vida libre de violencia física y emocional, incluso si es nueva en el país, no habla Inglés o es inmigrante indocumentada. Hay ayuda disponible para usted y tiene derechos legales en los Estados Unidos.
Aquí hay algunos lugares a los que puede acudir:
Finalmente, asegúrese de cuidarse también durante el difícil proceso de considerar la separación o el escape. Un grupo de apoyo de otras mujeres que estén pasando por circunstancias similares puede ayudarle a no sentirse sola en su viaje. Encuentre grupos de apoyo en línea específicamente para inmigrantes en ImmigrantsRising.org.


Looking for someone to speak with? Enter your location to find phone numbers for domestic violence experts in your area.


Have a question about domestic violence? Type your question below to find answers.