notes
Sharing Stories and Changing Lives
Scenarios turns young people's experiences with gender and power into films
By DomesticShelters.org
May 12, 2017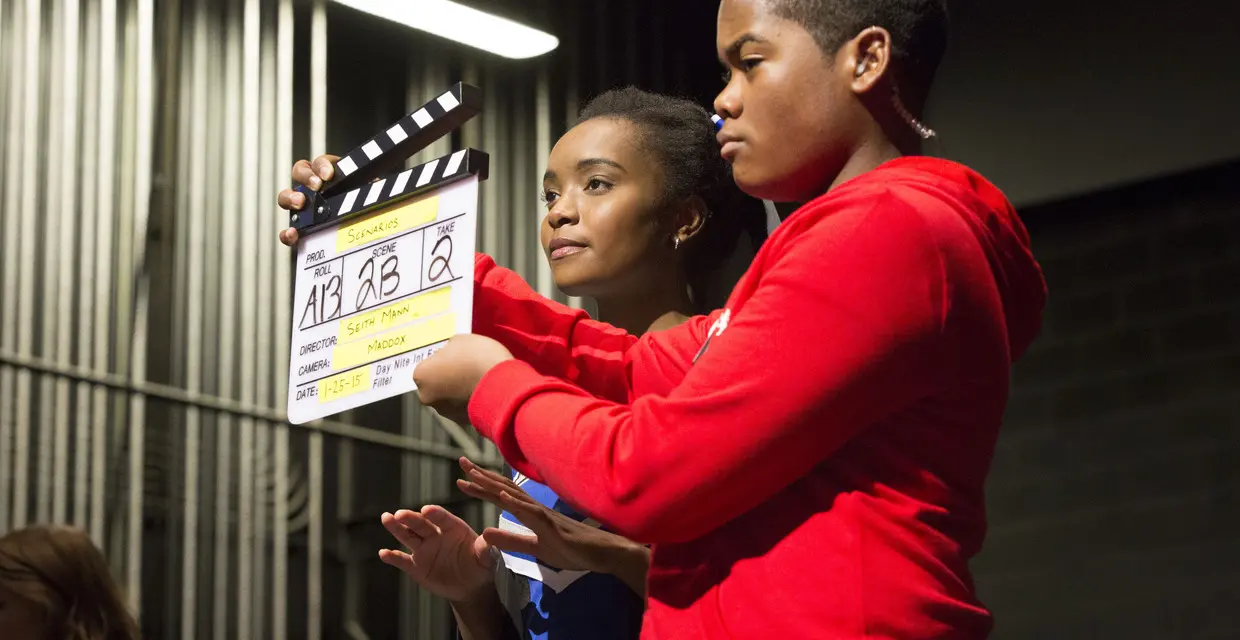 Words are powerful things. And never are they more so than when they're your own words telling your own story. And when that story is shared with the world through film, it has the power to change people.
That's the idea that drove Scenarios USA executive director Maura Minsky and her co-founder Kristen Joiner to create the nonprofit Scenarios USA in 1999. Their innovative approach to educating young people about gender and sexuality was based on a program being used in West Africa to raise awareness about HIV. They wanted young people's voices to be heard, especially about topics that matter to them. What began as a way to walk about AIDS evolved over the next decade to tackle other topics ranging from power to masculinity to sexual assault.
Looking for the Real
"Scenarios starts in the classroom in middle and high schools," Minsky explains. It's a question-based curriculum with six to 12 lessons. The students journal, participate in small-group discussions and examine the ways stereotypes and presumptions about gender norms influence their opinions.
Students start looking at the social context of where they get their expectations about gender and power. "Expectations are put on them and they begin to think: What if what's being projected on me isn't me?" she says. "That answer informs the final story they tell. And that's when intimate partner and domestic violence started to surface."
"We looked at the stories these young men and women were writing, and evolved our curriculum to focus on the topic of gender and power," Minsky says. "Our questions became: What's the real deal about masculinity? And, what's the real deal about gender, power and relationships?"
As a final project, students write a story in response to the curriculum's question, which they can submit to the Scenarios-sponsored REAL DEAL writing contest. A jury of 1,000 volunteers around the country evaluates each entry and narrows the 500-plus entries each year down to a handful of winners. The selected writers are each partnered with a professional filmmaker to produce a 15- to 20-minute film based on their script, shot on location at their school.
Finding Power in Words
While the prize is a strong incentive, it's the invitation to tell their personal stories that elicits hundreds of emotionally poignant entries about peer pressure, sexual abuse and intimate partner violence.
One of those stories came from Mariella Zavala, who was a 15-year-old student in the Rio Grande Valley in South Texas when she took part in the Scenarios program at her school. Her project, Bitter Memories, was turned into a film directed by Josh Marston. At a 2014 Scenarios event, she described her experience and shared the story behind her winning entry.
"I wrote it for my mother who had received death threats from my father. I wrote it for my neighbors who would witness their fathers physically abuse their mothers. I wrote it for my community which was steeped in generational cycles of machista attitudes," she says.
"Scenarios reached me at a critical time in my life when I felt powerless," Zavala said. "Asking me to provide my perspective, to provide my opinion, is such a simple act. But for me, it was everything. It was the first time I felt empowered, like my voice mattered. I hope to continue to help those most marginalized realize their own potential. If you have the ability, I encourage you to join me. The voices you might empower could change the world you live in."
Minsky says that in the classroom, young women like Mariella tend to take the lead in discussions, but young men are feeling empowered, too. "Young men are listening, learning and hearing for the first time about the role they play," she says. And that matters. Research from the Population Council found that when the topics of gender and power are addressed early on in sexuality education it can change health outcomes.
Donate and change a life
Your support gives hope and help to victims of domestic violence every day.
So far, Scenarios has helped create student-scripted films on topics ranging from substance abuse and pregnancy to bullying, body image, and LGBTQ issues. In fall 2017, they'll be expanding their curriculum to cover more topics in more schools around the U.S.

Looking for someone to speak with? Enter your location to find phone numbers for domestic violence experts in your area.


Have a question about domestic violence? Type your question below to find answers.