notes
Running for Her Life
One survivor tells how running helped her heal after almost losing her life to domestic violence
By DomesticShelters.org
May 03, 2017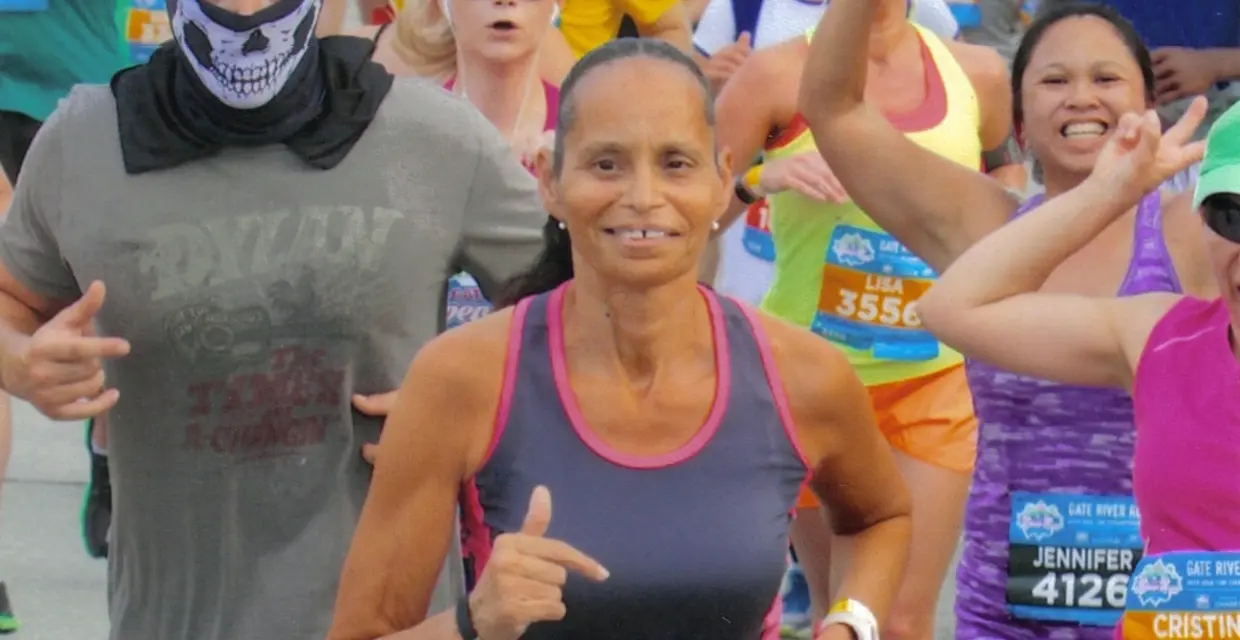 Liane Daniels took up running in high school, but life got in the way after graduation. She hung up her running shoes for a while and became busy with her career. She got married and they had a daughter. Then, her husband died suddenly.
"It was a wake-up call," says Daniels, who began to think about her own mortality. And at 31, she laced up her sneakers and once again hit the pavement. It brought her joy. She felt healthy, she told Women's Running magazine last July. Daniels, who had contracted German measles at the age of 2, which led to the loss of her hearing, says running was also the one thing that helped her feel like everyone else.
She remarried several years later and soon came to learn her new husband was abusive as well as an alcoholic. She turned to running as her temporary escape on the weekends, competing in half-marathons and 5Ks every chance she could. But the abuse from her husband continued for 16 years.
"He mostly criticized me and made me feel stupid. He pushed me into walls and onto the floor, and restrained me when I tried to leave," says Daniels. In 2012, he strangled her. He spent five days in jail followed by a year's probation. He also went to a batterer's intervention class.
"During that time, he stopped drinking and was wonderful," says Daniels. She made a fateful decision: "I went back to him." Within a year, he was drinking again and his abuse started back up. Without the financial means to leave him, Daniels was trapped.
Refusing to Be Stopped
One night in November of 2015, Daniels' husband came home drunk and ready to argue. Because of her hearing impairment, she couldn't understand what he was saying. It enraged him. Daniels tried to leave—that's when her husband pulled out a gun and shot her through the chest.
"I think it was just pure adrenalin and the will to live that made me get out of the house. I honestly thought he would shoot me in the back as I was trying to get the door open," she says. Amazingly, Daniels managed to run next door to her neighbor's house for help.
Donate and change a life
Your support gives hope and help to victims of domestic violence every day.
"I managed to bang on the door and tell my neighbor, who was a police officer, that my husband shot me. Then I collapsed." For reasons unknown, her husband walked across the street and shot into the home of a different neighbor, perhaps suspecting Daniels was there. The bullet didn't hit anyone, but there was a 1-year-old and a 6-year-old inside. Police arrested him on the scene.
Daniels spent two weeks in the hospital recovering from a collapsed lung, broken ribs, a broken sternum and a lacerated lung. Her husband went to jail and is still awaiting trial.
"After I got back home, something inside of me said, 'This is not going to stop me,'" says Daniels. She credits herself as being very strong willed, and was determined she would run again. She began by walking a little each day.
"It took me a month to be able to walk a mile."
From there, she began to walk two miles. Her determination never wavered.
"I ran the Jackson Marine Half Marathon in October 2016," says Daniels, who turns 59 this June. "It was my recovery race." This year, she'll participate in the GATE River Run in March, the largest 15K race in the U.S.
Daniels says she still has chronic pain from her injuries, as well as bullet fragments in her chest. "But it won't stop me from running."
Running Activates Feel-Good Chemicals
You've probably heard of the "runner's high" that can accompany a strenuous jog. It's describing the release of endorphins and dopamine, the feel-good brain chemicals that have been shown to help with depression and pain relief. A study from Medicine and Science in Sports and Exercise found just a single go at exercise, say a 30-minute walk, can help elevate the mood of those suffering from a major depressive disorder.
This natural boost is just one reason exercise, including running, can help with people undergoing or recovering from trauma. But running's health benefits exceed beyond mental state — Runners World reports that the sport can also reduce your risk of certain cancers, help ward off age-related mental decline and may add as many as five years to your life.
Ready to Lace Up Your Sneakers?
The Angel Run is a 5K run/walk on July 22 that you can participate in person, in Colorado Springs, Colo., or virtually, anywhere in the world. Hosted by Break the Silence Against Domestic Violence, the nonprofit hopes to raise money during July to support their Angel Scholarship Fund, Angel Retreat and prevention efforts to end domestic violence.
Looking for someone to speak with? Enter your location to find phone numbers for domestic violence experts in your area.


Have a question about domestic violence? Type your question below to find answers.