notes
Natural Disasters Mean Obstacles for Survivors, Shelters
Communities can also see uptick in violence as cities try to rebuild
By DomesticShelters.org
Oct 30, 2017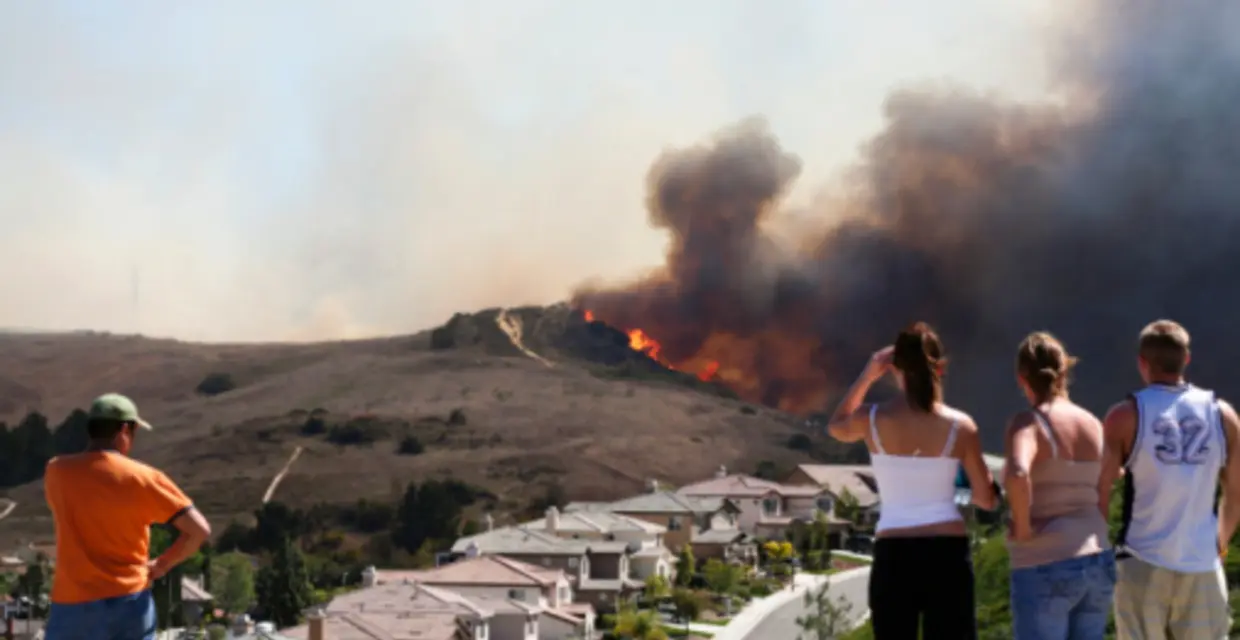 It was the middle of the night on Oct. 15 when Tracy Lamb awoke to the sound of sirens screaming down her street. Helicopters circled overhead. Outside, she could see flames in the distance. The Northern California wildfires that had already burned 180,000 acres, destroyed 5,700 buildings and killed 29 people had arrived in Napa.
"The fire was on the hills surrounding us. It felt like it was coming from all sides," says Lamb, executive director of NEWS (Nurturing, Empowerment, Worth, Safety), a domestic violence shelter in Napa. Though the nonprofit is small in stature—only four bedrooms—it was currently at capacity, housing four women and 11 children.
The fires came close that Sunday night, but they never descended into the valley where the shelter was situated. By Monday morning, Lamb realized they didn't escape completely unscathed.
"The shelter had no power. There was no phone service, no Internet," she says.
They had to throw away perishable food for safety. They were told the outages could last for days. In addition, the air was thick with ash.
"Smoke levels were at a dangerous point, and three of our staff are pregnant so we gave them disaster pay in order to have several days off," says Lamb.
Staff relocated participants—two were able to stay with relatives and two went to the evacuation center. But there were safety issues to consider. Those survivors who needed protection orders had them in place and shelter staff ensured none of them were being actively searched for or stalked by their abusers.
Still, says Lamb, "We didn't want them to stay there for too long. Everybody's back now. We're readjusting, restocking the refrigerator, trying to normalize things as much as possible. We don't want the children to be traumatized any further."
Donate and change a life
Your support gives hope and help to victims of domestic violence every day.
Other participants with NEWS were in the process of moving into apartments and Lamb says the fire has put a kink in those plans. "Communication is down. Staffing for most [businesses] is limited," says Lamb. "So we've been trying to make sure they still have spots."
Lamb and her staff are also making phone calls to their more vulnerable clients who aren't at shelter, "to make sure their mental state is OK," she says.
Stress, Lack of Options, Lead to More Violence
Many domestic violence shelters in the fire- and hurricane-ravaged areas of California, Texas, Florida, Puerto Rico and the U.S. Virgin Islands currently find themselves in the same, if not a worse, position. And while they scramble to recover, survivors are often left without a safe home to return to—in some cases, without a home at all.
That sort of upheaval can mean these disaster areas will see an uptick in violence as some survivors, with no better option in sight, may choose to return to their abusive partners or will become homeless, possibly falling into a continued cycle of abuse or human trafficking.
According to the World Health Organization, natural disasters can have a long-term impact on violence in a community. Reasons include:
Increased stress and feelings of powerlessness due to loss of property or livelihood
Mental health problems, such as post-traumatic stress disorder
Lack of basic provisions
Breakdown of social networks, as well as violence prevention support programs
Scarcity of law enforcement
Lamb says these factors worry her. A survivor reached out to the NEWS crisis hotline in the middle of the wildfires, reporting that she had been choked three times by her abuser. With law enforcement limited due to the fires, they weren't able to respond to what they deemed non-immediate-life-threatening 911 calls.
"But, that's life-threatening," she says. "We want to talk to law enforcement and come up with a plan."
And, with an affordable housing crisis already prevalent in California, the choices for survivors in the wildfire areas ready to leave their abusers may only get more limited after the fire.
"That's one of our big fears. If people were contemplating making that move, it's going to feel like an unsafe time because it's going to feel so overwhelming, and just feel like there's so much uncertainty," says Lamb.
Disasters Can Delay Recovery
Experiencing new trauma, say, being uprooted from one's home because of a wildfire, can be a trigger for previous trauma, such as when that same person had to leave their home to escape an abuser. Not surprisingly, this repeated trauma can delay the healing process, says Lamb. A survivor should make sure they don't go through this alone.
"Social support can be a great thing. Isolation is probably one of the things I would say to try and avoid," Lamb says. "Try to be in a safe place with other people who have supportive services to offer." She also suggests calling a crisis line or reaching out to friends and family.
Disasters Also Bring People Together
The silver lining, says Lamb, is the way the locals have pulled together. At one point, members of her community lined the streets holding signs reading, "Love is stronger than smoke" and "Thank you, local responders." And, recalls Lamb with a laugh, one of NEWS's participants returned from the evacuation center with such an array of generous donations that Lamb says she was beaming.
"She looked like she had just come back from Disneyland. She was wearing a bedazzled hat," says Lamb. "All those things that divide us seem to melt away during a disaster, and that's just been lovely to see."
How You Can Help
With the Wish List program, DomesticShelters.org has made it easy to send urgently needed items directly to shelters throughout the U.S., including those in the recently affected disaster areas. Below are three wish lists from shelters that were in the path of Hurricane Harvey:
Family Time Crisis and Counseling Center, Humble, TX
Northwest Assistance Ministries' Family Violence Center, Houston, TX
Katy Cristian Ministries, Katy, TX
Looking for someone to speak with? Enter your location to find phone numbers for domestic violence experts in your area.


Have a question about domestic violence? Type your question below to find answers.