notes
How Leaving Looks Different During COVID-19
The pandemic has changed the survivor's path to safety, but it's still possible to leave an abusive partner
By Eden Strong
Nov 25, 2020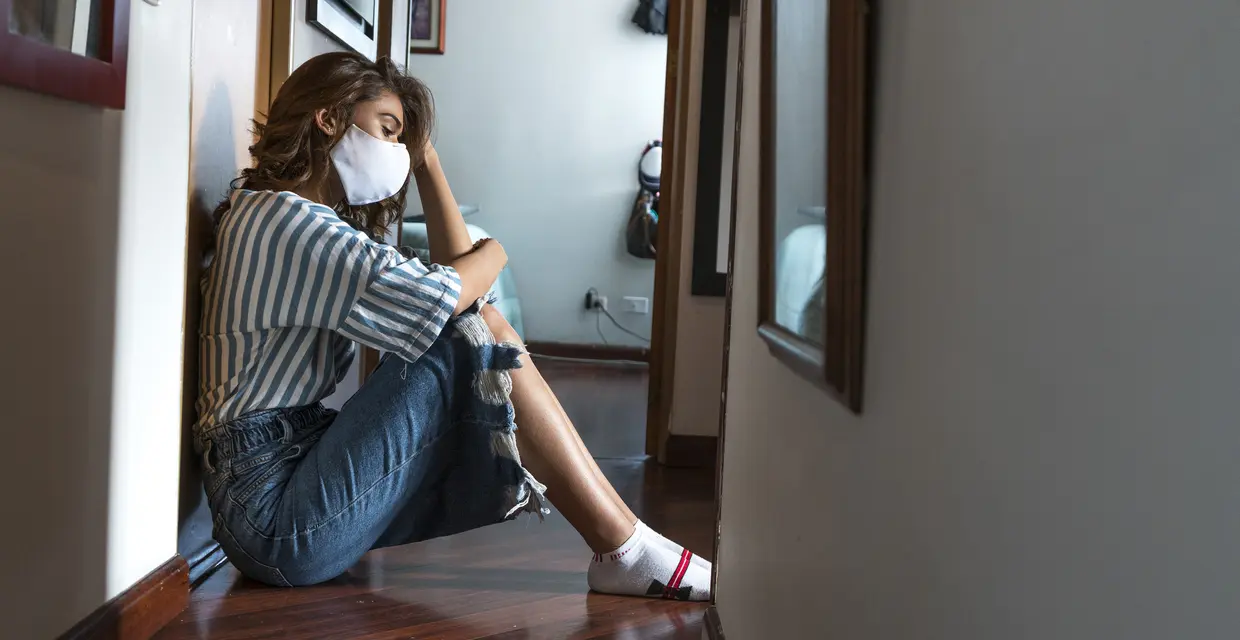 Leaving an abusive partner is difficult under normal circumstances, so it's easy to see why leaving in the middle of a pandemic may feel impossible. Family and friends are hesitant to open their doors, shelters are functioning at a lower capacity, courthouses have changed their procedures, and there is a very real virus endangering everyone. Although a lot has changed on the journey a survivor will take, there is a path out, even if it looks a bit different right now.

An Increase in Domestic Violence Due to Stay-Home Orders
From the moment lockdown orders went into effect mid-March, it was predicted that domestic violence incidents would increase. While some site the emotional stress of isolation and the financial stress that accompanied widespread layoffs and furloughs, advocates will argue these are moreso excuses abusers will use to perpetuate abuse. Regardless, the prediction increase has proven to be true, showcased in places like Portland, Oregon which saw a 22% increase in domestic violence-related arrests the first week of lockdown and Jefferson County, Alabama which reported a 27% increase in domestic violence-related calls.
It's "a horrifying surge" António Guterres, chief of the United Nations has called it, pointing out that, "for many women and girls, the threat looms largest where they should be safest: in their own homes."
What Has Changed for Survivors
"I had always heard that if someone hits you, you should leave. But when everything is closed and the person hurting you is with you 24/7, where and how are you supposed to go?" asks C.H., a 42-year-old survivor from Denver, Colorado who wishes to remain anonymous. "The longer we were quarantined the worse it got, but even then, I wasn't sure what was more of a threat, my husband, or the virus outside. I did finally leave but it was scarier than I think it would have been if I had left before COVID."
C.H managed to find temporary escape in a hotel, but is still looking for a permanent and safe place to live.
It's a sentiment understood by Michelle Meyer, executive director of Mutual Ground, a domestic violence shelter in Aurora, Illinois. "COVID-19 has been really difficult. Our clients—who are already facing the trauma of needing to come to shelter—are now coming during a pandemic and facing an increased risk of exposure."
Because of that, Mutual Ground, like many shelters across the U.S., has needed to significantly decrease their capacity so that families have the necessary space to social distance; a scary fact to consider when Meyer points out that the number of people calling into their hotline or seeking counseling services has only gone up.
Even more worrisome is that for those survivors who have been able to leave, many have faced difficulties accessing protection orders needed to keep the abuser away because of closed courthouses and legal aid clinics running on reduced staff.
"There's been a lot of uncertainty regarding the legal process right now" says Emily Shaughnessy, of Schatz & Shaughnessy, a law firm in the South suburban Chicago area that regularly represents domestic violence survivors. "Every jurisdiction is doing things differently, whether they are completely open, only open in some capacity, or conducting Zoom court. And information regarding new courthouse procedures can be difficult to find, so it's been challenging to say the least."
What Survivors Need to Know To Access Help
Yet despite the challenges, there is help out there. With shelters not able to house as many people as they once used to due to CDC social distancing guidelines, people have come together across the nation. From Chicago's partnership with Airbnb to provide temporary housing to domestic violence survivors to hotels in LA donating 145,000 rooms for vulnerable populations (including survivors), some communities have rallied in an effort to ensure no one has to quarantine with an abusive partner. Many cities have enacted similar programs which can be found by contacting local helplines, shelters, law enforcement stations and churches. And for those not comfortable staying in a hotel during a pandemic, reaching out to family and friends a survivor trusts can provide a much-needed safety net.
Plus, for those who are not ready to leave, or may have already done so but still need support, telehealth counseling (see some options in "Can Virtual Support Help You Heal?") is widely available both as a domestic violence service many shelters offer as well as a more general service through health insurance companies and local resources. Because it doesn't require any travel or childcare services, it's one of the only changes many domestic violence service agencies are hoping is permanent. Telehealth counseling can be found in many of the same ways housing can; by reaching out to local helplines, shelters, public health departments, and health insurance companies.
And although many legal clinics are currently overwhelmed with clients seeking protection orders, attorney Shaughnessy recommends calling the courthouse directly for help. "If you don't get the information that you need, call again until you get someone more helpful on the phone. They can't give you legal advice but they can tell you the procedure to follow, and if you still need help, call law firms directly and ask if they can give you a brief consultation. Many are happy to at the very least, let someone know what their options are."
All of this may seem overwhelming for an individual who is quarantining with an abusive partner and can't find the privacy necessary to locate the services they need. But finding reasons to leave the house can give a survivor time to make phone calls where the abuser can't overhear. With some schools and doctor's office closed, survivors may find themselves scheduling a grocery order pick-up, running to the pharmacy, or even filling the car up with gas in exchange for the opportunity to call a hotline, reach out to a local organization or call a trusted confidant.
Donate and change a life
Your support gives hope and help to victims of domestic violence every day.
A Pandemic Within A Pandemic
Casey Gwinn from the Alliance for HOPE International says it best when he calls the rise in domestic violence during COVID-19 "a pandemic within a pandemic," but it's important to remember that there is hope. Just like the frontline workers fighting the virus, there are people on the frontlines of domestic violence work ready to assist at any given moment. They've been there the entire time, fighting alongside the survivors fighting for their safety.
To find help near you, visit our Find Help page and enter your ZIP code for a list of shelters near you, many with 24/7 hotlines.
Looking for someone to speak with? Enter your location to find phone numbers for domestic violence experts in your area.


Have a question about domestic violence? Type your question below to find answers.