notes
Shelters Work to Keep COVID-19 Out
Domestic shelters are taking precautions like everyone else, and they're open and ready to help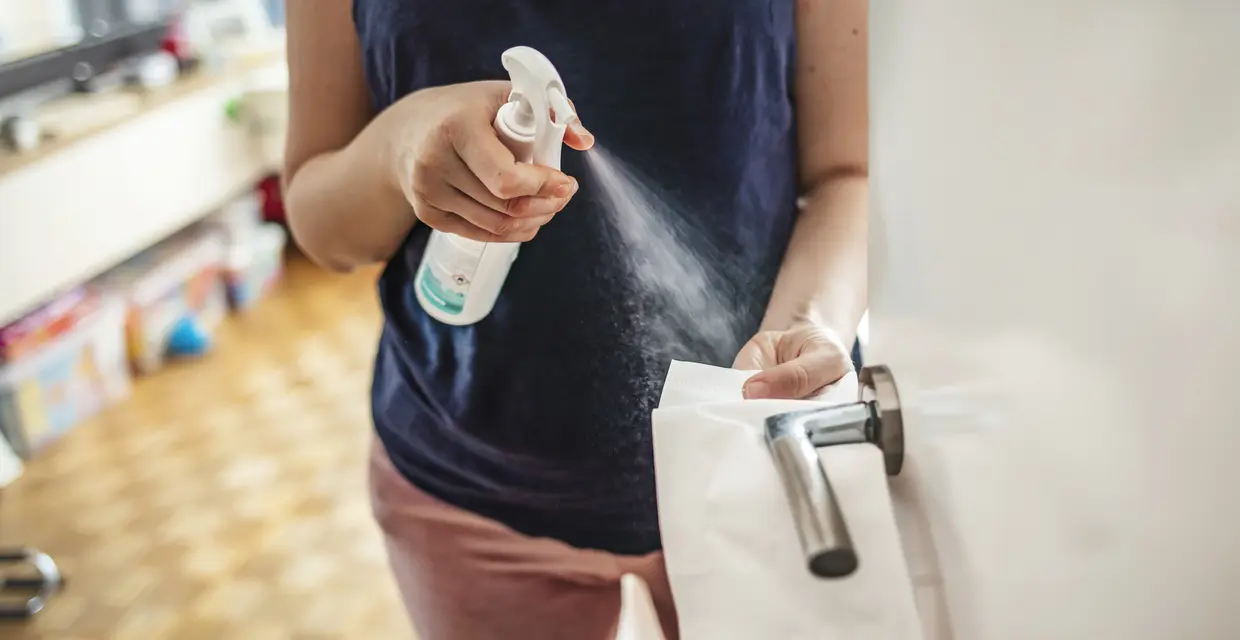 With most states still advocating social distancing practices, you may be wondering if now's the time to escape to a domestic shelter or seek out services. After all, the last thing you want is to flee an abuser and then end up contracting COVID-19 in a space you'll share with strangers, especially if you've got children in tow. But if you and your kids are in danger being quarantined with an abuser, and you think it's time to go, don't let the coronavirus outbreak stop you. Shelters are taking precautions to protect you from COVID-19 as well as violence.
What Shelters Are Doing
First and foremost, shelters are still open and accepting survivors (as long as they have capacity). Shelters are not permitted to deny services to anyone based on health, and that includes testing positive or believed to have COVID-19.
"Our biggest challenge has been getting the word out that we're still here, ready to help," says Michelle Ormiston, communication coordinator at Chrysalis, a domestic shelter in Phoenix, Ariz. "We have had to get creative in places, but we are still offering all of our services."
At Chrysalis, as with many agencies, getting creative has meant conducting outpatient services via teleconference or online. Chrysalis' victim advocates, for instance, are "meeting" with clients remotely rather than in person. They're even continuing their offender treatment program via teleconference.
If you think calling a victim advocate is too risky right now, Ormiston suggests reaching out via social media.
"Send us a direct message while you're taking out the trash, if that's all you can manage," she says. "We'll write back."
As for shelter services, agencies across the U.S. are taking plenty of precautions to prevent the spread of COVID-19. Some, like Chrysalis, are asking new families to isolate upon entering for a specified period of time. Chrysalis has new families self-isolate for 72 hours. Other shelters have made alternative living arrangements for their residents, such as moving them to a hotel or apartment, where they can be separate from other residents.
Shelters are also being advised to keep a daily log with client temperatures and symptoms and provide protected space if resident is sick or vulnerable.
Donate and change a life
Your support gives hope and help to victims of domestic violence every day.
Additionally, the National Network to End Domestic Violence is also recommending that shelters:
Provide masks, gloves, wash stations, hand sanitizer, etc., to residents and staff.
Vigilantly clean and disinfect shared spaces, such as kitchens and playrooms, as well as high-touch surfaces such as door knobs, handrails and tables.
Maintain physical distance of at least six feet in common areas.
Train staff to recognize symptoms or complications of COVID-19 and providing proper medical care.
What You Can Do to Protect Yourself
If you decide to go to a shelter during the COVID-19 outbreak, take steps to protect yourself and your children by following these tips from the Centers for Disease Control and Prevention:
Wash your hands often with soap and water for at least 20 seconds. If you're unable to, use hand sanitizer that contains at least 60% alcohol.
Avoid touching your eyes, nose and mouth.
Maintain distance from other residents and staff as much as possible.
Watch children closely in shared spaces and around other residents.
Wear a mask around other people, especially those who are sick. (Disposable gloves are recommended only for those caring for someone who is sick or when cleaning, not in other situations like running errands.)
Always cover coughs and sneezes with a tissue or your elbow.
Clean your personal spaces with disinfectant daily.
Adhere to all safety guidelines established by the shelter.
Alert shelter staff if you have any contact with someone who has COVID-19 or begin to have symptoms.
Looking for someone to speak with? Enter your location to find phone numbers for domestic violence experts in your area.


Have a question about domestic violence? Type your question below to find answers.