notes
Ask Amanda: Single Mom Desperately Needs a Car
Grants that help survivors buy a car, and how to find a reliable used one
By DomesticShelters.org
Nov 04, 2019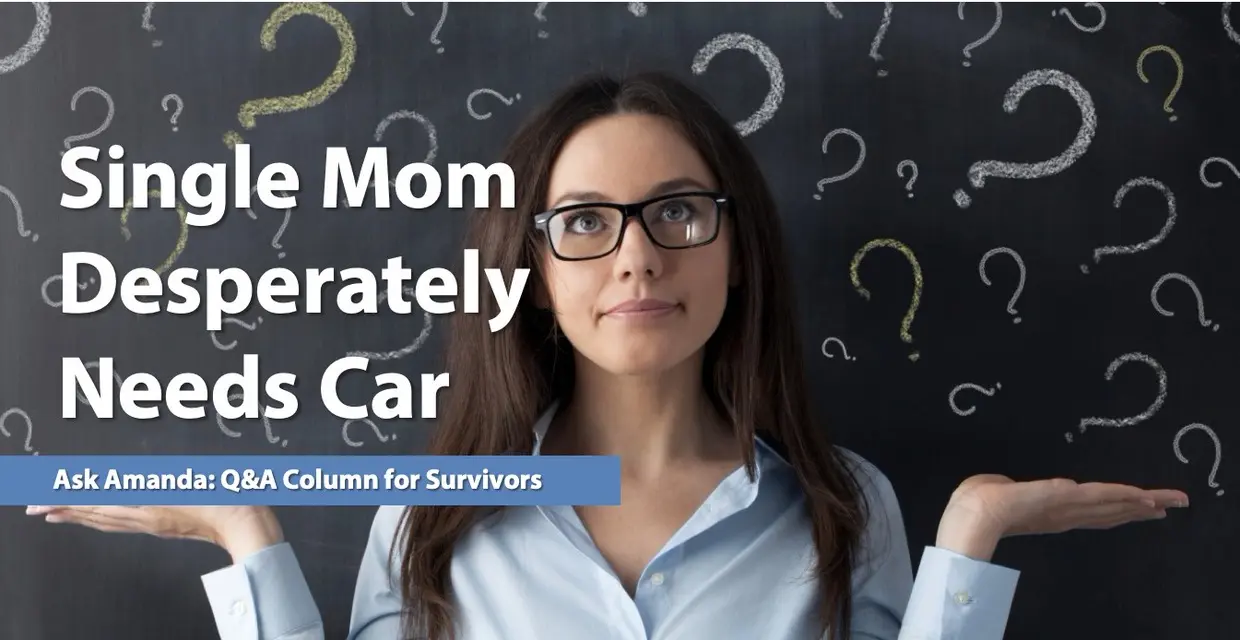 Q: Is there help out there for a single mom in a shelter to buy a car? I have a part-time job, but I really need a car to help me get a better job. My son has to take a two-hour bus ride in the morning to school and again after school and my daughter is staying with a friend right now because she doesn't want to be so far from school. Driving would only take half an hour. I just need a little help. –T.
Dear T.,
If only I was Oprah right now. You get a car! And you get a car! Unfortunately I'm not, and I'm sorry for how frustrating this must be. Many survivors of domestic violence find themselves in a less-than-desirable financial situation after leaving abuse. It doesn't seem fair—you have to stay in a shelter while the abuser may continue to live at home, unencumbered. You have to deal with myriad challenges of starting over while an abuser possibly goes on freely living their life. There is nothing easy about it, but I hope you can take pride in the fact that you are starting your life anew, free from abuse, violence and control. All decisions you make going forward now are yours, including your desire to improve your employment situation and make life better for your children. Kudos for being a strong, hardworking, motivated single mom.
Now, on to the car situation. Have you asked an advocate at the shelter you're staying at if there are any financial resources for survivors in your area? Sometimes, there are other nonprofits that will help survivors get back on their feet with financial assistance that may either help you purchase a reasonably-priced used car or secure an affordable home or apartment nearer to your children's school or possible employment. It's worth asking.
If the shelter you're at doesn't have those kinds of resources, here are some other options you can look into:
When You're Ready to Buy
Donate and change a life
Your support gives hope and help to victims of domestic violence every day.
Let's assume the universe is going to come through for you, T., and you're able to secure enough funds to purchase a used car. Now what? Car experts say the minimum you should expect to pay for a reliable used car is $2,500. Here's a guide from the financial site NerdWallet.com on how to buy a used car. Overall, you're going to want to look for a car that's at least 10 years old. It's probably going to have a lot of miles, but cars are made to last a lot longer now than they once were, so even a car with 100,000 miles can still have a lot of life left in it. Don't be put off by small dings and scratches, either. These won't affect how the car drives, but they do mean you'll get the car at a better price!
Don't have $2,500 saved up? A car loan, even with a bad credit history or no credit history, is possible. You may be looking at a higher interest rate, but in the long run, it could still be worth it if it means you'll be able to hold a steady job. Just make sure to steer clear of those shady payday loan operations where the interest rates are extreme. Utilize the budget and payment calculators on Roadloans.com to help you figure out how much, exactly, you can afford.
According to NerdWallet, you can find car bargains online on sites like Craigslist, AutoTrader.com and iSeeCars.com. Look for cars $3,500 and under because you'll likely be able to talk sellers down to your ideal price of $2,500. NerdWallet recommends a Ford Focus as a reliable American car, or consider affordable Japanese cars such as Toyota, Nissan or Honda. The site advises avoiding European cars because of the high costs to repair them should something break down—and something probably will eventually when you're buying an older model.
When that time comes, if you just happen to live near Appleton, Wisc., check out the all-women-run Jumpstart Auto Repair that caters to survivors of domestic violence. The site MyPinkGarage.com also has a list of women-run auto shops around the country should that make you feel more comfortable.
You may also want to visit a site like RepairPal.com to get an estimate on what you need done before you go in, so you're less likely to be taken for a ride, so to speak, and CarTalk.com to find a well-reviewed mechanic near you. It wouldn't hurt to find a mechanic to check over your used car before purchasing it to make sure you're not buying something with hidden problems.
Good luck, T., and I'm crossing my fingers for you that a sweet ride is in your near future.
Have a question for Ask Amanda? Message us on Facebook, Twitter or email AskAmanda@DomesticShelters.org.
Ask Amanda is meant to offer helpful resources and information about domestic violence. If in crisis, please reach out to your nearest domestic violence shelter for the guidance of a trained advocate.
Looking for someone to speak with? Enter your location to find phone numbers for domestic violence experts in your area.


Have a question about domestic violence? Type your question below to find answers.