notes
Women-Run Auto Repair Shop Sparks Change
For every three jobs done for the general public, a survivor gets essential car repairs free of charge
By DomesticShelters.org
Jan 15, 2018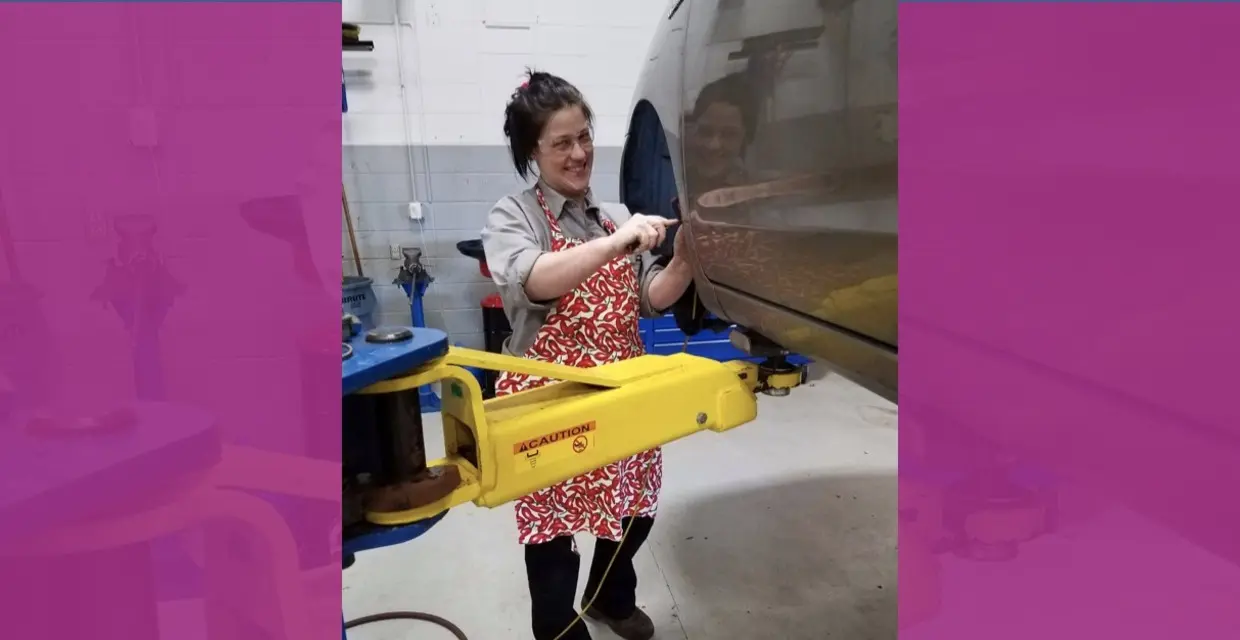 As a woman, there are several places you likely hate visiting—the mall with your picky teenage daughter, for one. The OB-GYN for another. And, probably, the auto body shop when your car is making a weird clicking whirring noise.
Unless you grew up learning about cars, or took a sudden interest in auto mechanics as an adult and can rattle off car facts like a seasoned gearhead, most women can attest to experiencing a bit of condescension from male mechanics. Or, in worse cases, they encounter outright deception. Even research says so.
In 2012, three researchers with Northwestern University's Kellogg School of Management conducted an experiment with AutoMD where they called more than 4,600 auto repair shops to price a radiator replacement. Women were offered an average price of $406 while men were offered a price of $383.
Commented one of the researchers: "The data are … consistent with statistical discrimination. Shops believe, rightly or wrongly, that women know less about cars and car repair. In the absence of information to the contrary, they will be offered a higher quote."
Women know this. And women are tired of this. Which is partly why in 2013 two domestic abuse programs in Appleton, Wisc.— Harbor House Domestic Abuse Program and Christine Ann Domestic Abuse Services—hatched the idea to open an all-female-run auto repair shop. They officially opened their doors last January.
"Where I grew up, there was an auto repair shop with a female mechanic, and women knew they wouldn't get scammed there," says Katie Cross, general manager of Jumpstart Auto Repair. She runs the garage with Jenny Krikava, development and marketing manager of Harbor House. The shop is dual-purpose—help women of all walks of life feel comfortable and empowered getting car repairs, and also help domestic violence survivors who may not be able to afford essential car repairs.
The shop is open to the general public, and male customers are just as welcome as women. Profits from repairs are funneled back to help those customers who are survivors, and who desperately need a functioning mode of transportation to leave their abuser, or to start over after they've escaped. The survivors are referred to the shop through both of the shelters which run it.
A Car Means Freedom, Empowerment
People who haven't experienced abuse may not be able to grasp the sense of independence and empowerment that comes from having a working vehicle. Krikava remembers one survivor in particular. She had left her abuser, but she reluctantly relied on him for transportation—it was the only way she could get to job interviews.
"By the time she'd get to the interview, she'd be in tears," says Krikava. "He'd erode her self-esteem, and she wasn't able to have successful interviews." When the woman was able to find an affordable used car, the technicians at Jumpstart gave it their seal of approval.
"This was so empowering for her," says Krikava. "You could tell her confidence level was at a completely different place."
Show and Tell
Not only do the technicians provide trustworthy service, Cross says they also take the time to talk customers through each repair, helping them to understand what's wrong and how it will be fixed. In addition, the shop holds classes each month covering minor maintenance items, which are "open to anyone who wants to learn more about their vehicle," says Cross, "but especially survivors."
In return for their unique model of passing it on, Krikava says "The technicians get so many hugs. I still say we have to create a bumper sticker that says, 'Have you hugged your mechanic today?'"
Donate and change a life
Your support gives hope and help to victims of domestic violence every day.
Cross remembers when a former survivor came in for service told her how Harbor House had helped her years before.
"She said she wanted to help someone and asked if we knew anyone. This other woman, a survivor, needed to pay $100 for repairs, and could either pay that or her rent. This woman reached into her purse and pulled out a $100-bill and gave it to her.
Jumpstart currently borrows space at Fox Valley Technical College free of charge and because of classes that also use the garage, can only see customers Fridays and Saturdays. But the women say they hope to one day soon move into their own location and open five days a week.
Cross and Krikava say they hope to also provide training opportunities in the future for survivors who want to enter the field of auto repair.
"So many guys are supportive of women entering this industry. I'd say most are embracing this, even though there are a few who can't wrap their head around it," says Cross.
"Since we first hatched the concept for JumpStart, we have learned so much about the automotive industry and the importance of nontraditional careers in addressing economic security for women," says Krikava. "It's expanded our mission and vision for the project."
In the meantime, the women's goal is to just get more survivors on the road. They estimate for every three to four repairs from the general public, they are able to fund the repairs for one survivor.
"We're like the TOMS of auto repair," says Krikava, referring to the popular footwear design company that donates a pair of shoes to someone in need for every pair purchased by a consumer.
To read more about people and businesses doing amazing things to help survivors, check out the stories in our Heroes section.
Do You Know a Domestic Violence Hero?
DomesticShelters.org is looking for individuals doing heroic things, big or small, within their communities to help survivors of domestic violence. If you know someone, let us know about them by emailing Amanda@DomesticShelters.org and they may be featured in an upcoming story.
Looking for someone to speak with? Enter your location to find phone numbers for domestic violence experts in your area.


Have a question about domestic violence? Type your question below to find answers.