notes
Ask Amanda: I'm Pregnant With My Abuser's Child
Some abusers use pregnancy as a way to assert control over their victims
By DomesticShelters.org
Jun 05, 2017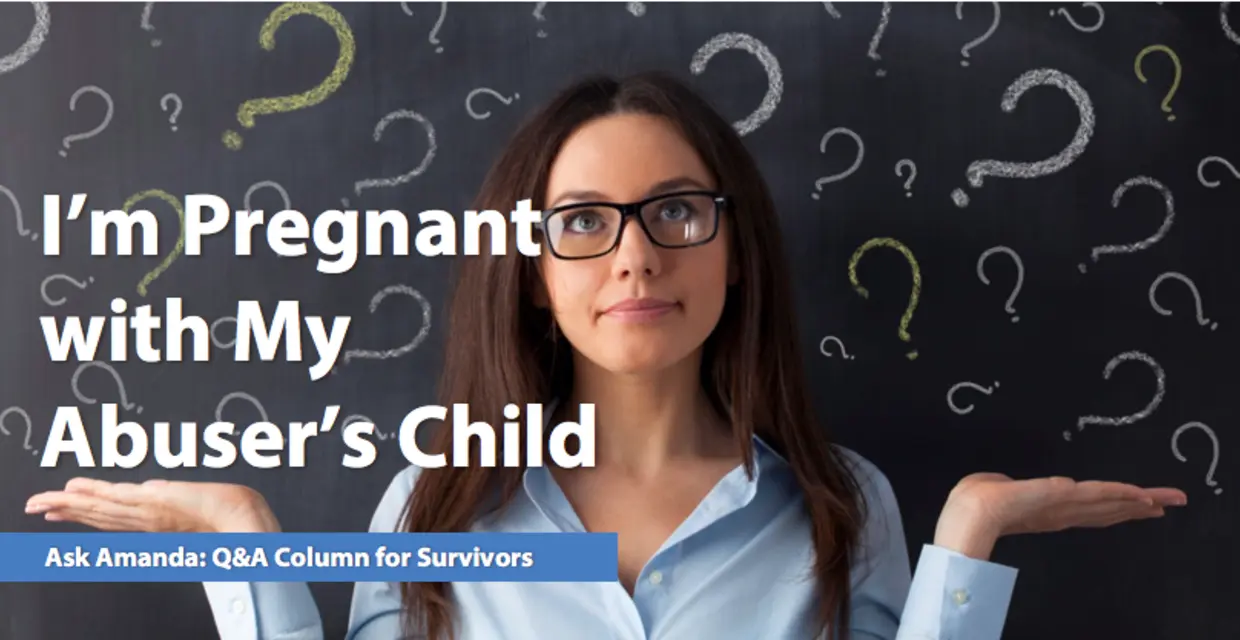 Q: My husband has been abusive for the last four years—physically, emotionally and sexually. He said I couldn't take birth control pills. I just found out I'm pregnant and I'm terrified. I don't want him to be a part of this baby's life, but I don't know what to do.
– Anonymous
I'm so sorry you have to go through this. Nothing about your situation is easy, but you're brave to reach out for help and seek a safer life for your future child. Though, make no doubt about it—you and your baby deserve a nonviolent life going forward, if you do indeed decide to continue the pregnancy (we'll talk about those options below).
First, know there's a tactic some abusers use called reproductive coercion. This is when an abuser either forces a victim to get pregnant or terminate a pregnancy against her will. This is just another way your abuser is trying to retain control of you. Your husband may be using violence or threats of violence to force you to have sex and remain off birth control. He may accuse you of cheating on him if you insist on using birth control. Maybe he hides or destroys your birth control. Some abusers even force their victims to have multiple pregnancies in a short period of time in order to make their victims unable to work outside the home and become more financially dependent on their abusers. None of this is okay.
You're not alone, Anon. The National Institutes of Health (NIH) reports that at least 300,000 pregnant women experience domestic abuse in the U.S. every year. In fact, that number is thought to be much higher as many incidents are never reported.
If you're ready to leave your abuser, now is a good time—enduring domestic violence while you're pregnant puts you and your baby at increased risk for health problems. You may be less likely to receive proper prenatal care, you're at a higher risk for smoking and drinking during pregnancy, and the chances of a preterm birth or low birth weight also go up. Scariest of all, the NIH found homicide was the second-leading cause of injury-related death for pregnant women after car accidents.
Donate and change a life
Your support gives hope and help to victims of domestic violence every day.
So, how do you go about leaving safely?
The first thing you'll want to do is contact a domestic violence advocate near you. They will help you safety plan and come up with the safest way possible for you to leave. And, if you're unable to leave right now, you can talk about other options for staying safe in the meantime.
If you're thinking about an abortion, consider reaching out to Planned Parenthood. You can find the location nearest you via their website or by calling 1-800-230-PLAN. Here you'll find caring and nonjudgmental healthcare professionals who can give you information about all your options while keeping this information private, in case you share health insurance with your abuser. You may also be able to access other forms of birth control that your abuser may not be aware of, should you decide to stay with him.
If you decide to go forward with the pregnancy, you'll want to consider finding prenatal care as soon as possible. From four to 28 weeks of your pregnancy, you'll want to see a medical professional once a month to make sure you and the baby are doing okay. From 28 to 36 weeks, you'll get checked every two weeks, and after 36 weeks, you'll want to see someone every single week.
If you don't have insurance, you can look for free or low-cost prenatal care near you by calling 800-311-BABY, which will connect you to your local health department.
It's also important, should you go forward with the pregnancy, to take into consideration the issue of child custody. Domestic violence advocates warn that many abusers are likely to seek custody of children in a separation as a way to maintain control over their victims for the next 18 years. You can read through the articles in our Child Custody section for more information on this topic.
Have a question for Ask Amanda? Message us on Facebook, Twitter or email AskAmanda@DomesticShelters.org.
Ask Amanda is meant to offer helpful resources and information about domestic violence. If in crisis, please reach out to your nearest domestic violence shelter for the guidance of a trained advocate.
Looking for someone to speak with? Enter your location to find phone numbers for domestic violence experts in your area.


Have a question about domestic violence? Type your question below to find answers.