notes
Ask Amanda: How to Keep Going After Abuse
A survivor isn't sure how to find support after leaving her abuser
By DomesticShelters.org
Nov 16, 2016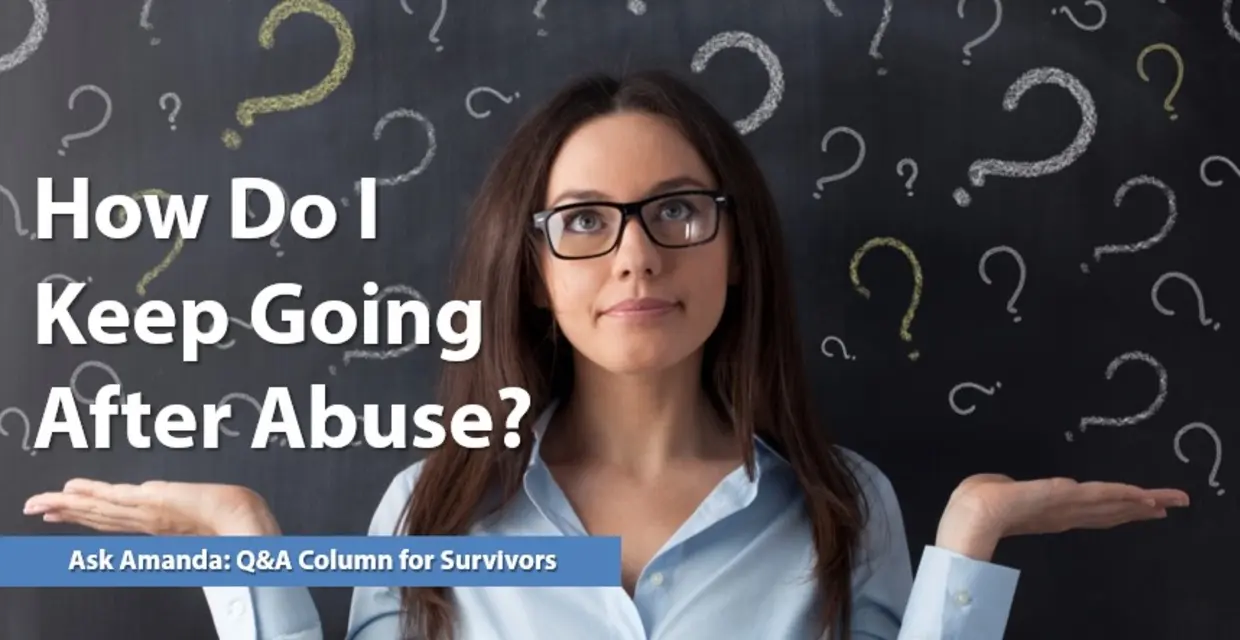 Q: There's lots of encouragement and support to leave your abuser, but help is seriously lacking on the next steps, like how to thrive. Choosing to leave doesn't stop the first time you walk out. Sometimes it's a daily choice in the ensuing aftermath. What support is available for that? – Emily R.
You're completely right, Emily—choosing to leave isn't just a one-time choice. Staying permanently free of your abuser can be a challenge for many reasons. I don't know the specifics of your situation, but I know that abusers are cunning, manipulative individuals who will often try to regain control after you've left. You might feel like returning to your abuser is the only choice you have in order to ensure your safety—because of threats he or she has made—or because you are struggling financially trying to start over. These reasons and more are why it's easier said than done to "just leave."
There's also a misconception that once the abuse is over, it's a closed chapter in a survivor's life. Most survivors echo the sentiment that healing from abuse takes a lifetime.
After survivor Betsy Rounds escaped two-and-a-half years of physical, sexual and psychological abuse so severe she was certain she would be another homicide statistic—she even started compiling evidence her family could use in her murder trial—she didn't know where to turn. She resisted the domestic violence organizations initially, she says, because she felt the advocates she met, though well meaning, were too young and inexperienced to understand the horrific circumstances she had endured.
It wasn't until she found a domestic violence support group that she finally felt understood. "There's a connection with other survivors. They understand why you didn't leave," says Rounds. "And the more I talked about it, the more I realized how many survivors are out there." It's what spurred Rounds to become a public speaker, sharing her story of survival on college campuses, through radio interviews and as a featured speaker at the National Coalition Against Domestic Violence's national conference.
Rounds says people ask her if it's healthy for her to continue to replay the abuse by telling her story. She admits it is a trigger—"I'm kind of back there for a little bit, but each time I work through that, I'm healthier."
You can read more about how to gain the courage and skills to share your story of survival in "Speak Out."
And to find a support group of survivors near you, call a domestic violence shelter in your area and ask what support groups are available. Rounds says despite her initial reluctance to accept help, she learned a valuable lesson: "There were people to help me when I was ready. Everyone I talked to had at least one or two things I walked away with."
Survivor Crystal Sanchez uses her experience of surviving abuse to now coach women in "living their bliss." She offers a free e-book, I've Left, Now What? A Survivors Guide to Thriving through her website. One of the things she recommends is that survivors prioritize self-care.
"Caring for yourself needs to become a priority, both physically and emotionally," she writes. "Remember, you are longing for your attention. Begin to treat yourself with love … be willing to spend time on things that bring you joy."
You may also want to read, "How to Go from Surviving to Thriving After Abuse." In it, revitalization coach Connie Sloan says there are four areas of your life where you should focus on thriving after abuse, one of which being the goals that you have for your future.
"To make your future more tangible," Sloan writes, "consider pinning aspects of your future self to a bulletin board, or placing objects in a room that represent the future, or placing Post-Its you reread daily with phrases related to your goals like, 'I am confident,' 'My kids are happy' or 'I own a business.'"
For more inspiration, check out our recommended books specifically on becoming a survivor.
Living a healthy and safe life can take ongoing effort and courage. Keep going, Emily.
Have a question for Ask Amanda? Message us on Facebook, Twitter or email AskAmanda@DomesticShelters.org.
Ask Amanda is meant to offer helpful resources and information about domestic violence. If in crisis, please reach out to your nearest domestic violence shelter for the guidance of a trained advocate.
Looking for someone to speak with? Enter your location to find phone numbers for domestic violence experts in your area.


Have a question about domestic violence? Type your question below to find answers.