notes
Survivor: Christopher Anderson
Severe neglect and abuse as a child sent one man on a lifetime journey of healing
By DomesticShelters.org
Mar 05, 2018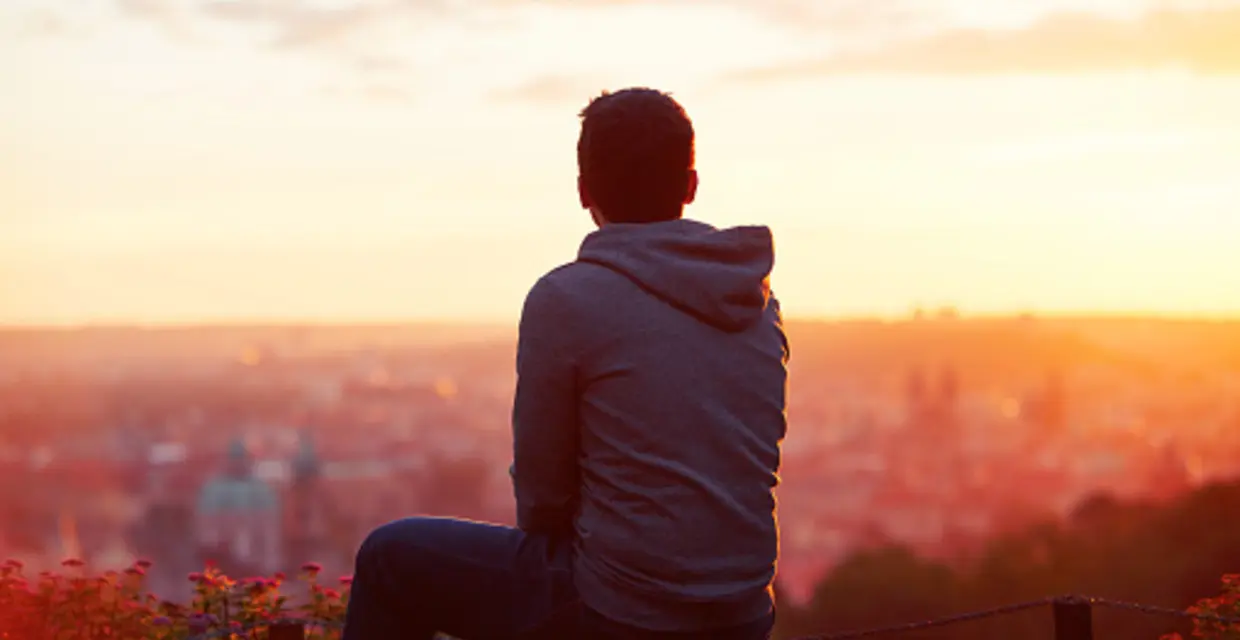 Christopher Anderson grew up with domestic violence, but not the paradigm experience one might think of.
"My father never laid a hand on my mother or me," he says. Yet, "I had no experience of home being a nurturing environment whatsoever."
Donate and change a life
Your support gives hope and help to victims of domestic violence every day.
His mother, a hoarder, was emotionally distant while his dad, who worked two jobs—one overnight—and who Anderson rarely saw, had a temper.
"My parents did not have a loving relationship with each other or themselves. They wound up in this cycle where, if they were interacting at all, they were screaming. They exasperated each others' problems more than anything else."
The problem, as he sees it now at 43, was that both of his parents were suffering from severe depression, undiagnosed and untreated. As a result, he says his home life was anything but a refuge, and his tactic for survival was "to be as quiet and silent as possible."
One of Anderson's earliest memories is of waking up crying in his crib after having a nightmare. "No one came. I cried myself back to sleep."
From age 6 on, Anderson says he tried to interact as seldom as possible with his parents.
"My parents could not take care of themselves, and they knew, even as a child, I could take better care of myself than they could."
Child Neglect Is Abuse
Child neglect is the most common forms of maltreatment, according to the National Children's Alliance. Nearly 700,000 children are abused every year and, of those, three-quarters suffer neglect.
"Having an absentee parent has ramifications on children, especially if they're not … making them feel loved and valued," says Susan Bernstein, licensed social worker and marriage and family therapist with expertise in domestic violence. "If they don't feel loved and valued they could have a psychological reaction."
According to the Centers for Disease Control and Prevention, child maltreatment can cause extreme stress, harming the development of a child's nervous and immune systems. As a result, neglected children are at higher risk for health problems as adults, like alcoholism, depression, drug abuse, obesity, suicide and certain chronic diseases.
From Pain to Power
Anderson fell victim to several of those. The neglect from his parents was compounded further when a neighbor sexually abused him for three years, starting when he was 8 and turning Anderson's world even more upside down. His traumatic childhood eventually lead to addiction, depression, anxiety and thoughts of suicide before Anderson got help in his 30s. For the first time, he says, he admitted the sexual assault and all the adverse effects that followed. A good therapist helped him work through it, but he says the healing is an ongoing process.
"I'll be on this journey of healing for the rest of my life," Anderson says.
Eventually, he turned his pain into power, becoming an acclaimed public speaker for MaleSurvivor, a nonprofit focused on supporting male sexual abuse survivors in the U.S.
"Anytime we're able to speak with authenticity, any time we can speak openly about having gone through some kind of trauma, it helps us heal," he says.
He started studying trauma—why it occurs, what it means to be traumatized. He coined his own definition of the term: Trauma is an experience of harm while powerless.
Anderson's parents both passed away fairly young—something he calls "the best thing they ever did for me." Married, he looks at his wife's loving relationship with her parents and says he has no idea what that would feel like. He works on fighting against the fear that trusting others causes him.
"I have a difficult time accepting the love and support of people, even though I struggle to find that. When you grow up in an environment where the caregivers are sources of risk, it makes things very difficult later in life."
Anderson says he and his wife have chosen not to have children for a specific reason.
"The strongest impulse I had [to have children] was I felt this desire to prove to myself that I could do a better job than my parents did. And once I realized that, I thought, 'Wow, that's a terrible burden to place on a kid.' That's not the right reason."
What He Wants to Tell Others
Anderson wants survivors of childhood trauma to know that healing from their experiences is not like healing from a physical injury—"It's not like you get back to 100-percent strength again," he says. The memories, he says, won't be erased, but ideally, one can grow and find a different sense of self out of all of it.
"Trauma is not something that needs to define who and what we are. We all go through ups and downs. A lot of time we think about the down cycle as walking through a dark tunnel. The challenge isn't trying to get out, but rather to take a step forward. As long as you're moving forward, you'll get to a different place."
He also hopes survivors celebrate survival.
"It takes a tremendous amount of strength and courage to survive trauma. If you're still here, that's something you should congratulate yourself on. Just surviving is something we should praise."
Childhood domestic violence is a term that has been developed to describe experiencing violence during childhood. Fourteen articles are available on this site on the topic. There is also CDV.org, which is dedicated to childhood domestic violence.
Looking for someone to speak with? Enter your location to find phone numbers for domestic violence experts in your area.


Have a question about domestic violence? Type your question below to find answers.