notes
Dogs Who Love Unconditionally
Furry 'therapists' help adult and child survivors of DV open up
By DomesticShelters.org
Jan 04, 2017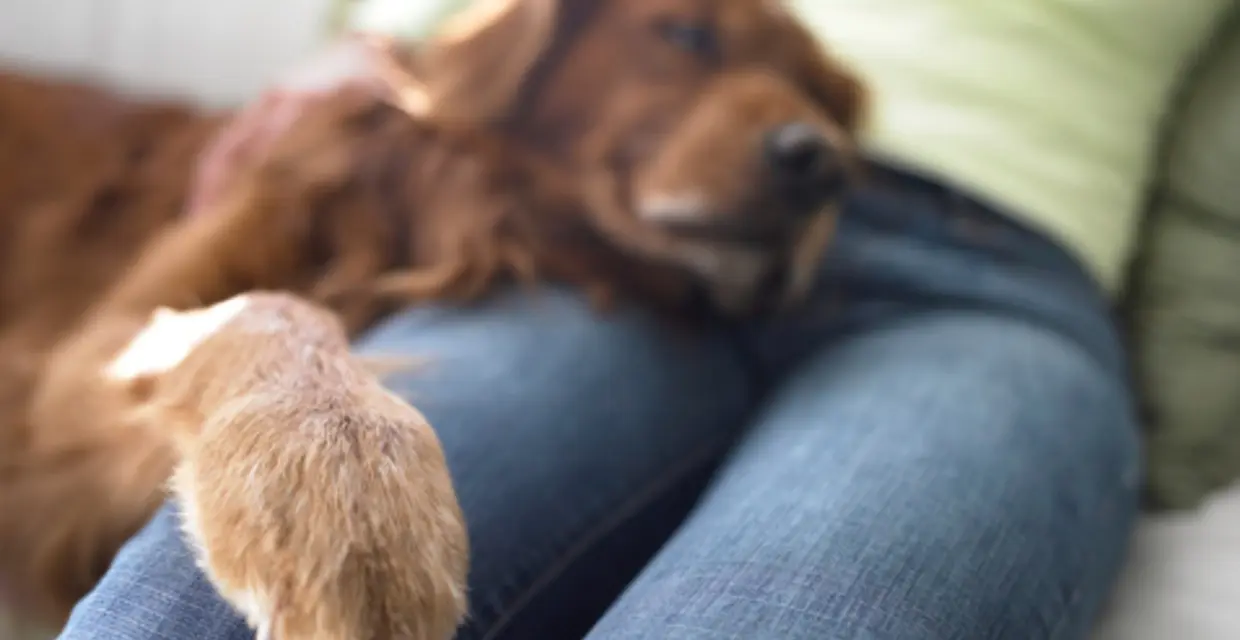 When children become the collateral damage of domestic violence in the home, their emotional scars can last a lifetime. Pam Gaber, the CEO and founder of Gabriel's Angels, knows this because she sees some 13,000 children a year in Arizona alone who are abused, neglected or at-risk, in desperate need of something or someone they can depend on. To them, she brings the healing power of puppies.
"Humans represent everything disappointing and sometimes evil to these children. But dogs don't judge," she says.
Therapy dogs have long been a resource to provide comfort in traumatic situations, dating as far back as WWII when they were brought to hospitals to comfort wounded soldiers. There seems to be no group these furry volunteers can't help feel better, and that includes survivors of domestic violence and childhood domestic violence.
Bringing her original therapy dog, Gabriel, to places where traumatized children were, such as shelters and schools, she saw the power of Gabe, as she called him, was that he'd just let children be in the moment.
Donate and change a life
Your support gives hope and help to victims of domestic violence every day.
"Maybe the kid had a temper tantrum that morning. He made them feel accepted and not judged. A dog's eyes are a limitless pool of understanding."
She remembers how sometimes kids would just lie on Gabe and whisper secrets into his ear. Or they'd lay their heads down on his chest to hear his heartbeat. "Oh, he's just like me," they'd comment.
Gabriel passed away in 2010 after a decade of service with his namesake organization under Gaber's care. She hasn't yet found his predecessor, but in the meantime, 175 other therapy dogs and their owner companions work with Gabriel's Angels to provide some much-needed slobbery healing powers to children throughout the state.
Teaching Empathy the Dog Way
More than just natural healers and good secret-keepers, therapy dogs also help teach valuable life skills, says Gaber, like compassion, trust, attachment and empathy to children whom, because of domestic violence, may not have had anyone to model these qualities.
Through repeated visits by therapy dogs, Gaber says traumatized kids learn to trust that someone will show up for them. Brushing and taking care of the dog builds empathy. Gaber sees children recognize that a dog might need water, and get up to refill the bowl. "That's the first time they've ever seen a need in another living being and met that need."
Dogs as Therapists
At The Good Dog Foundation in New York City, Founder and President Rachel McPherson uses therapy dogs to help both child and adult survivors of domestic violence find comfort. At places like the YWCA and domestic violence safe houses, she brings in therapy dogs to simply visit with the female survivors. Through petting them and interacting with them, amazing things begin to happen.
"The dogs decrease their anxiety and stress, and they [the survivors] open up about their domestic violence situation. They open up to the dog. They trust the dogs so much because there's not going to be any judgment made."
McPherson also works with the Manhattan and Brooklyn district attorney's offices, connecting her therapy dogs with children who may need to testify about a domestic violence situation in or for court. "In a lot of cases [the attorneys] couldn't get the children to open up. But when the dog is there, they could give them a lot of information because the child felt so safe and comforted."
Some 1,200 volunteer pups and their handlers with The Good Dog Foundation visit more than 300 facilities throughout four states, and are part of a national crisis response program. All types of dogs can become certified, says McPherson, from labs and golden retrievers to poodles and pit bulls. Some are purebreds and some are mutts, she says.
Gaber says her organization even sees the occasional therapy cat, though far fewer have volunteered for the job. "Cats aren't great travelers. When cats go in a car, they tend to howl. They're not great minglers either." But, two cats in the last 16 years have made the cut. "One walked on a leash and would come into a room and just lay on the table, and was able to connect with kids."
Bringing Furry Therapy Home
Gaber believes parents and caregivers can replicate these healing powers at home by getting a pet—when it's the right time—after abuse. "An animal in a child's life will make a remarkable change." Believing the bond between a therapy animal and a child is strong enough to break the cycle of violence is the reason Gaber says she gets up every day to do what she does. "Our inherent belief is that animals can only do good for a child."
Humans are conditional, she says, even though we wish we weren't. "But a dog thinks you're great no matter what."
To determine when it's the right time to adopt after abuse, read, " Could Adopting a Pet Help You Heal?"
Looking for someone to speak with? Enter your location to find phone numbers for domestic violence experts in your area.


Have a question about domestic violence? Type your question below to find answers.