notes
StrongHearts Helpline for Native American Survivors Debuts
Domestic violence among tribal communities faces different barriers, laws and challenges
By DomesticShelters.org
Sep 04, 2017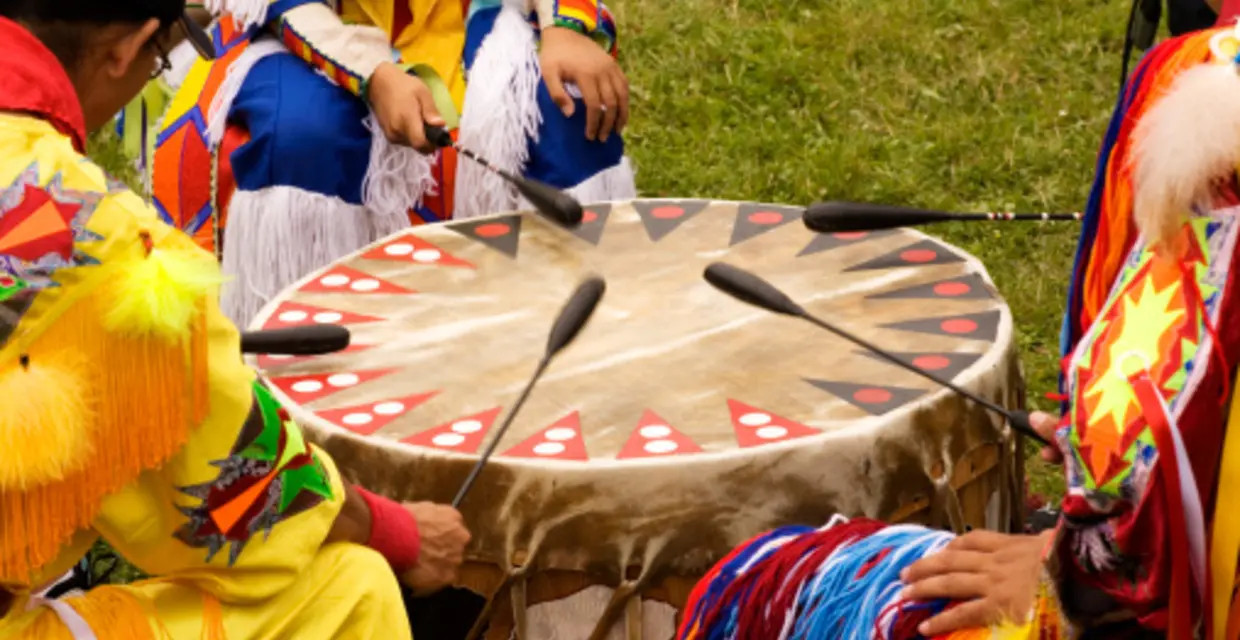 A new domestic violence crisis line specifically aimed to support those in tribal communities across the U.S. opened its phone lines, so to speak, earlier this year. Advocates who answer the phones at the StrongHearts Native Helpline (1-844-7NATIVE) are Native American, bringing to survivors who call an acute understanding of American Indian and Alaska Native cultures and the challenges that surround reporting and finding help for domestic violence.
With some 568 federally recognized tribes in the U.S., "the issues are very complex," says Lori Jump, a member of the Sault Ste. Marie Tribe of Chippewa Indians and the helpline's assistant director. "Because of the political status we enjoy in the U.S., when we talk about tribes, we have to remember they are actually nations with all of the rights of sovereignty that go along with nations. Tribes can create their own tribal courts and laws, and very few people understand the complications that can come from that."
Native Americans at Higher Risk Than Other Populations
Statistics show that 84 percent of American Indian and Alaska Native women have endured violence in their lifetime, with more than half of this violence inflicted by an intimate partner. More than two-thirds have been victims of psychological aggression, and more than half of these survivors have also endured sexual assault. Another 48 percent have been stalked by a partner.
Similar studies show 35 percent of women in the general population experience rape, physical violence or stalking by an intimate partner.
In addition, Jump says Native American women are fives times more likely than non-native women to experience abuse by a non-native partner. The reason? Until an expanded version of the Violence Against Women Reauthorization Act (VAWA) passed in 2013, tribal courts did not have jurisdiction over non-native perpetrators. "They were rarely prosecuted," says Jump. "We couldn't even give them a slap on the hand. So justice was denied to all of those survivors."
A Five-Year Journey
It's been a nearly five-year undertaking to get StrongHearts off the ground, but Jump says, "In some respects, it was quicker than we expected. We thought it wasn't going to go live until next year."
It was in 2012 that the National Indigenous Women's Resource Center and the National Domestic Violence Hotline began talking about how to support tribal communities with a dedicated hotline. "One thing we noticed was that the rate that Native Americans were reaching out to the national hotline didn't necessarily match up to the high rates of violence. We wanted to be able to respond to that," says Jump.
After many conversations with tribal leaders, domestic violence experts, a Native women's council and the Family Violence Prevention and Services Program, says Jump, and with funding secured from the Family and Youth Services Bureau within the Administration on Children, Youth and Families, U.S. Department of Health and Human Services, the hotline became a reality. Right now, it's available free of charge to callers between 9 a.m. and 5:30 p.m. CST, Monday through Friday, but Jump says they're working on "building a case to support more services."
The Challenges of Raising Awareness
StrongHearts has received about 90 calls since it launched in March, reports the helpline's Communications Manager, Mallory Black, who hopes to see that number rise as they work to get the word out across tribal communities.
"We are a new service unlike anything else in Indian Country. It's hard to reach out in our small tight-knit communities because there's a fear of being identified as a victim when speaking out. There is a historical reason for the distrust, due to a legacy of failed interventions that only time and dedication will alleviate," she says.
Donate and change a life
Your support gives hope and help to victims of domestic violence every day.
Jump agrees. "One of the things we know is that it's hard to access services in our native communities because they're pretty remote. Not every tribe has a program to address domestic violence."
The helpline's initial service area includes Kansas, Oklahoma, and Nebraska, though callers outside of these states can still call StrongHearts while the helpline continues to develop its services network. Advocates are able to utilize the National Domestic Violence Hotline's database to help callers find resources, safety plan and acquire support, helping StrongHearts reach even the most remote of Native survivors.
And, Jump adds that anyone, Native or non-Native, can call in—from survivors to support persons looking to help someone who is being abused, to a person who simply wants to better understand the issues. "We are here to answer calls for anybody who's looking for information," says Jump. "We hope to educate people. There is a great need."
Looking for someone to speak with? Enter your location to find phone numbers for domestic violence experts in your area.


Have a question about domestic violence? Type your question below to find answers.