notes
New Legislation to Help Survivors in Arkansas
And it's all thanks to one survivor's email
By DomesticShelters.org
Aug 26, 2015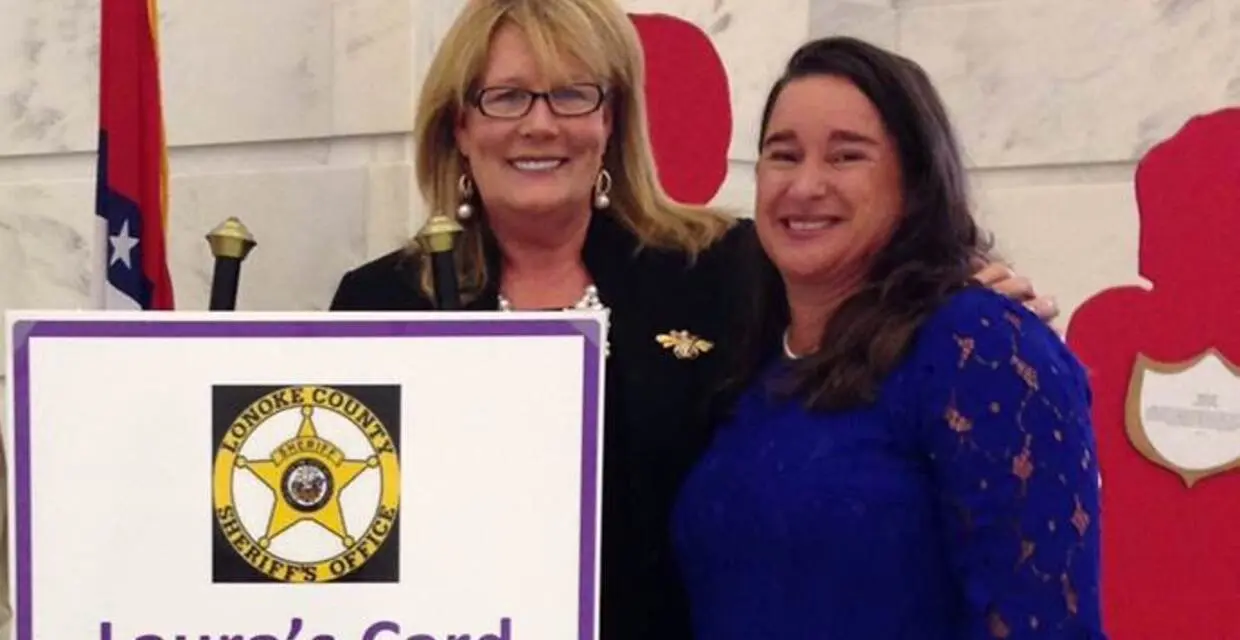 Three years ago, Laura Webb, pictured above in blue, was run over by her husband in his truck. On purpose. Twice. Her lungs filled with fluid and, at one point, her heart stopped beating as paramedics loaded her onto a MedFlight. But, she survived. She endured months of intense recovery and a multitude of surgeries, and will forever deal with permanent disabilities as a result of his abuse. Even though a jury found her husband, Mitchell, guilty of third-degree domestic battery, he served just three months in jail. Then, he sued Laura for alimony.
Knowing things had to change, she asked her state legislators in Arkansas for help. Rep. Charlotte Douglas (pictured, on left) reached out to her. "When I got her email … I could actually feel the raw emotion in her plea for an advocate," says Rep. Douglas. "I responded back, 'I will be your champion.' It was at that time I first heard Laura's story of the devastation that domestic violence brings in its wake. Her story was a case of whatever can go wrong did go wrong. In her experience, I saw the areas that needed reform."
For Laura, she says hearing back from Rep. Douglas, " felt like there was going to be hope. I cried." Since that day, Laura and Rep. Douglas have been engaged in a nonstop battle for survivor's rights in Arkansas. "In many ways, [Rep. Douglas] has given me life again. I am broken physically but she gave me purpose," says Laura.
In April of this year, with Rep. Douglas and Laura by his side, Arkansas Gov. Asa Hutchinson signed not just one, but a half-dozen new domestic violence bills into law. One, dubbed "Laura's Card," ensures domestic violence survivors receive a card informing them of their victim's rights and providing them with resources. Another new law is known as "Laura's Law" in honor of Laura Aceves who, on New Year's Eve 2011, was shot in the head by her ex-boyfriend, her four-month-old son lying at her side. Aceves had made a multitude of assault reports to police before her murder and had filed for an order of protection, both to no avail. Laura's Law will require that police ask survivors of domestic abuse a series of questions to assess their lethality risk. The aim is to help officers identify those most at risk in order to provide proper intervention.
"Arkansas is the first state to adopt a state-wide victimsrights card. We are also thefirst with a statewide initiative to implement theLethality Assessment," says Rep. Douglas.Other legislation that was part of the Representative's domestic violencepackage included victimless prosecution, a revenge porn law and parole hearing rights forvictims. "When Gov. Hutchinson signed our bill package the victims, their families and the advocates present stood with tears streaming in gratitude," says Rep. Douglas.
Next up, Rep. Douglas is advocating to have a domestic violence registry established in the state, explaining that the state currently doesn't have open court records. "We have a sex offender registry and would like to tie in a link to court records of domestic abusers."
And, in August, Act 952, will introduce dating violence awareness curriculum into schools throughout the state. Says Rep. Douglas, "We must introduce prevention into the early grades to empower victims to step away from unhealthy relationships. With current issues surrounding bullying and teen dating violence, we see that the cycles of abuse are beginning earlier and the connection to future domestic violence is unmistakable."
Looking for someone to speak with? Enter your location to find phone numbers for domestic violence experts in your area.


Have a question about domestic violence? Type your question below to find answers.