notes
Being Coerced into Swinging Is Sexual Abuse
Bringing new sex partners into a relationship should always be done with consent and safety in mind, otherwise, it's abuse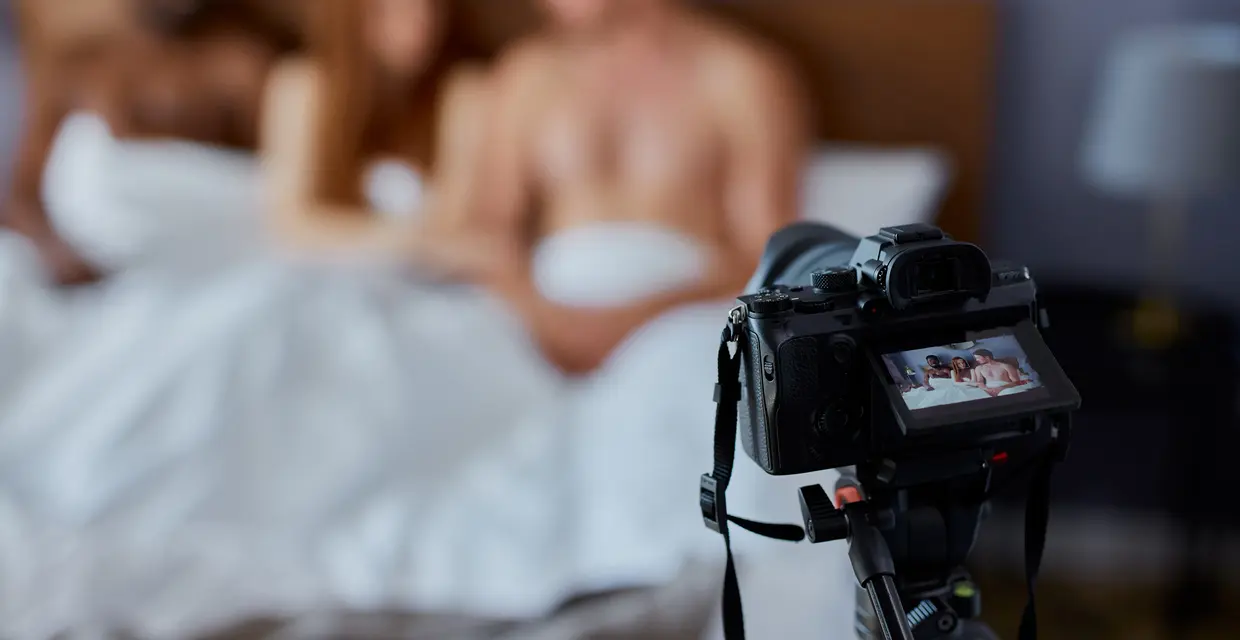 In a recent post on an anonymous online forum for survivors of abuse, a woman posed the question: Is it abuse if her husband coerced her to meet other men for sex and then, afterward, share the lurid details with him? She had agreed to something similar once before—they invited another partner into their home where the woman had sex with him in front of her husband. But she says the experience left her feeling "dirty" and she told her husband she didn't want to do it again.

But he pushed the issue until she relented. She would meet men and have sex with them while her husband watched remotely using a web camera. She says she craved her husband's attention and did what he asked but found that in return he only rebuffed her even more. The whole thing left her feeling used, unloved and confused.
After she began to see a therapist, she was caught off guard when she was told that her husband was possibly abusive. "I agreed to it though," she wrote, meaning the swinging. She was confused how she might be a victim of abuse even though she felt like she consented.
Sexual Experimentation Should Prioritize Safety
Swinging is a type of non-monogamy where partners in a committed relationship agree to exchange or share partners sexually. Those who engage in swinging may also be known as polyamorous, or having multiple partners at the same time. Many times, swinging is done through a private, invite-only event where rules to protect all parties are heavily enforced. These rules focus on participants' safety and comfort.
Per kinkacademy.com, self-described as a site of sexual education for consenting adults, "All real swingers will tell you that consent is the most important thing to adhere to when attending a party. If it's not, then you're at the wrong event!"
Whether it's swinging or some other type of sexual experimentation, consent should not only be the first step in the process, but it should also be a part of every step. Saying "yes" to one action or one experience doesn't give a partner permission to continue on further than that, or to expect a repeat performance of whatever it was.
"You can revoke consent at any time…even if you're nude," says relationship and sex therapist Laura J. Brito, MSW, LCSW bluntly. "I always say, 'If it's not a hell yes it's a hard no."
Brito is the owner of Love Applied Counseling, PLLC. She works primarily with clients in non-traditional relationships, often to sort through sexual trauma or explore sexual identities.
Donate and change a life
Your support gives hope and help to victims of domestic violence every day.
"Trauma is often caused by coercion," she says. "They are acquiescing to their partner because they want them to be happy." She says one way to know that you've been coerced is if you feel a sense of shame afterward and aren't able to talk to your partner about it.
"Discreetness is OK, feeling like you have to keep it a secret is not," says Brito of sexual experimentation. If your partner isn't willing to talk about what you're feeling, gaslights you or belittles you, these are forms of abuse. Gaslighting occurs when the abuser denies your version of reality, or minimizes what happened, making you doubt your memory.
Sexual Coercion Is a Lack of Consent, Safety
At the crux of abuse is power and control. Some abusers exert power blatantly—they yell and intimidate a partner, hurt them physically, or force them to have sex without asking for consent, aka, rape. Other times, abusers use manipulation and guilt tactics, or withhold affection or other needs in order to control a survivor. A survivor, like the woman at the beginning of this article, may feel like she gave consent, but being coerced into saying yes is not consent.
"Sexual coercion is when someone manipulates you into unwanted sexual activity through non-physical means," says Elizabeth L. Jeglic Ph.D., professor of psychology at John Jay College of Criminal Justice and sexual violence prevention expert. "Legally, it would not necessarily be sexual assault, but at the same time, it's not really wanted sexual activity either, and you might not feel good about it afterward."
What the woman earlier describes experiencing fits the bill for sexual coercion. She believes she consented to the sexual acts, yet, did she actually want to do them? She says she didn't feel safe. And her first answer was no until her husband pushed her. All she wanted was to feel loved by him, and she thought that would come if she did what he asked. That's coercion.
Forced sex is also associated with a higher risk of lethality according to the research of Jackie Campbell. The domestic violence advocate and professor at the John Hopkins University School of Nursing developed a tool called The Danger Assessment in 1986. Working with law enforcement and clinical experts on abuse, and garnering input from domestic violence survivors themselves, she came up with 20 questions that she thought would predict the level of danger a survivor is facing and whether or not he or she faces a high risk of being killed by an intimate partner.
Signs of Sexual Coercion
Consenting to sexual activity and then feeling in your gut that something's not right about it afterward can be confusing. That's why sexual coercion can be tough to identify. Signs that you're being sexually coerced by a partner may include a partner….
Asking for sex repeatedly
Saying things like, "You got me this far. Don't you want me to finish?" or "I thought you loved me and wanted to make me happy?"
Telling you it's your obligation as a spouse or partner
Giving you alcohol or drugs in order to lower your inhibitions
Threatening to break up with you unless you engage in sexual activity
Refusing to use protection or not allowing a partner to use birth control
Threatening to go elsewhere for sex
Withholding money or other needs if you don't have sex
Saying sex is owed because your partner paid for dinner, did you a favor, etc.
Is It Sex Trafficking?
Sex trafficking can overlap with both domestic violence and sexual coercion, including swinging. By definition, sex trafficking occurs when the person providing sex is doing so against his or her will as a result of force, fraud or coercion. According to the Polaris Project, it's estimated nearly 27 percent of sex trafficking victims are recruited by intimate partners.
If sex has become something transactional in a relationship, meaning you feel pressured to provide sex in order to be provided basic needs such as money, housing or food, this can be considered trafficking. Say your partner provides for you financially and then says you owe him by having sex with him or one of his friends. Or, the partner promises someone else can have sex with you in exchange for goods, like food, drugs or rent. This is trafficking. Survivors can feel brainwashed into agreeing to these acts, but this is not consent. A survivor may feel like they owe their abuser or trafficker, they might feel a misguided sense of obligation or love for what that person has provided them. Or, they might feel trapped—if they don't go along with the sex act, they'll wind up homeless, destitute or without care for their children or other family members. Again, agreeing to sex under these kinds of threats is not consent.
You're Allowed to Say No
If you suspect you're being sexually coerced, consider finding a trusted person to confide in. This could be a friend, family member, therapist or advocate at your local domestic violence hotline. The first thing a survivor may need is someone to simply validate that saying "no" is OK, even if they've said "yes" in the past. Even if the survivor is married to the person coercing them into sex, it is still abuse. Married partners can be victims of rape via a spouse.
The next step is to talk to your partner if it's safe to do so. If you don't feel safe talking to your partner about what's going on, that should be a pretty clear message that the relationship isn't a healthy one. Consider creating a safety plan if you decide to leave your partner. Reach out to a shelter or find a Family Justice Center near you to find resources, support and explore emergency or temporary housing options in order to escape.
Remember, says Brito, "If [the sex act] isn't making you closer as couple, if it's not something you look forward to, something's wrong." When it comes to sex, no matter how long you've been together, what you've been through in your past, "You don't owe them anything," she says.

Looking for someone to speak with? Enter your location to find phone numbers for domestic violence experts in your area.


Have a question about domestic violence? Type your question below to find answers.