notes
Growing a Better Life
GreenHouse17 helps survivors find their independence again, one harvest at a time
By DomesticShelters.org
Sep 14, 2016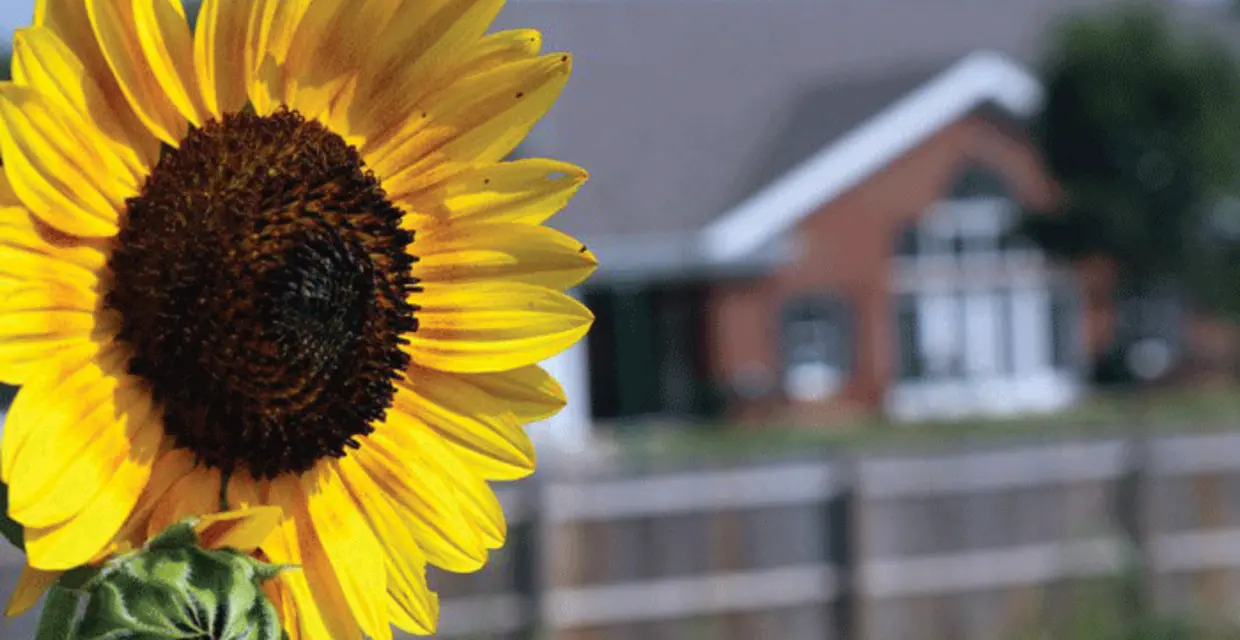 GreenHouse17 is a domestic violence shelter in Kentucky with a twist. In addition to being a refuge for women, men and children escaping abuse, serving 17 counties in the state, it also offers survivors, quite literally, a taste of self-sufficiency.
"We grow apples, blackberries, raspberries, lettuce, cabbage, sweet potatoes, tomatoes, cherry tomatoes, popcorn—that one's mainly for the kids. We even have beehives to make honey," explains Executive Director Darlene Thomas, proudly.
The green thumbs behind taking care of the almost half-acre area of greenhouses are the survivors who live there. They grow not only produce, but also herbs and a wide array of flowers, all of which are organic.
The original goal, when the shelter first began the gardens five years ago, was to help offset the organization's grocery bill while fostering a sense of independence for survivors. The shelter was already teaching its participants the value of DIY-ing—like how making things from scratch, such as homemade cleaning supplies, instead of buying them, can save money. Gardening seemed like a natural addition to that lesson.
They started out doing box gardens. The benefits, says Thomas, were that kids were eating green bean "French fries" instead of potato chips. "But we didn't really know what we were doing, so it was a flop."
So Much More than Food
By year two, they secured a recent college graduate, a farmer, to help. With a little more know-how, soon their gardens were flourishing in six high tunnels, which are basically round greenhouses, Thomas explains, which enable the shelter to grow crops year-round.
Thomas quickly saw that the gardens were doing far more than offsetting the costs of food at the shelter. Gardening had begun to empower the survivors. "Simply amazing," Thomas calls the effect of watching the participants eagerly get up at 7 a.m. in order to start their day in the greenhouses. Under the early morning Kentucky sun, Thomas says survivors found a whole new definition of community. "They were digging in the dirt while sharing their trauma with others. They began reclaiming the good parts of their life."
Thomas has seen working in the gardens keep survivors clean off of drugs and alcohol. She's seen survivors begin planning for ways to start their own small businesses once they leave. "They've found a sense of pride," she explains. "We work hard not to define our people as victims. Their victimization has been a timeframe in their life, but it's not who they are or who they could be. Yes, this is a shelter, but we can do so much more than that."
Survivors there—both adults and children—can earn a modest stipend for helping out in the gardens with the contingency that they journal about what the experience means to them. Some of these writings are featured on the Grow Appalachia blog. In one entry, survivor "K." writes: "Today I needed the garden much more than the garden needed me. I needed the soil and the majestic feeling that the garden has to offer. I loved 'rescuing' the flowers and clearing an overgrown path. I cleared a path within myself as well."
Thomas says the kids are as enthusiastic about the gardens as the adults. "They're out there all the time. They love it." It teaches them important lessons, too, says Thomas. "Those from more urban areas think their food comes from the grocery store. But now they're grabbing apples right off the tree."
Involving the Community
Any excess produce is sold to the community very cheaply, says Thomas. Some of the produce is grown for local restaurants. The fresh flowers are offered in CSA, or community-supported agriculture boxes. The shelter also offers "U-Pick" days on occasion, allowing the community to come out to the gardens and pick their own produce. The beeswax is made into lip balms, body balms and candles, all created by the participants and sold through the GreenHouse17 website.
"It's their idea to do it," says Thomas. "My only job is to say 'yes.'"
Do You Know a Domestic Violence Hero?
DomesticShelters.org is looking for individuals doing heroic things, big or small, within their communities to help survivors of domestic violence. If you know someone, let us know about them by emailing Amanda@DomesticShelters.org and they may be featured in an upcoming story.
Looking for someone to speak with? Enter your location to find phone numbers for domestic violence experts in your area.


Have a question about domestic violence? Type your question below to find answers.