notes
Money Means Freedom
FreeFrom's new Compensation Compass shows survivors how to access funds set aside for survivors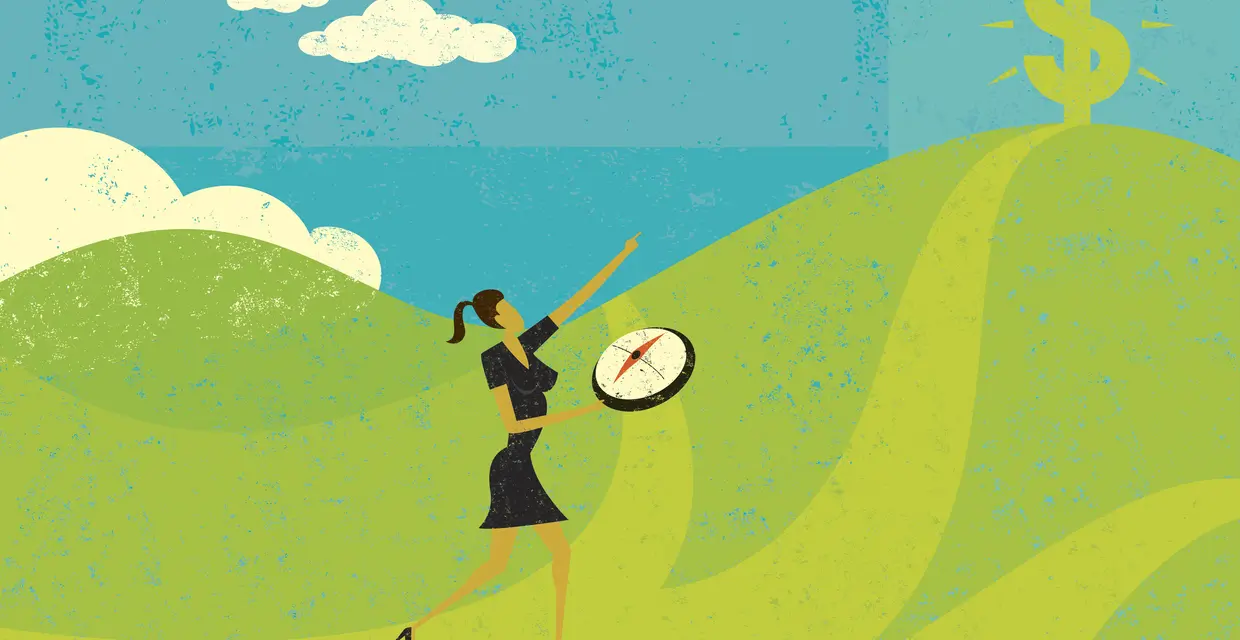 While we can lament that money doesn't buy happiness, we all know it will buy food, shelter, transportation, medication, diapers and daycare — the list goes on. In short, money is necessary for most of us to live and abusive partners know this.
That's why many abusers will control finances, restrict a survivor's ability to earn a living or intentionally ruin their credit, making it next-to-impossible for a survivor to become financially independent and consequently, able to survive on their own.
You Deserve to Be Compensated for That
A new online tool called the Compensation Compass from the nonprofit FreeFrom is aiming to alleviate some of the financial worry that prevents survivors from leaving. Since 2016, the LA-based FreeFrom has been helping survivors of abuse achieve financial freedom through entrepreneurship training and investing—essentially turning a survivor's skill set into a profitable business.
Attorney Amy Durrence is their director of Law and Policy. She says the number one reason people stay in or return to abuse is because they can't afford to leave. And when survivors do escape, they're sometimes left with hefty bills to pay for the abuse they endured—legal fees, property damage, a broken lease or moving costs to get far away. (A DomesticShelter.org survey found money was a close second to fear as the main barrier survivors faced before leaving.)
The Compensation Compass launched just in California in 2018 before becoming accessible to survivors in all 50 states last November. To use, a survivor answers eight quick questions that will tailor the kind of compensation he or she may be eligible for based on what state they're in, how quickly they need assistance and what sort of time they can devote to chasing that compensation down (courts aren't always known for their speediness). There are also questions that take into account whether or not the survivor feels comfortable being in the same room as the abuser and if the survivor is okay with telling their story over and over, which is sometimes necessary and not always easy.
At the end, survivors will get their "Compensation Mindset" — I was dubbed as a "Resourceful Strategist" when I tested it out with example answers. I was advised to seek criminal restitution and given helpful links to applying for it in my state. I was also given other compensation options within my state including small claims court and a civil tort.
Donate and change a life
Your support gives hope and help to victims of domestic violence every day.
If the legal jargon seems overwhelming or a survivor is intimidated by the prospect of going to court, there's also an option for someone from FreeFrom to follow-up with the survivor. Also, domestic violence shelters often offer lay legal assistance for survivors, or can refer them to free or low-cost attorneys. (Find a shelter in your ZIP code here.)
Durrence says the nonprofit used to give this sort of advice over the phone. "In 2017, we were only able to reach 150 survivors.... within a few hours of launching the online tool, we reached an excess of that." She estimates hundreds of survivors have found compensation options in the last few months, options they never knew were out there.
"Survivors don't know these exist and a lot of advocates don't know or think of these avenues as available to these survivors," says Durrence.
What Is the Money For?
Survivors are often left footing the bill for medical and dental bills, property damage, counseling or therapy, relocation costs, loss of a vehicle, damaged credit and fraudulent debt, missed work or loss of employment, pain and suffering, and attorney's fees and costs for divorce and custody hearings.
The CDC estimates the lifetime cost of intimate partner violence per female survivor to be almost $104,000. The CDC says this accounts for medical bills, lost wages from missing work and court costs, but Durrence says that number doesn't paint the whole picture.
"Some ninety-nine percent of domestic violence cases include economic abuse. That looks like losing your job, having damaged credit and fraudulent debt. Some of those costs can be the most devastating. Your credit score affects so many different aspects of your life, from housing to employability."
Does the Abuser Have to Be Arrested or Convicted?
No, says Durrence. "It's possible to find compensation even if the abuser was never convicted, in some cases, even if you never reported it. It all depends on the state." This is good news for survivors since the majority of domestic violence cases never see the inside of a courtroom.
"If we can destroy that nexus between financial security and long-term safety we can stop the cycle of domestic violence in this country," says Durrence.
Thinking of leaving? Read "How to Stash Cash" to jump-start your financial needs once you go.
Looking for someone to speak with? Enter your location to find phone numbers for domestic violence experts in your area.


Have a question about domestic violence? Type your question below to find answers.