notes
How to Apply for Domestic Violence Awards
It's OK to ask for the recognition you and your nonprofit deserve—it can mean more community support (and sometimes, cash!)
Let's be honest, there's not much glamor to be found in the world of domestic violence advocacy (not that advocates get into this field for glamor). I mean, there might be one of those fancy shmancy charity galas once in a while. But for the majority of those in the nonprofit world, kudos often come in the form of an appreciative hug or handshake and maybe some celebratory donuts in the breakroom. (Donuts do make everything better.)

However, there are times when domestic violence nonprofits recognize their peers through an award to highlight the amazing work others are doing. In most cases, this is a once-a-year honor given to a singular individual in the field who has accomplished outstanding feats in the effort to end domestic violence.
In 2021, DomesticShelters.org began the Purple Ribbon Awards, awarding not just one person but over 100 individual advocates, survivors, support persons and nonprofits per year, and giving away $30,000 in grants. The entry period for 2024 is coming up in January and you may be thinking, I'd like to apply for an award, but I have no idea how to talk up myself or my organization. Don't worry, we're here for you. In this piece, we're going to offer up some helpful tips and advice for submitting a stand-out nomination. We'll also talk to some of the judges of previous years' Purple Ribbon Awards to find out what kinds of things they deem award-worthy.
Do You Fit Any of These Categories?
DomesticShelters.org is looking for winners in the following categories. You can enter nominations for as many categories as you'd like. In some categories, entries will be divided into several groups based on the size of the organization, with a winner chosen for each group.
Outstanding Domestic Violence Blog
Outstanding Healthcare Professional
Outstanding Community Presentation or Education
Outstanding Legislative Partner
Rural Initiative of the Year
Urban Initiative of the Year
Outstanding Domestic Violence Podcast
Outstanding Fundraising Event or Campaign
Outstanding Awareness Event or Campaign
Outstanding Documentary or Film
Outstanding National Organization
Program/Shelter of the Year
Program/Shelter Executive of the Year
Program/Shelter Turnaround of the Year
Outstanding Board of the Year
Board Member of the Year
Program/Shelter Employee of the Year
Hotline Employee/Operator of the Year
Volunteer of the Year
Survivor of the Year
Lifetime Achievement Award
Outstanding Thrift Shop of the Year
Outstanding Pet Program
Most Innovative Service
Outstanding New Service Launch
Outstanding Youth Initiative of the Year
Annual or Impact Reports of the Year
Outstanding Advocate Training Program
Business Partner of the Year
Law Enforcement Partner of the Year
Legal Advocate of the Year
Outstanding Judge of the Year
Municipal Partner of the Year
Community Service Org of the Year
Creating a Compelling Nomination, From Our Judges
To enter to win a Purple Ribbon Award (PRA), judges are looking for more than just facts and figures. They want to feel a nominator's passion for what they do.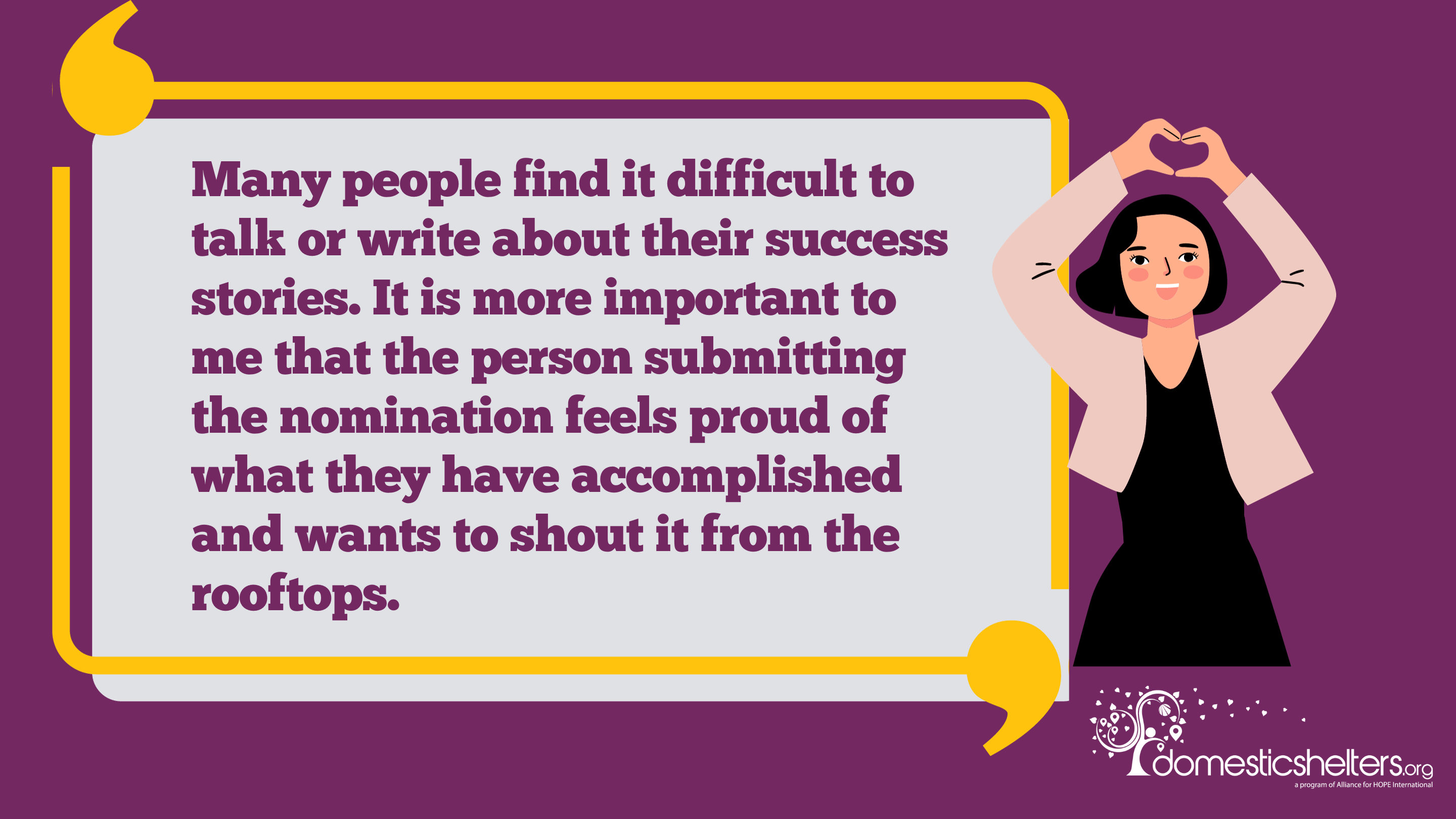 "What stood out to me as a judge last year on the PRAs were the backstories and the personal details," says PRA judge Kimberly Harris, CEO and Co-Founder of WomensHQ.org. "I respect the people with lived experience that found the courage to find their voices and deliver the most powerful messages ever told. Even those with no lived experiences still delivered a powerful impact through their messaging and advocacy voices to help others."
Hannah Kay Herdlinger, a PRA judge and founder of ThreadTalk, agreed.
"A 'good' nomination stands out for its time, effort, heart and soul," she says. Her advice to those who aren't sure where to start with their nomination is to write as if you're talking to a friend.
"Many people find it difficult to talk or write about their success stories. As a judge, I'm not looking for formality. It is more important to me that the person submitting the nomination feels proud of what they have accomplished and wants to shout it from the rooftops."
Harris says the mission of the organization or individual is where the crux of an individual's entry should be centered.
"When you keep focused on the mission statement of the organization's original design, then it becomes easier to speak about it numerous times over."
And if you don't win this year, Herdlinger reminds nominees that getting their story out there for a multitude of judges to read is still making an impression.
"Though there are only a few winners selected, the impact you are making by simply applying to let a wider audience see your accomplishments is more than you'll ever know!"
Enhancing Your Entry
When it comes to explaining your nominee, organization or effort, if you're not a prolific writer, don't worry. Simply start by answering the basic questions of who, what, when, where and why. After that, think about what sets your efforts or organization apart. What makes you stand out? What are you doing differently? Add that.
Next, consider what supplemental materials you can add to your entry to enhance it. Ask a coworker, someone else in the field or a notable person in the community to submit a letter of recommendation on your behalf. For example, one year, a shelter submitted letters of recommendation from three different local police and sheriff's departments. This showed us how strong of a working relationship the shelter had with local law enforcement.
Have you or your organization received any press? Add that to your entry in the form of a PDF, screenshots or a link to the news site.
Are there any high-quality pictures you can attach to your entry of your organization at work? Judges prefer to see pictures of what you do rather than say, just a headshot. (Make sure to avoid fuzzy or pixelated graphics.)
Marketing materials can be helpful if they can show what your organization has accomplished (say, an annual report). Avoid attaching materials that don't have anything to do with your entry, like a flier for an office potluck.
Once you think you've got a good entry, read it again to double-check for any errors or places you could improve. Make sure the entry is cohesive, meaning your written statement and supplemental materials make sense together. Make sure there are no broken links if you're directing judges to a URL. If your submission includes password-locked material, make sure to include the password in a very clear and obvious way.
It should also be noted that, in order to help defray the cost of operating the Purple Ribbon Awards and help make sure DomesticShelters.org can continue to recognize the heroes of the domestic violence field, a cost of $50 is required to submit each nomination.

How Entries Are Judged
Once you submit your entry, a handful of judges will look it over in its entirety. Each entry is judged in four categories:
Challenge and Impact: The scope of the challenge you faced and overcame, and what the outcome was.
Creativity and Originality: How you or your organization have thought of an inventive way to problem-solve.
Submission Excellence: This is where putting some time and thought into your entry will pay off as judges look at the quality of the materials you've submitted to support the above two points.
Overall: Judges look at your entry as a whole compared to others in the same category.
The PRAs will begin accepting nominations on Jan. 1, 2024, so get started now thinking of which category you want to enter! The nomination period closes on Feb. 29 at 3:59 p.m. ET. For more information and to see past winners, visit DomesticShelters.org.

Donate and change a life
Your support gives hope and help to victims of domestic violence every day.
Looking for someone to speak with? Enter your location to find phone numbers for domestic violence experts in your area.


Have a question about domestic violence? Type your question below to find answers.