notes
Ask Amanda: Why Can't I Trust a New Person
If you have trouble making connections after abuse, it may be a sign of PTSD
By DomesticShelters.org
Jul 11, 2018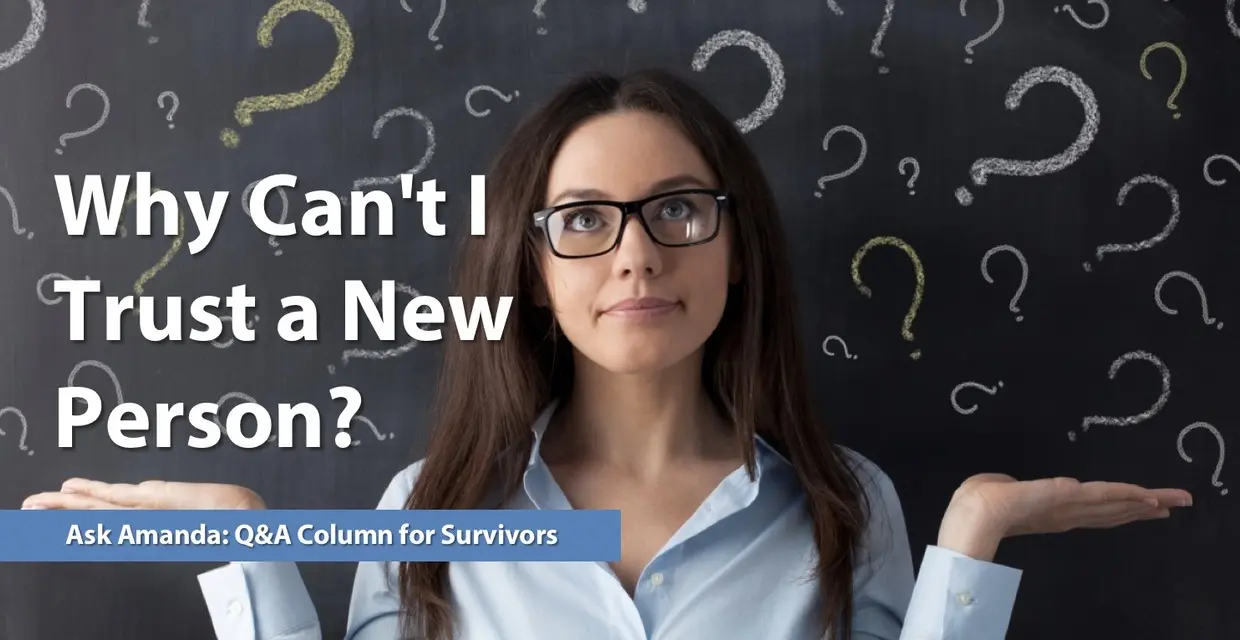 Q: I just read your article about feeling sorry for your abuser, which was a great article to read. My question now is why, after living a life of abuse, I feel I can't hold a relationship again with a new partner who is completely supportive, loving, caring and just wants to be there for me, even after a few years of being out of that bad relationship? – T.
Hey, T. This is something many survivors struggle with—you're not alone. You'd think that after enduring and escaping an abusive partner, a loving and supportive person who respects you and your boundaries would be an amazing thing, and you'd happily ride off into the sunset together like a rom com.
Donate and change a life
Your support gives hope and help to victims of domestic violence every day.
Not always. The fact is, many survivors of domestic violence find that it's difficult to trust someone again. This is normal after enduring any sort of betrayal, especially the kind that involves control, degradation and violence.
Survivors are also at risk for post-traumatic stress disorder, or PTSD. One of the symptoms can be feelings of detachment, meaning that those with PTSD can have trouble forming new relationships, even the most supportive and healthy ones. I consulted with Mary Joye, a licensed mental health counselor and an instructor on DailyOM.com, to learn more.
"Survivors with PTSD are [sometimes] unable to have loving feelings because their brain is trying to keep them safe," explains Joye, a survivor herself of a 20-year marriage to an abusive partner. After leaving her abuser, Joye went back to school to study psychology and the science behind the way brains process trauma. She learned that during abuse, there can be an imprinting in the brain that continues to remind survivors, even after the abuse ends, that they're worthless, unable to be loved or should be constantly fearful of the next attack.
This imprinting can also stem from childhood—an abusive or unloving parent may have reinforced early on that you were insignificant and undeserving of love. Look for any common threads in your life, T., that may tie together what you're feeling now with what someone told you earlier in your life.
Next, it's time to stop believing those things. Easier said than done, right? Counseling can help you rewire negative messages in your brain. Make sure you look for a therapist that specializes in domestic violence or trauma, T., and if you're not able to find someone near you, there are online therapy options available. (There are also ways to find counseling if your budget is tight.)
Joye also believes in meditation.
"You can't just stop thinking bad things—you have to start thinking good things," she says. For starters, she introduces the idea of something called inner child healing. She gives this example meditation that one can start with:
"Shut your eyes and have an age come up in your mind. Bring yourself in as an adult and protect that child. Or, do the same with an abusive [partner]. Bring your current self into that situation and protect your former self. Who is innocent and who is to blame? Bring a police officer into the room. Who would go to jail? Bring that dark side out to the light."
Joye says the results from meditations like this can be "amazing."
"You're getting your subconscious and conscious to work together."
What about telling your new partner about your past? Can this help? Joye says yes, but that she doesn't believe in replaying every single detail as it can perpetuate feeling like a victim.
"With a new partner, address your past in very general terms. 'I was in this relationship, but I'm healing now. I'm ready to start my life over.'" Of course, T., it's up to you what you want to share with a new partner, but being upfront and honest about your feelings, possible triggers and how you're still in the process of healing could help a new person better understand you.
Let's say you're still imagining the worst of intentions when new people enter your life. It may help to try and reframe your current situation through affirmations you can repeat to yourself. One to try, says Joye: "I'm human, something horrible happened to me and I can let it refine me instead of define me."
Life coach Connie Sloan recommends visualizing a new, safer life in pictures (grab some magazines and a pair of scissors!) that you post on a bulletin board or tape on your bathroom mirror to remind you that life going forward can be different. What do you see for your future? Love? Happiness? Success? Strength? You may also want to collect some mantras or quotes that speak to these goals, like, "I deserve happiness" or "I am strong and I will protect myself."
For more advice about starting over in a new relationship after abuse, check out the articles in the "Relationships" area of our website. Looking for a book recommendation? Consider Dating After Trauma in the Recommended Books area.
Have a question for Ask Amanda? Message us on Facebook, Twitter or email AskAmanda@DomesticShelters.org.
Ask Amanda is meant to offer helpful resources and information about domestic violence. If in crisis, please reach out to your nearest domestic violence shelter for the guidance of a trained advocate.
Looking for someone to speak with? Enter your location to find phone numbers for domestic violence experts in your area.


Have a question about domestic violence? Type your question below to find answers.