notes
Ask Amanda: The Courts Aren't Keeping My Friend Safe
If the courts won't listen to protection order violations, what are your options?
By DomesticShelters.org
Jul 03, 2019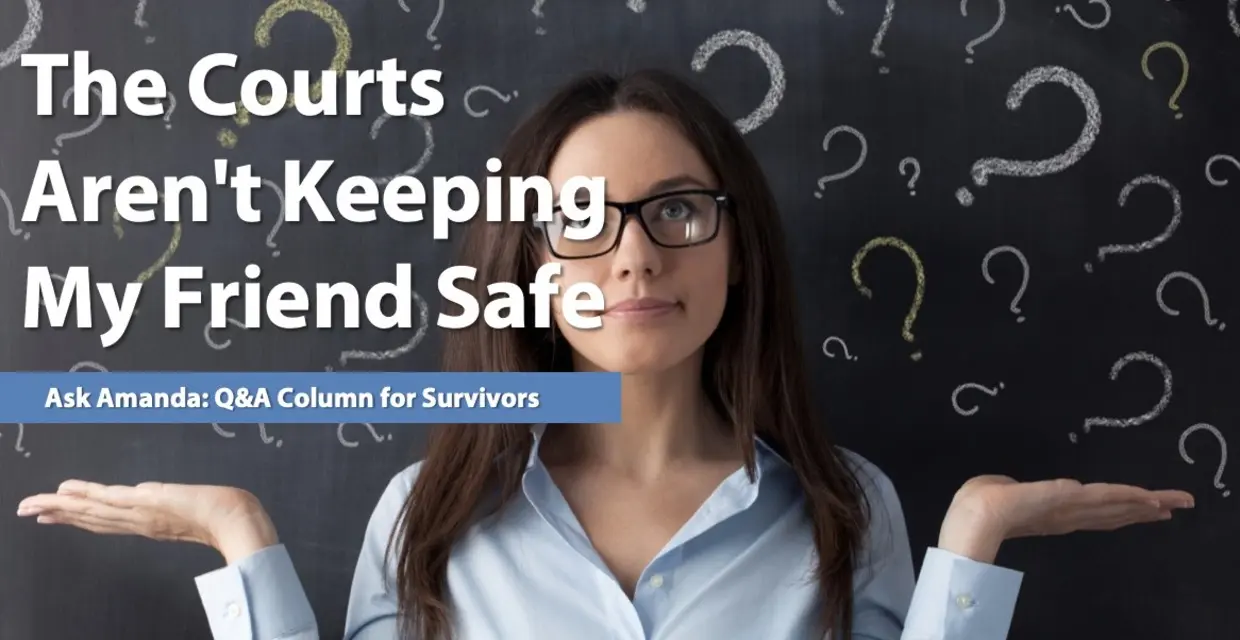 Q: Hello, I have a friend who recently got a protection order against her abusive ex-husband, which he is constantly violating. She turns in stacks of paperwork to the court to file complaints and they do nothing. For example, her abuser is only allowed 10 messages a day and any and all messages are to be based on child issues. He messages her all day, every day and never about the children. Is there something more she can do to be protected since the courts are not upholding the stipulations set forth in the protection order? – J.
J.,
Yes, there is something else she can do. But as with many avenues of justice for domestic violence survivors, it is a) not easy and b) not free. She can get a lawyer who has experience in representing survivors of domestic violence. And that lawyer can help her fight with the courts to better uphold this order of protection.
Can your friend afford a lawyer? If so, this is fantastic and she should call one who specializes in domestic violence immediately.
If no, she's not alone. The New York Times reported in 2013 that more than 80 percent of the legal needs of the financially insecure went unmet. As a result, when people represented themselves, they failed to provide necessary evidence, made procedural mistakes and didn't provide well-versed witnesses to help their cases.
Your friend may have turned in stacks of paperwork, but this may not be what her specific court needs. I wish I could say exactly what they need, but laws vary by state, and I'm not sure what state you're in. Some courts need your friend to file something called a petition of contempt. Others may require a police report (but, will police in your community respond to threatening text messages? I can't say for sure they will.) Even after that, courts—specifically, judges—use their own discretion to decide if what's going on violates the terms of the protection order.
Donate and change a life
Your support gives hope and help to victims of domestic violence every day.
Your friend may want to consider a no-contact order of protection, which forbids any in-person communication as well as messages through phone, email, text, but could stipulate that child-related communication be restricted to an app specifically for parents sharing custody, like Our Family Wizard or Talking Parents. Communication through these apps is protected—no one can delete or alter messages after they're sent, and there are time stamps to show when someone reviews it.
Florida defense attorney Jordan Ostroff, Esq., says that in the meantime, see if your friend can get a certified record from her phone company of the text messages the abuser is sending her. That's the best thing because it removes any argument that the person doctored the texts, says Ostroff, and ties the abuser's phone number to the texts.
Screenshots of texts will only show a name, and it can be argued in court that your friend fabricated these texts, assigning her ex-husband's name to another number. The way to prevent this is to have your friend delete her ex-husband's name from her phone so that when he texts her, the heading is his phone number.
Ostroff says your friend should have a good case presenting these harassing and threatening text messages to the court. Especially if any of those texts include threats to do bodily harm or kill the recipient which, in Florida at least, makes the crime a second-degree felony with up to 15 years in prison.
"Given it's 2019, I would be shocked if there was a protection order that didn't cover text messages," Ostroff says.
Which means that your friend shouldn't give up. Encourage her to keep detailed logs of the messages and any other ways in which the abuser violates the order of protection. Have her continue to go to the court and petition for contempt. Encourage her to reach out to pro bono law services if hiring an attorney isn't possible. Send her this article: "Representing Yourself in Court," if that's the route she's going to take. And, above all, make sure she is prioritizing her safety and the safety of her children—encourage her to call the police if she feels she's in danger and urge her to reach out to a domestic violence advocate in her area to do continued safety planning (aka, planning ahead of time for all scenarios that could put her in danger).
I'm sure sharing custody with this abusive ex who doesn't think the rules apply to him is also presenting its own challenges. She may want to review some of the articles we've written in the Child Custody section of this site.
Best of luck to this tough, warrior mama and thank you for being a concerned friend.
Have a question for Ask Amanda? Message us on Facebook, Twitter or email AskAmanda@DomesticShelters.org.
Ask Amanda is meant to offer helpful resources and information about domestic violence. If in crisis, please reach out to your nearest domestic violence shelter for the guidance of a trained advocate.
Looking for someone to speak with? Enter your location to find phone numbers for domestic violence experts in your area.


Have a question about domestic violence? Type your question below to find answers.