notes
Ask Amanda: I Fear For My Grandchildren's Lives
The cycle of abuse is continuing from father to son
By DomesticShelters.org
Apr 10, 2019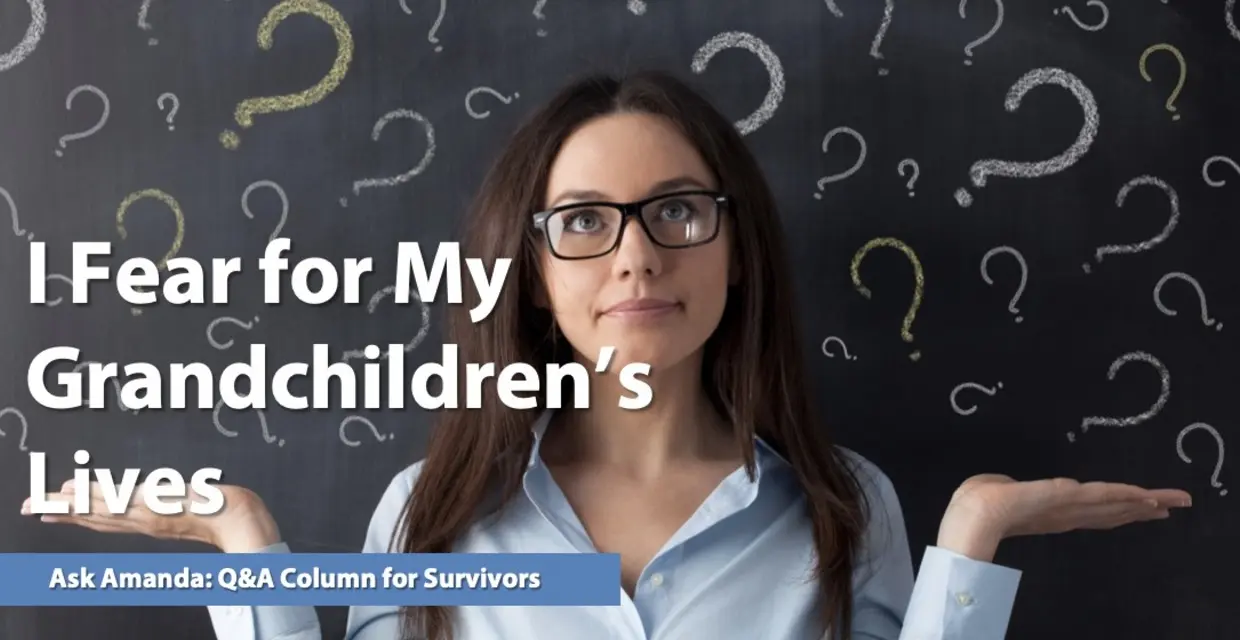 Q: I have two grandchildren, ages 2 and 4. I'm afraid they're being verbally abused by their father, my son, who was verbally abused by his father, my ex-husband. I escaped the relationship hoping to break the cycle of abuse, but it seems to be continuing. As a grandmother, this is hard to watch. But there are no marks, so there's nothing to report to the authorities. What can I do? – Concerned Grandma
Concerned,
This is, indeed, a tough spot for you. Not only do I imagine it's extremely difficult to think about your grandchildren being the targets of verbal abuse, but I suspect it's also triggering, taking you back to a time when you tried to protect your son from this same fate.
Experiencing child abuse is believed to increase the risk of that child carrying abuse and violence into their adult life—boys are more likely to grow up to abuse while girls are more likely to become victims of abuse—especially when no one intervenes to help children understand and process the abuse they endured. Perhaps you can be that person who intervenes for your grandchildren, though this is a tricky role to navigate.
I talked to Daphne Young, chief communications officer with ChildHelp, the largest national organization in the U.S. dedicated to helping victims of child abuse and neglect. She says that the first thing you might want to do is reach out to their free child abuse hotline, 800-4-A-CHILD, staffed 24/7 with trained, professional crisis counselors. They can help you process more specifically what's going on, refer you to local resources that might be able to help you and your family, or connect you with a support group of people going through similar situations.
The next thing to consider is talking to your son. Trying to reason with someone who is abusive, especially in the moment, is difficult, if not dangerous, so Young recommends finding a peaceful time where you can sit down one-on-one with him and offer some empathy.
"When people feel cornered, they can lash out, so you might begin with an apology," says Young, who suggests something like, "I wish I could have been there more for you when this was happening to you. I know this broke your heart when it was happening."
She suggests referring to a time when you heard abusive words being directed at your grandchildren and saying something along the lines of, "This sounds like things that were said to you," or "I know you love your children, and I don't even think this sounds like you." Offer to work together with your son to stop what happened to him happening to his own children.
Donate and change a life
Your support gives hope and help to victims of domestic violence every day.
"You can say, 'I remember you were at the eye of this storm and now you have the power to stop it and make it better for your children. And in turn you'll never have to be the grandpa having this conversation," says Young. Giving your son the opportunity to potentially fix something, she says, will help him feel he can be responsible for that change.
The flip side of this, of course, is that you also don't want to tolerate abuse. The Adverse Childhood Experiences Study (ACE) has shown that exposure to abuse is far more harmful than previously understood. Physical abuse is not necessary to create a lifetime of health and social problems. ACE demonstrates it is living with the fear and stress of abuse that causes most of the harm. I know you don't want this for your grandchildren, so it's important your son sees you set clear boundaries as someone who will not enable abuse of any kind to continue.
If you ever feel your grandchildren are in danger, you have every right to call 911. Know that verbal abuse often escalates into other kinds of abuse. You can find escalation red flags in this article: "When Abuse Goes From Shouting to Striking." It's also not outside the realm of possibility that this verbal abuse you see aimed at the children is also being directed toward your daughter-in-law.
"We see that a lot," says Young. "Abuse often starts with the spouse and children are drawn into the cycle. But often the spouse gets it worse than the children."
If it's safe to do so, you may want to find a time when you're alone with your daughter-in-law and gently ask her if she feels safe at home. With verbal abuse, you may pointedly ask: "Do you feel like you're being controlled? Do you feel at all threatened? Are you worried about the safety or well-being of yourself or your children?"
If she does disclose abuse, you can encourage her to reach out to a trained domestic violence advocate. She can find one near her on our Find Help page by typing in her ZIP code. Suggest she use a different phone than her own in case her husband monitors her call history. Our video, "I Know Someone Being Abused, What Should I Do?" may also help give you some ideas of ways to help her.
In terms of contacting authorities, Young says Child Protective Services are often so overloaded with allegations of people physically abusing children that verbal abuse claims, unfortunately, don't get as much urgency.
"Someone may come out and do a home visit if things get really bad," says Young. If you feel like CPS should be involved, this could be another question you bring up with the crisis counselors on the ChildHelp crisis line, 800-4-A-CHILD, and they'd be able to advise you on the best way to go about it. Of course, be aware this also could create a sticky situation where, if your son finds out you're involving CPS, could try and keep you from seeing your grandchildren, says Young.
Young says you can also create a refuge for your grandchildren—"...a peaceful environment, a place to build the grandchildren's self-esteem back up, a safe place to land," says Young. You may want to read our pieces "18 Ways to Support Children Who Witness Domestic Violence" and "How to Help Children Find Their Courage Again After Trauma."
None of this is easy, and we wish you the best of luck navigating it. Your grandchildren are lucky to have you as an advocate.
Have a question for Ask Amanda? Message us on Facebook, Twitter or email AskAmanda@DomesticShelters.org.
Ask Amanda is meant to offer helpful resources and information about domestic violence. If in crisis, please reach out to your nearest domestic violence shelter for the guidance of a trained advocate.
Looking for someone to speak with? Enter your location to find phone numbers for domestic violence experts in your area.


Have a question about domestic violence? Type your question below to find answers.