notes
Ask Amanda: Restraining versus Protection Orders
What to do if a court denies your request for an order
By DomesticShelters.org
May 23, 2016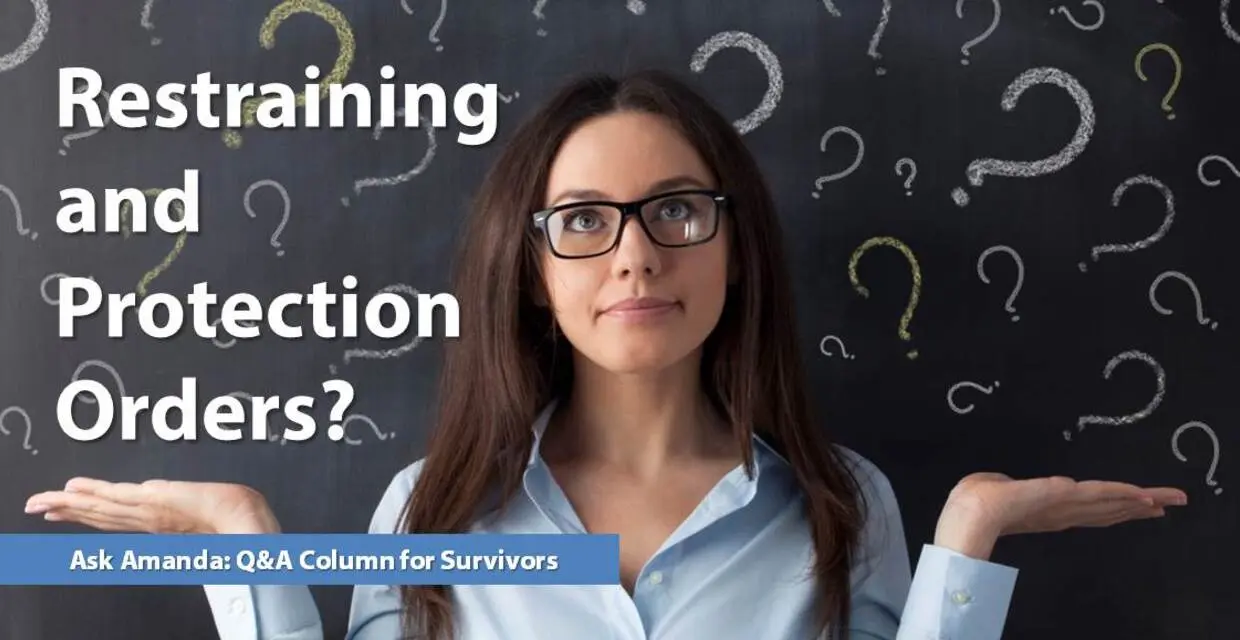 Q: What is the difference between a restraining order and an order of protection? And what do you do if you're denied a restraining order? ­– Danni S.
A: Let's address your initial question first. Legal terms can be confusing to begin with, but more so because they aren't uniform across the country. For instance, what one jurisdiction, advocate or attorney might call a restraining order, another might call a protection order. But let's not let the countless variations on what orders are called get in the way. For our discussion, we'll focus on civil orders related to domestic violence, which is what I think is on your mind.
Regardless of jurisdiction or name, these orders all tend to share this common theme: they are a tool designed to restrain an abuser's behavior and enhance victim safety, and to establish criminal penalties, such as jail time, fines or community service, for violations.
The provisions in the order you get can restrict an abuser from contacting, intimidating, threatening or otherwise interfering with you, as well as any other person named by the court, such as family members. The abuser may be required to stay away from your home, business, school, place of employment or any other location named by the court.
I checked in with David Horowitz, a certified family law specialist and a family law and domestic relations attorney and judge for the Maricopa County Superior Court in Arizona, and he noted that an order could also mandate that the victim retain custody of the children while providing additional safeguards such as supervised visitation or exchange. Some orders also protect pets.
He says the order may provide for restitution and an array of other economic provisions, such as child support or continuing maintenance of the home. In some jurisdictions, attorney's fees may be awarded. Other jurisdictions, Horowitz says, make these stipulations as part of the family law case (i.e., where divorce and custody matters, for example, are handled) and other jurisdictions include them as part of the separate protective orders process.
Donate and change a life
Your support gives hope and help to victims of domestic violence every day.
The process for getting an order is usually two steps: first, obtaining a temporary order (that may last only days or weeks) by filling out courthouse paperwork, and then, if you, the survivor, deems necessary, you can secure a final or permanent order through a court hearing that, depending on the jurisdiction, can last six months to several years and which may be renewable.
To answer your second question, each jurisdiction has requirements for obtaining orders of protection, such as what constitutes domestic violence, the relationship between the parties and who can qualify for an order. It may be that when you sought your order, the court did not feel you met these requirements, so you will want to familiarize yourself with the requirements before seeking an order again. A domestic violence advocate might be your best ally in helping you to do this.
"Remember, a protective order is only a piece of paper that tells an abuser to stay away. It is not a substitute for being cautious and keeping you and your family safe," reminds Horowitz who also advises the importance of understanding your local laws and system.
This summary from the American Bar Association Commission on Domestic and Sexual Violence summarizes each state's domestic violence protection order statutes, and better yet, provides a link to those statutes so you can understand your jurisdiction explicitly.
If an order is violated, but the situation does not warrant an emergency intervention, the individual who has the protective order can go back to the court that issued it, and the judge can hold the abuser in contempt and impose consequences. Alternatively, if a protective order is violated and it is an emergency situation, the holder of the order can call the police. Every state has criminal penalties for violations of civil orders of protection, and some states have mandatory arrest laws.
If all of this sounds overwhelming, the best plan is to reach out to a trained domestic violence advocate, preferably at an organization that offers lay legal help, which means they will assist you in navigating the court system. Visit DomesticShelters.org, type in your ZIP code and then click "Filter Your Search." You can then check any of the boxes under "Legal and Financial Assistance Services" that apply to your situation, such as "Court/lay legal assistance."
Looking for someone to speak with? Enter your location to find phone numbers for domestic violence experts in your area.


Have a question about domestic violence? Type your question below to find answers.