notes
Ask Amanda: Dealing with Toxic Family Members
It's hard to understand why those closest to you wouldn't believe you were abused
By DomesticShelters.org
Nov 14, 2018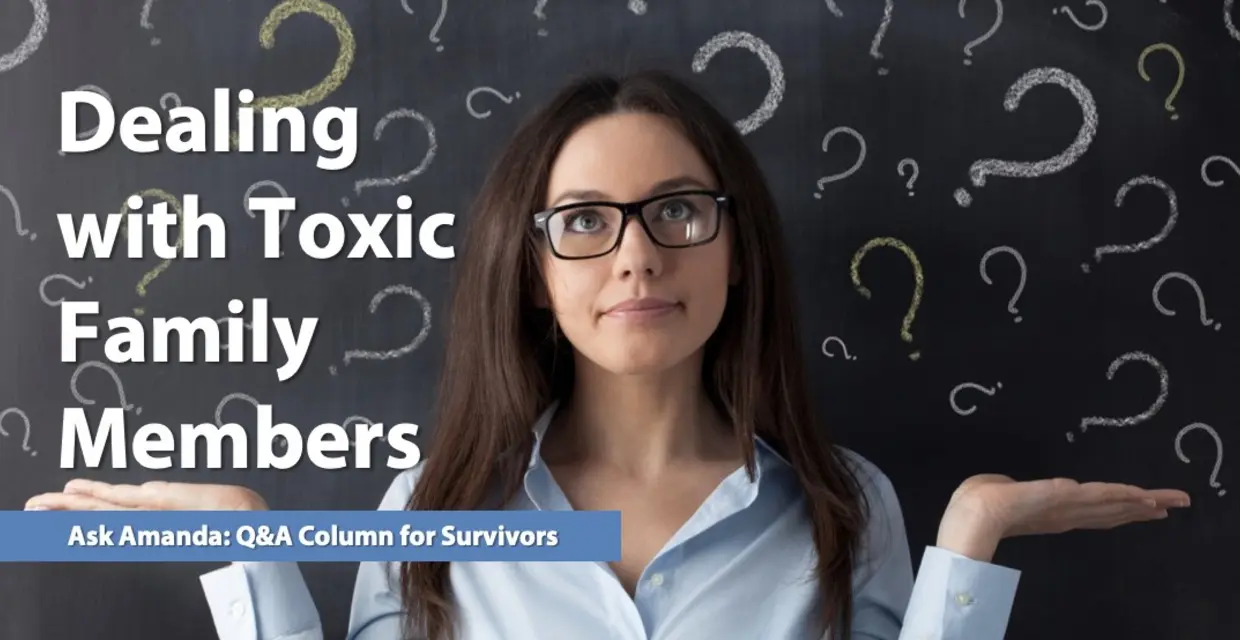 Q: Some of my closest family members aren't supportive of me leaving my abusive partner and others don't even seem like they believe the abuse happened. It is so hard to deal with this. I feel like I should just cut them out of my life, right? – Bridgit
Dear Bridgit,
It is beyond difficult to first off, be a survivor of abuse, but secondly, be brave enough to walk away from that abuser whom you probably loved and trusted at one point. To not find a strong support system in your family as you endure this must be heartbreaking.
Sometimes, unsupportive family members can be more than just misguided—they could be considered "toxic." A toxic person in your life can be judgmental, feed off drama and even gaslight you—claiming they never said or did something that others clearly heard or saw. They may flip-flop back and forth between supporting you and then manipulating or hurting you. They may only come to you when they need something from you, then dismiss your needs. Most likely, you'll know you're around a toxic individual because you'll feel emotionally wiped out after seeing or talking to them.
Right now, you need to surround yourself with supportive people. Toxic individuals may try to convince you that it's in your best interest to return to your abuser, which is very dangerous. If you haven't already, consider reaching out to a trained domestic violence advocate near you (find one on our Help Page) or call the National Domestic Violence Hotline at 800-799-7233. An advocate will believe you and can help provide support, safety planning and other resources you may need at this time. You may also find it helpful to attend a support group where you can connect with other survivors going through similar things.
Karen C.L. Anderson, master-certified life coach and author of Difficult Mothers, Adult Daughters: A Guide For Separation, Liberation & Inspiration, says the decision to cut off contact completely can be a healthy decision as long as, she says, "you can make the choice from a clean place." What does that mean?
"It means that you're making the choice from a place of personal power and self-responsibility, versus a place of blame, reaction, and defensiveness." This means coming to a conclusion like, "It's hard for me to feel good around my family and I find myself wanting them to behave differently," instead of, "They drive me crazy! I'm so done!"
Also realize, says Anderson, that cutting yourself off from your family doesn't have to be a permanent choice. When you feel like making contact again, ask yourself the following questions:
Why do you want to reinitiate contact?
What are your hopes for doing so?
Do you like and respect your reasons?
What boundaries do you need to have in place
Do you trust yourself to honor your boundaries if they are crossed?
Donate and change a life
Your support gives hope and help to victims of domestic violence every day.
Afraid of the fall-out from cutting of a toxic family member? Backlash may happen, but know that your priority right now should be to take care of yourself and make sure you're safe.
"This is an act of kindness to yourself," says Anderson. "Going no contact is about trusting yourself and focusing on what you want and need right now. Women are generally not rewarded for doing that in our culture—in fact, they are often subtly punished—so there's a lot of fear and guilt associated with it."
There are other places to find support besides your family. Read "When Your Support System Isn't Clear" for some tips.
Afraid you might be the toxic person without meaning to be? Read "10 Ways to Validate a Survivor" and learn how to be the most supportive version of yourself.
Have a question for Ask Amanda? Message us on Facebook or Twitter, or email AskAmanda@DomesticShelters.org.
Ask Amanda is meant to offer helpful resources and information about domestic violence. If in crisis, please reach out to your nearest domestic violence shelter for the guidance of a trained advocate.
Looking for someone to speak with? Enter your location to find phone numbers for domestic violence experts in your area.


Have a question about domestic violence? Type your question below to find answers.