notes
What Does Justice Look Like for Domestic Abuse Survivors?
Survivors want accountability, acknowledgement, social regard and safety
What is "justice" after domestic abuse? Some people might think of it as an abuser facing a harsh jail sentence. But victim-survivors express more nuanced and complex ideas of justice to researchers (Ehret, 2022). (Please note: this study included a diverse group of women survivors of abusive men. Its results may not apply to abuse with other genders).

Survivors' perspectives have been called "kaleidoscope justice." This is the idea that justice is a constantly shifting pattern with many facets. Justice is an ever-evolving, lived experience—rather than a one-time goal. Survivors' ideas of justice may change throughout their lives. This is quite a bit more complicated than simply, "lock them up."
Survivors describe wanting peace of mind and freedom, as well as physical safety. Frequently, they also want the abuser's wrongdoings exposed. They want others to acknowledge what they have endured. Survivors say they want: Constructive Accountability, Acknowledgement and Validation, Social Regard, and Safety. Let's take a look at what each of those mean.
Constructive Accountability
Constructive Accountability is the idea that abusers must experience some kind of consequences. Most survivors do not seek vengeance. Rather, they want a process ensuring that they and their children will be safe which also serves as a "wakeup call" for the abuser.
Victim/survivors want the perpetrators to take active responsibility for their wrongful behavior. They want the abuser to do something to make amends. They want to know that the abuser will never be able to commit domestic abuse again. They want the abuser to change. Survivors believe that criminal justice approaches, counseling, or "being exposed" might all help accomplish this goal.
Unfortunately, many domestic abusers will never admit to what they have done. They will never genuinely apologize, nor will they commit to stopping their abusive behavior. For this reason, survivors should not peg their well-being on what the abuser might say in an ideal world.
Acknowledgement and Validation
Victim/survivors seek an end to victim-blaming. They want recognition that they have been harmed, and that they were not at fault. They want support and social solidarity. They want society, authorities, the offender and friends and family to acknowledge the severity of the abuser's actions. They appreciate solidarity with other survivors and with professionals who truly understand what they have been through.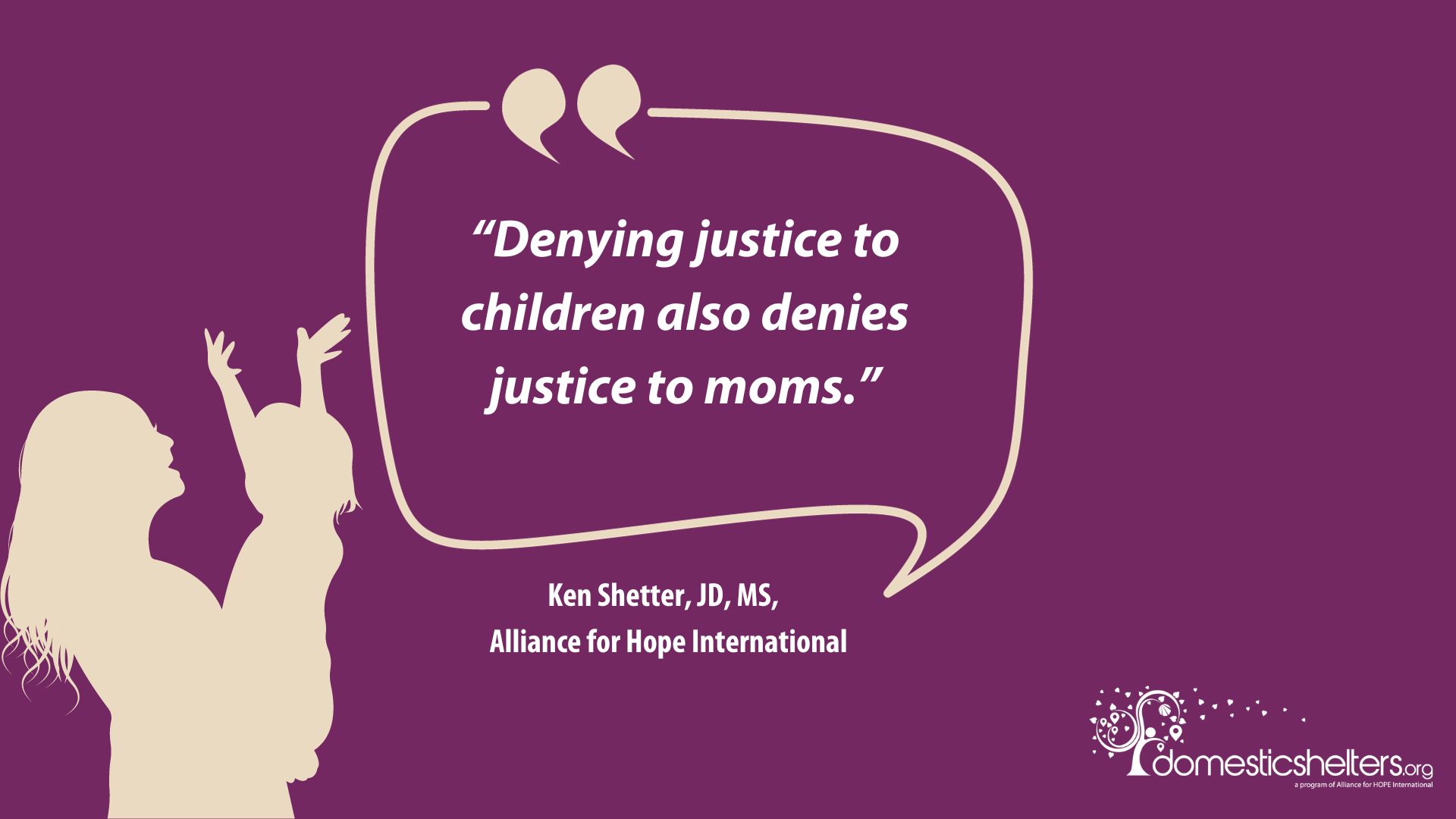 This aspect of justice does not depend on the abuser—it depends on the rest of us.
Social Regard and Prevention
Survivors want to stop feeling the shame which the abuse forced on them. They also consider prevention of harm to other women as a form of justice. They want community members to stem abuse by offering to help possible victims instead of standing by and watching. They want the media to portray intimate partner abuse more realistically. They recommend educating young people about healthy relationships. They recommend intervening early in a relationship before patterns become entrenched and worsen.
Social regard and prevention fall squarely into the notion that domestic abuse is not just about two people.
Safety
Survivors want safety going forward. This includes safety from continued physical, sexual, psychological, economic, verbal and litigation abuse. They want protection from drawn-out court battles. They also want an end to the financial dependency and isolation which the abuser imposed on them.
A survivor cannot achieve safety alone. Survivors need quality laws, financial stability, police protection and support from others.
Criminal Justice as Part of the Solution
Many survivors avoid the criminal justice system because they do not think they would be taken seriously. Survivors' ideas, as described in the Ehret study, do not fit perfectly with the principles of restorative justice, either. Survivors emphasize safety and social justice, rather than individual reparation.
The way you treat survivors can help them feel a sense of justice—or injustice. This is true for friends, family members, advocates, police officers, and others.
Ken Shetter, JD, MS, of the Alliance for Hope International points out that a lot of survivors don't want the abuser to go to jail; they just want to be safe and for the violence to stop. "However, with perpetrators that are at the highest risk levels, criminal justice needs to be part of the solution. We know that high risk perpetrators who avoid going to jail are much more likely to be lethal."
Shetter also underlines the important risks to children. "We know that exposure to domestic violence harms children's bodies and minds. Family courts are failing to protect children. Denying justice to children also denies justice to moms."

Donate and change a life
Your support gives hope and help to victims of domestic violence every day.
Looking for someone to speak with? Enter your location to find phone numbers for domestic violence experts in your area.


Have a question about domestic violence? Type your question below to find answers.