notes
Ask Amanda: My Elderly Mom Is Being Abused
When senior partners depend on each other, but one is abusive, what can be done?
By DomesticShelters.org
Sep 27, 2017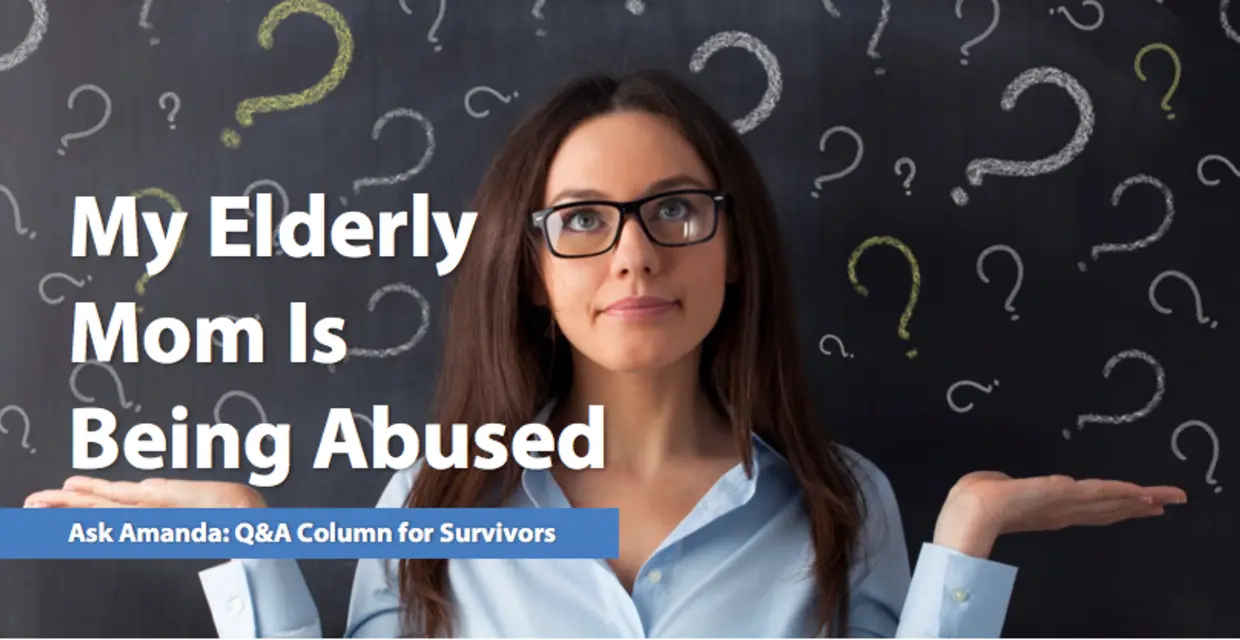 Q: My parents are both in their 70s and I've suspected for a while now that my father has been mentally and physically abusing my mother. But my mom won't talk about it—she takes care of my dad because his health is failing, and I don't think she'll consider leaving him. What can I do? – Elaine
This is obviously a tough situation. Many survivors, regardless of age or length of relationship, still care for their abusive partners despite the violence they're enduring. This is not unusual, but it can be hard for a support person outside the relationship to understand. It might also be hard for you because the abuser is your father, which can bring up conflicting emotions.
It's unclear by your question how long your father has been abusive or the level of severity of his abuse, but if you feel like your mother's health is at risk or that her life is in danger—especially if your father has threatened to kill himself or your mother, or has access to weapons—I would urge you to contact a domestic violence advocate near you and/or law enforcement right away.
Some quick facts for you to consider: elder abuse can include all the trademarks of domestic violence including physical, psychological, sexual and verbal abuse; financial control or manipulation; and neglect. Studies have found 1 in 10 Americans over the age of 60 have endured some form of elder abuse but only 1 in 14 cases are ever reported to the authorities. Many may be in the situation your parents are in, where one partner is dependent on the other for care.
Seniors without a strong outside support system are at a higher risk for abuse. Poverty and poor health also up the risk.
In order to help your mom, the first step is simply to listen. See if you can begin a conversation with your mom about your concerns for her health and safety. Janice Miller, director of client services at House of Ruth, an intimate partner violence center in Maryland, says the goal in conversations with survivors is not to get them to leave their partner, necessarily, but to make sure they feel heard and validated.
"The most important response a friend or family member can give is, 'I'm so sorry this is happening to you.' Acknowledge this is a terrible thing they're expressing." After that, you can share you want them to be safe and discuss what steps it might take to get there, like contacting a domestic violence advocate or Adult Protective Services (APS). You can find the APS office nearest you, or other state-specific resources for seniors, through the National Center on Elder Abuse.
Jef Henninger, Esq., is an attorney who works with both domestic violence cases and elder abuse cases in Tinton Falls, NJ. He suggests consulting an attorney who handles elder abuse cases in order to discuss options related to the specific laws of the state. For instance, if it's decided that filing for an order of protection is the best plan, can you file for her if she's unable? What proof is needed? What legal steps need to be taken to ensure your mother will still have access to shared finances once she separates from your father?
He also suggests reaching out to APS, which can file a petition with the court seeking emergency or permanent relief for either or both of your parents, meaning your mom can leave when she's ready and APS can help find a caretaker for your dad.
Donate and change a life
Your support gives hope and help to victims of domestic violence every day.
"They can ask for guardianship [to be assigned]. They can also seek to appoint a conservator to prevent someone from being financially exploited," says Henninger.
If you're able to be there to help your mom through this, Elaine, all the better. In Henninger's experience, he says, "It's very important to have someone that can assist the client and an adult child is often the best person." A strong support system will help your mom feel confident that she can escape his abuse and hopefully start living a much healthier and safer life.
Have a question for Ask Amanda? Message us on Facebook, Twitter or email AskAmanda@DomesticShelters.org.
Ask Amanda is meant to offer helpful resources and information about domestic violence. If in crisis, please reach out to your nearest domestic violence shelter for the guidance of a trained advocate.
Looking for someone to speak with? Enter your location to find phone numbers for domestic violence experts in your area.


Have a question about domestic violence? Type your question below to find answers.