notes
Ask Amanda: I'm Afraid My Partner Is Going to Hurt Our Dog
Domestic violence and animal abuse are often intricately linked
By DomesticShelters.org
Feb 01, 2017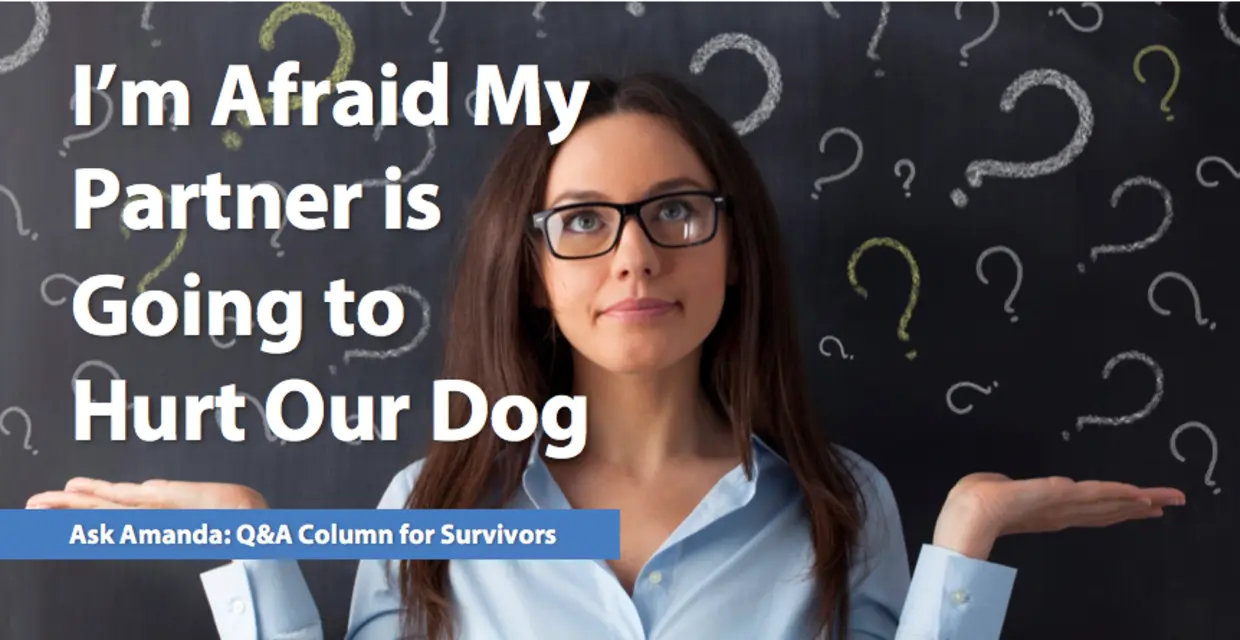 Q: My husband has a temper, though he's never actually hit me—he only yells. But lately, whenever we fight, he threatens to hurt or even kill our dog because I think he likes how upset it makes me. We live on a military base and the military police said they can't do anything unless he kills our dog, which I'm really afraid might happen someday. – Anonymous
First off, you should know that if your husband has a repeated pattern of yelling at you—which I'm guessing also includes insulting, demeaning or trying to embarrass you—this is a type of domestic abuse called verbal abuse. Even if he never hurts you physically, he can still be classified as an abusive partner and you, a victim. Take a look at "10 Patterns of Verbal Abuse" and see if they sound familiar to you. If they do, you should consider talking to a domestic violence advocate in your area who can help provide you with support and vital safety planning. There's a possibility your husband's verbal abuse can escalate to physical abuse in the future.
Yvette Lozano, director of intervention and emergency services with the nonprofit Peace Over Violence says that many survivors don't even realize they're with an abusive partner when they're not sustaining physical injuries.
Donate and change a life
Your support gives hope and help to victims of domestic violence every day.
"Domestic violence is not just physical or sexual abuse. It's any form of power and control," says Lozano. And that desire for power and control is your husband's motivation for threatening the family pet. He wants to intimidate you so he feels like he can control you.
Many who threaten to, or are abusing animals, are also abusing their partners. A report from the American Society for the Prevention of Cruelty to Animals said that abusers who harm their pets are "both more controlling and use more dangerous forms of violence than batterers who do not."
Additionally, the American Humane Association reports that more than 70 percent of female domestic abuse survivors who own pets, and who sought help at women's shelters, reported that their abuser had threatened, injured, maimed or even killed family pets for revenge or to gain psychological control over their victims.
There's hope that things are starting to change, specifically on military bases like the one you live on. According to the National Link Coalition, a group made up of individuals and organizations that bring awareness to how animal abuse and other types of crimes, such as domestic abuse, are intertwined, more incidents of domestic violence within the military have prompted action. Trainings are starting to be implemented to teach victim services units on base more about the connection between domestic violence and animal abuse.
Also, former President Obama signed an executive order last September that amended the Courts-Martial guidelines to include animal cruelty provisions. Since its inception in 1951, the Uniform Code of Military Justice—the legal system within the military—did not include crimes against animals an actionable offense.
It's now on the books, in other words, that it is prohibited to cause reckless or negligent wrongful abuse, neglect or abandonment of an animal that causes serious injury or death. If your husband abuses or neglects your dog, he could be charged with a criminal offense.
If the police on base are ignoring your pleas for help, you should definitely reach out to a trained domestic violence advocate to talk about your unique situation and circumstances, and what decisions might be best for you to make while still retaining your safety as the number one priority.
While you can reach out to your husband's commanding officer for help, or, says Phil Arkow, coordinator for the National Link Coalition, contact JAG, the Judge Advocate General Corps, on base—"They're the military equivalent of prosecutors," says Arkow—these types of decisions do have the possibility of placing you in more danger, depending on your abuser, so proceed with caution and always consult an advocate first.
An advocate may also be able to help you temporarily place your pet in a safe place, until you figure out next steps. For more information on this, read, "Planning for Pet Safety."
Have a question for Ask Amanda? Message us on Facebook, Twitter or email AskAmanda@DomesticShelters.org.
Ask Amanda is meant to offer helpful resources and information about domestic violence. If in crisis, please reach out to your nearest domestic violence shelter for the guidance of a trained advocate.
Looking for someone to speak with? Enter your location to find phone numbers for domestic violence experts in your area.


Have a question about domestic violence? Type your question below to find answers.