126 people have voted
If your abuser was sentenced to probation, did he ever violate the terms of his probation?
Vote Now
View Results
355 people have voted
Which of these at-home methods helped relieve your symptoms of trauma?
Vote Now
View Results
All Surveys
Featured Book
You Are Not Alone (Solace and Inspiration Based on Jewish Wisdom)
A critical resource for victims and survivors of domestic violence, and for the rabbis and advocates who work with them. Includes a preface by Rabbi Mark Dratch.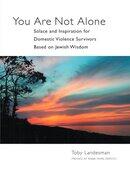 Buy Now
Featured Book
Anger Is Okay Violence Is NOT
This book has a hidden message for children who are living with violence and struggling with a domestic violence definition. It is a great resource for toddler's struggling with temper tantrums. The book offers replacement behaviors children can do instead of getting angry. Anger is OKAY Violence is NOT teaches children about fish, feelings, families and anger control. For ages 0-7 years.
Buy Now
All Books
179 Upcoming Events
Domestic Violence Awareness and Advocacy Events and Support Groups
All Events
Sign up

to receive new and helpful articles weekly.