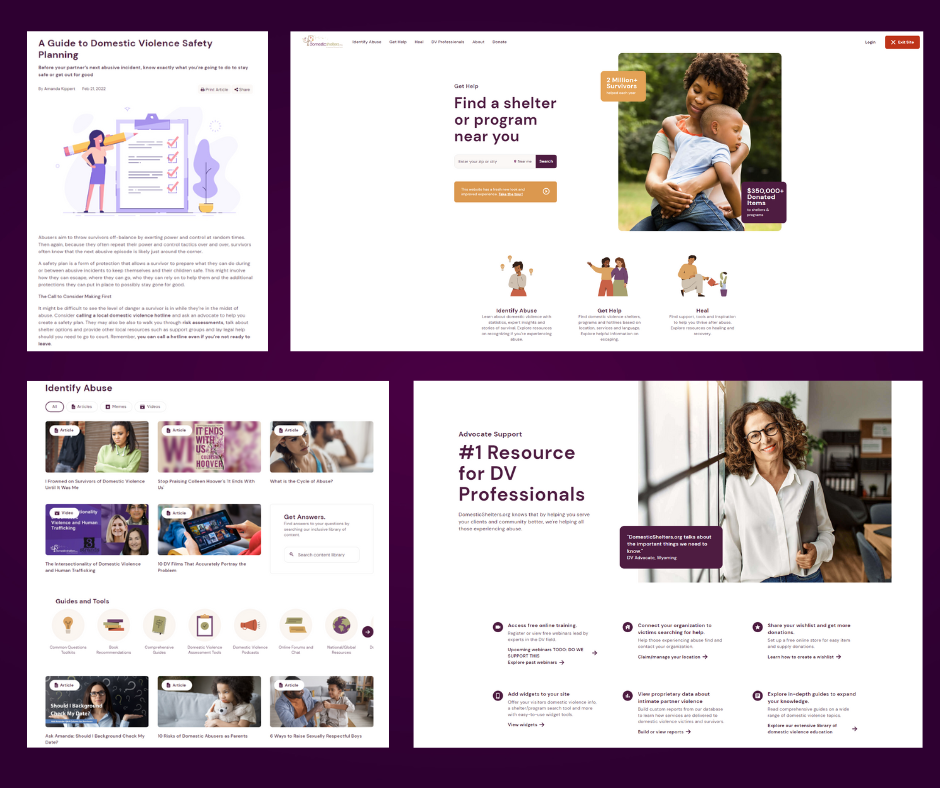 After helping millions of victims and survivors of domestic abuse, as well as the advocates and professionals who support them, DomesticShelters.org has released a brand-new, updated website design. The new design includes a new visual identity, easier navigation and expanded user experience.
"We wanted to make sure we were getting the right information to everyone who needs it as quickly as possible," said Hannah Craig, DomesticShelters.org's Vice President of Content. "When someone is being abused, they may only have a few minutes to learn how to get help."
Designed to meet domestic violence victims and survivors where they are in their journey towards safety or healing, DomesticShelters.org's new design focuses on improved navigation to serve content and resources in three primary stages of the victim-survivor journey: 1) identify abuse, 2) get help and 3) heal. The new design also features a more neutral and discreet visual identity for safety, a mobile-first approach, increased site performance and powerful accessibility tools.
"Our design philosophy centered on our mandate as an organization: 'how can we help victims of domestic violence the most?'" explained Craig. "To do this, we listened to feedback from victims, survivors and the advocates that we serve. We worked closely with By The Pixel to do extensive research and data collection to guide our new look and experience."
The DomesticShelters.org redesign was created in partnership with Colorado-based web development company By The Pixel, the newest project in a long-term collaboration between organizations. The redesign team was led by Turner Walters with graphic and UX design by Natalie Miles.
"The new website was thoughtfully crafted to provide tailored experiences for people in every part of their journey of recovery and healing. In addition to the new visual design and site organization, we worked hard updating the technology behind the scenes to be sure that this is the fastest, most secure and easiest to use version of DomesticShelters.org yet," Walters explained. "We also strived to make this the most inclusive version of the website yet by implementing a full suite of accessibility tools and designing the site with a mobile-first philosophy to better serve the majority of our users. We cannot wait to continually improve and expand on this new foundation over the coming months and years."
DomesticShelters.org is the leading online resource for domestic violence education and also provides the first and largest searchable digital database of domestic violence programs and shelters in the U.S. and Canada. As such a crucial resource, it was paramount to DomesticShelters.org to create the best user experience possible–and not only for those experiencing abuse.
"We understand that the more we can support domestic violence professionals like advocates and volunteers, we're exponentially helping more victims and survivors," Craig said. "The new site design adds a hub for domestic violence professionals to access all the tools and resources we offer more easily, like our free online trainings and data center."
The new design is now live on DomesticShelters.org, ready for public access. The DomesticShelters.org team encourages users to reach out with questions or feedback at info@domesticshelters.org.
"It's key for us not to just lift up the voices of victims and survivors, but also to listen to those voices," Craig concluded. "We're always focused on serving those experiencing abuse better to grow as both a website and an organization."
About Domesticshelters.org
DomesticShelters.org is a service of Theresa's Fund, an Arizona-based 501(c)3 non-profit charity started in 1992 by Preston V. McMurry, Jr. Launched In 2014, DomesticShelters.org provides the first and most extensive searchable digital database of domestic violence programs and shelters in the U.S. and Canada, as well as one of the largest sources of resources, tools and information for people experiencing and working to end domestic violence. DomesticShelters.org is also the host of the Purple Ribbon Awards, the first comprehensive awards program honoring the countless heroes of the domestic violence movement.
Watch a walkthrough of the new website.
Learn more at DomesticShelters.org.