A broad cross-section of inspiring stories from seven outstanding domestic violence programs were shared during the 2022 Purple Ribbon Awards Celebration, held on September 21st. The Purple Ribbon Awards (PRA) is the first comprehensive awards program honoring the countless heroes of the domestic violence movement, including advocates, programs, shelters, survivors and members of the community support system. This is the second year the annual program was held.

In August, one hundred and twenty-four 2022 Purple Ribbon Award winners were selected across 30 categories. Winners received gold award medallions along with other giveaways. All nominees were honored with a certificate signed by Theresa's Fund founder, Preston V. McMurry, Jr., to recognize their valuable work.
"The Purple Ribbon Awards are all about inspiring and celebrating the people who are making a difference in the lives of domestic violence - people who often don't receive much recognition, especially on a national stage," said Theresa's Fund CEO and President Ashley Rumschlag. "Our team's favorite part is receiving the photos of winners holding their awards. It's such a rewarding experience for everyone involved."
Six of PRA winners were named by the Theresa's Fund Board of Directors as the recipients of the charity's annual $30,000 grant fund.
The 2022 Purple Ribbon Award grant winners were:
An additional $5,000 grant was awarded thanks to the generous contributions of the software company CAP60, which provides data management solutions for nonprofit organizations. This award was granted to Jana's Campaign, Inc. (Hays, KS), whose founder Dr. Christine Brungardt was a recipient of a PRA Lifetime Achievement Award.
Top winner of $10,000, Asma Inge-Hanif, founder of Inge Benevolent Ministries Muslimat Al Nisaa Shelter, shared her gratitude for the honor citing her past inability to get funding from more traditional sources. "Three things that I've been told as to why I don't get that money (and why the recognition means to much to me), is because they say that I am African American, I actually protect victims of domestic violence within a faith tradition where that is an issue and being a Muslim," Inge-Hanif said, through tears. "I'm so grateful that this organization has recognized me.It helps my heart a lot to have received this award."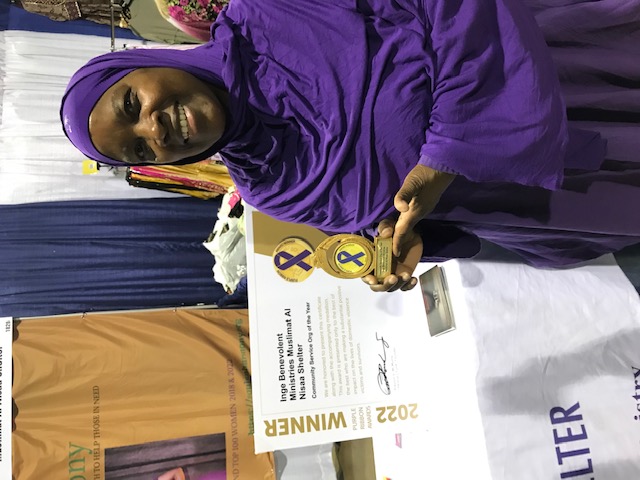 Asma Inge-Hanif, Founder of Inge Benevolent Ministries Muslimat Al Nisaa Shelter
Recipient of the top PRA grant of $10,000
The Purple Ribbon Awards Celebration virtual event was attended by over 325 people from 56 different states and provinces and eight different countries. For the event, videos were produced featuring each grantee's story and each grantee's story will be featured on DomesticShelters.org – the leading domestic violence website operated by Theresa's Fund since 2014 – and across the website's social media channels. A complete replay of the event will be hosted on DomesticShelters.org.
The event featured Red Jumpsuit Apparatus lead singer, Ronnie Winters. Winters shared a congratulatory message for winners, as well as his personal story of being a survivor of childhood domestic violence. He also teased the upcoming release of Face Down (Symphonic Edition) which is a remake of the Red Jumpsuit Apparatus 2006 hit debut single, Face Down. The new song is set to be released next month in conjunction with Domestic Violence Awareness Month.

Also featured was singer-songwriter Patrick Barnett. Barnett's song Shine Through, written as a tribute to those working on the front lines to help those in need. The song was an anthem for the event, which included a screening of the Shine Through music video.
Prior to the awards ceremony event, nearly 500 domestic violence professionals attended the Purple Ribbon Award INSPIRE virtual conference. The educational event highlighted select Purple Ribbon Award winners. Three panel-style discussions were moderated by Theresa's Fund team members and provided insights on culturally specific programming (moderated by VP of Content Hannah Craig) youth initiatives (moderated by Editor-in-Chief, Amanda Kippert) and longevity in the domestic violence field (moderated by CEO/President, Ashley Rumschlag). The INSPIRE conference will also be hosted on DomesticShelters.org.
Kimberly Harris, a 2022 PRA Lifetime Achievement Award winner and founder of WomenHQ, had these words as the INSPIRE conference came to a close, "I stayed in a domestic violence shelter three years in my life. I fled my abuser to save my life, and at my lowest of lows I promised the good Lord above, if you can guide me, give me a bigger hope, I promise to reach back, when I come up for air to all my sister survivors out there, I will lift them, I will lift their voices, I will dedicate my life to this work. And that's what led me to do the work."
To learn more about the Purple Ribbon Awards, visit www.purpleribbonawards.org. Nominations for the 2023 PRAs will be accepted on Jan. 1, 2023. To be notified when the entry portal opens, sign up to receive a reminder notification.
About Theresa's Fund
Theresa's Fund is an Arizona-based 501(c)3 non-profit charity started in 1992 by Preston V. McMurry, Jr. At a time when domestic violence wasn't yet a headline, Theresa's Fund focused on changing the landscape of domestic violence services in its home state through grantmaking, board development and fundraising for Arizona-based organizations like East Valley Child Crisis Center, Sojourner Center, Florence Crittenden, Emerge, UMOM, and West Valley Child Crisis Center. In 2014, it developed the DomesticShelters.org concept as a way to expand its reach to people across the U.S. and Canada. DomesticShelters.org is the first online and mobile searchable database of programs and shelters in the U.S./Canada, and a leading source of helpful tools and information for people experiencing and working to end domestic violence.