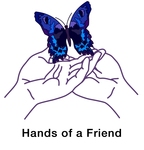 Hands Of A Friend in Green Valley, AZ
Score based on number of services offered by a program and the amount of information they share with this website to improve your experience. Max score is 100.
Profile
Strength 35%
Hotline

520-648-3589 520-648-3589

Toll Free

-

Business

520-399-4671 520-399-4671

Text

-

Languages Spoken

English

Last Updated

Sep 7, 2020
Receive new and helpful articles weekly. Sign up here.
Services
expand all
collapse all
Populations Served
expand all
collapse all
About Hands Of A Friend
Website

handsofafriend.org

Established

-

Beds

-

Maximum Length of Stay (days)

-

Wheelchair Accessible

-

Pet Shelter

No
Description
Hands of a Friend (Manos Amigas) provides shelter for victims in need of escaping domestic violence, human trafficking, and sex trafficking. Genesis House is a our domestic violence/sexual assault & human trafficking shelter which serves the local areas.
State Coalition Member

No